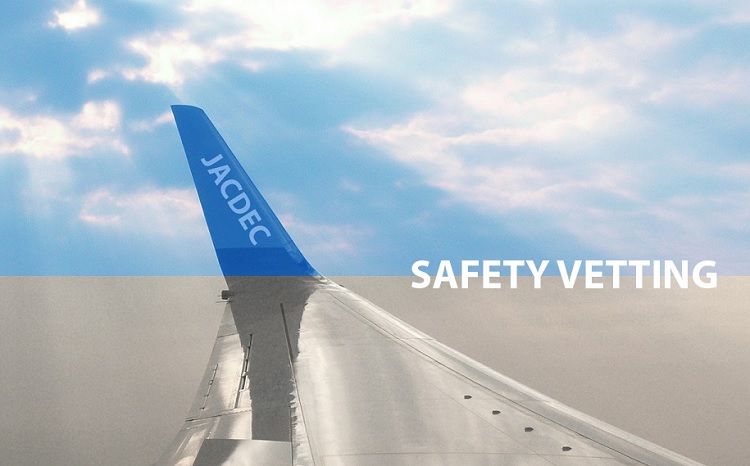 The JACDEC Safety Vetting offers you a unique safety overview of all airlines in the world. The vetting does have over 1200 active airlines in stock. You can sort and filter by countries, regions, business model, fleet age or the most current risk index.
Get all the information at a glance, compare different airlines by their key safety parameters. The vetting is updated three times every day.
What kind of information is provided?
+ Airline Name, ICAO Code, Country, Region, Begin of Operations
+ Fleet Age, EU Blacklist (Y/N), IOSA Certificate (Y/N)
+ No. of risks (Optional: Risk explanations via tooltips)
+ Optional: Aircraft < 5,7 tons in fleet (Y/N), No. of cases per airline
+ No. of Serious Incidents in the last 2 years / 10 years
+ No. of Hull Losses and Fatalities last 30 years
+ Year of last Hull Loss
+ JACDEC Risk Index
The system is optimized for desktop usage, there may be some minor visibility issues with mobile devices.
Below is a summary to compare all three Safety Vetting levels.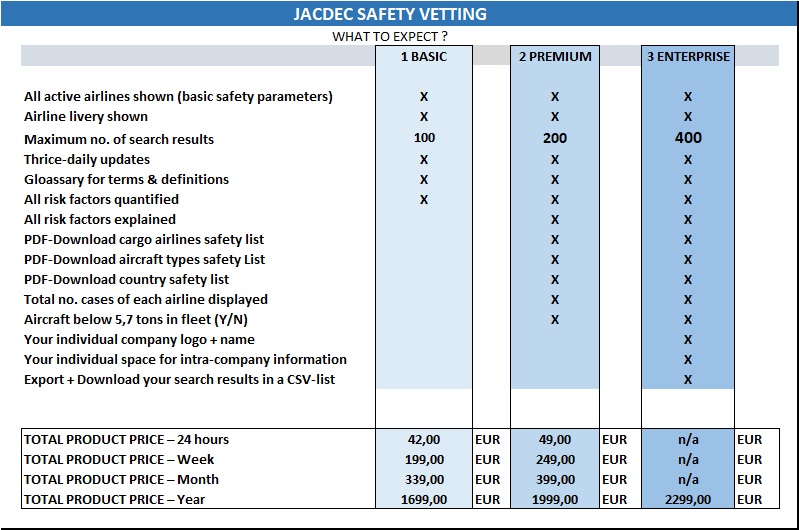 For multiple annual license buyers, we grant a discount.
Contact us for further information.
NOTE: For all Vetting + Database products, please allow a
24 – 48 hour waiting time until your credentials are properly processed.