Description
Safety Vetting – Enterprise Level 4 Hours
The Enterprise Level of the Safety Vetting offers you the most information you can possibly get.
You get all the features of the premium level, plus: 
The maximum number of search result is doubled to 400.
You are able to download all your search results in a .CSV file.
The size of each airline fleet is displayed (only aircraft above 5,7 tons).
You'll be able to see your individual company logo displayed on top (s. image)

Therefore we only need an image file (.JPG or .PNG) with a maximum size of 150×72 pixel.
You will get extra space for individual company instructions or any additional travel information you would like to let other company recipients know of. (s. image)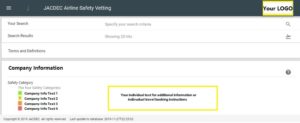 Therefore, the maximum text should not exceed 500 characters.
To make use of all the features it only requires a full year subscription.
All the vetting data is renewed on a thrice-daily basis, each and any day.
Contact us[LINK], in case you have any further questions.
We would appreciate to support you.