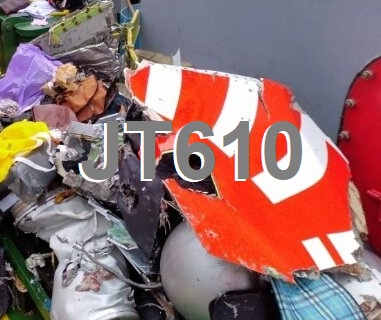 Lion Air Boeing 737 MAX 8 crashed into Java Sea off Jakarta
Lion Air flight LT610 disappeared from radar about 10 minutes after take-off at Jakarta-Intl Airport. Rescuers found debris and it is widely assumed the aircraft has crashed into sea. There were no survivors among the 189 people on board.
UPDATE 2019-01-14
Lion Air flight JT610 departed at dawn on runway 25L at Jakarta-Soekarno Hatta Intl Airport (WIII, CGK) carrying 181 passengers and eight crew members on a scheduled flight to Pangkal Pinang, an Island about 460 km to the north to Jakarta. The calculated flying time was about 50 minutes.
About three minutes after take-off – while in a steep left turn climb-out – JT610 stopped further climb at an estimated altitude of about 5,300 ft and rolled out on a heading of about 020 °. At this time, the pilots reported their decision to discontinue the flight and expressed their intention to return to Jakarta Airport.
The aircraft continued to maintain an altitude of between 5,000 and 5,400 feet as it turned slightly to the right to a heading of roughly 060° degrees. The aircraft flew past the headland of Tanjung Karawang before altitude was lost.
Last ADSB radar return was received about 12 minutes after departure, it showed the 737 at an altitude of 3,650 feet, in a gradual descent. Full granular ADSB data (provided by Flightradar24) showed the flight impacting at a high rate of descent (see image below). At the impact area, the seabed has a depth of less than 50 meters (150 ft).
Nothing was heard from the flight after that and no signals of the emergency locator transmitter (ELT) were received.
Basarnas – National Search and Rescue Agency [LINK] was alerted. A number of rescue boats were launched and an off-shore search and rescue operation began. Floating patches of oil and aircraft debris were found later in the Java Sea. Parts of the cabin interior and passenger belongings of flight JT610 were retrieved.
On Nov 1st the memory unit of one of the flight recording devices was found by Basarnas divers showing signs of external damage and was brought ashore.
The impact area lies about 10 km off the coast and about 60 kilometers to the northeast of Jakarta International Airport.
The search and rescue operation is ongoing. According to local government officials, there were no survivors. On 2018-11-03 one of the rescue divers serving as a volunteer for Basarnas lost his life while on duty searching for bodies.
It was reported that on the previous flight of PK-LQP ( JT043 from Denpasar to Jakarta) on 2018-10-28 the pilots reported a technical glitch. The pilot on this flight made a maintenance log entry stating they experienced both a speed and altitude disagreement between the captains and the co-pilot's instruments shortly after take-off. (see image of log entry below) However, there happens to be more than one version of that document whose authenticity is still not officially confirmed. The flight JT43, therefore was forced to cruise at a lower-than-normal altitude to Jakarta.
According to a Lion Air official, the fault was addressed by overnight maintenance and the aircraft was reported ready for flight again until the next morning (2018-10-29).
On 2019-01-14 after 2,5 months of search, the Indonesian Navy was able to locate and salvage the missing Cockpit Voice Recorder (CVR) device from 26 feet depth seabed. The CVR was taken to NTSC laboratories in Jakarta for further examination and read-out.
NOTE: This accident marks the 1st ever hull loss accident for a Boeing 737 MAX series aircraft, the worst ever for a Boeing 737, the 2nd worst aviation accident in Indonesian history and the 8th hull loss of a Lion Air aircraft (two of them were fatal).

METAR: Jakarta-Intl AP (WIII, CGK):
| | | |
| --- | --- | --- |
| | 2018-10-29 06:30-> | METAR WIII 282330Z 16003KT 8000 SCT020 27/25 Q1010 NOSIG |
| | 2018-10-29 07:00-> | METAR WIII 290000Z VRB03KT 8000 SCT020 27/25 Q1011 NOSIG= |
List of occurences on previous flights of Boeing 737MAX8 PK-LQP © NKTS / NTSC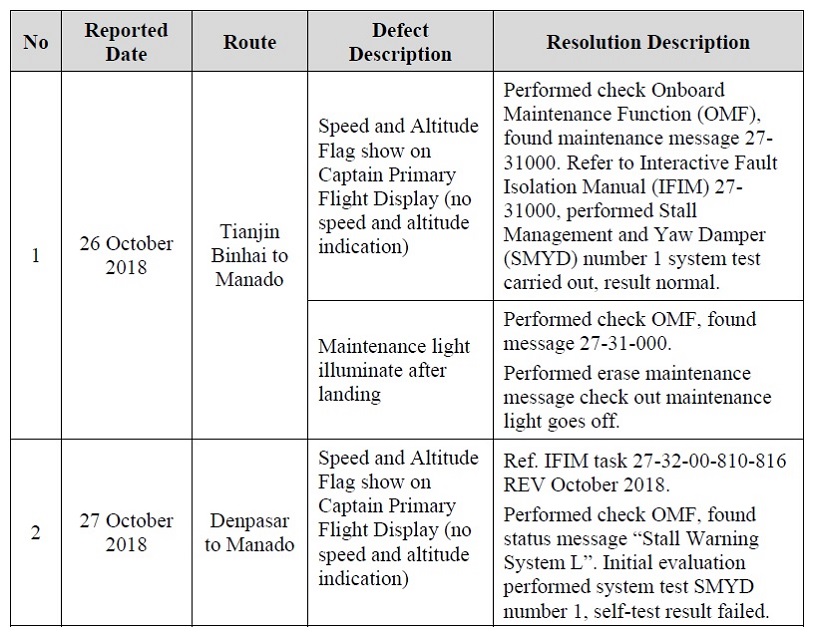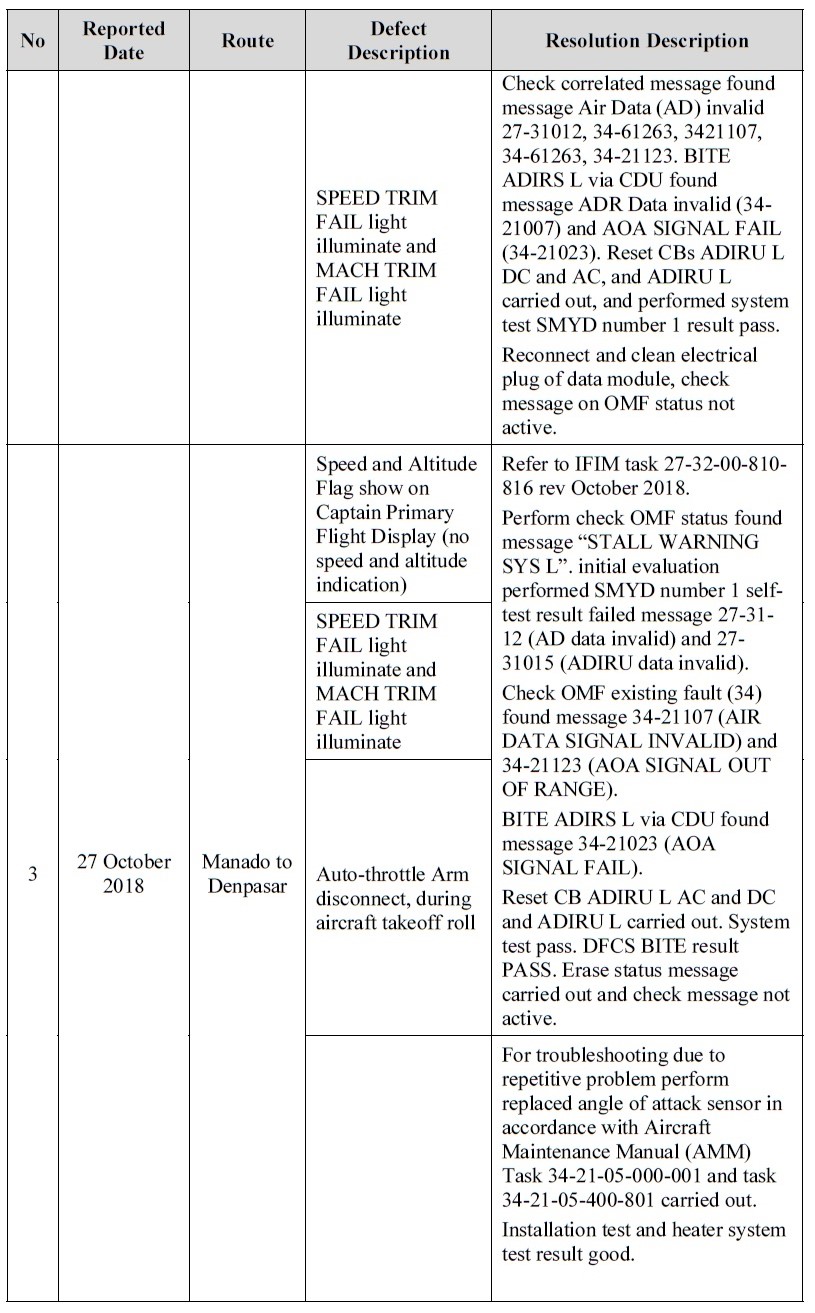 Initial indications point to an unspecified fault within the altitude/airspeed indication system resulting in a possible disagreement bezween captain and copilot's instruments.
On Nov 2nd 2018, faults were found in two other Boeing 737MAX 8's belonging to Lion Air. One has a fault in the cockpit avionics display while the other a glitch in the stabilization system.
Currently, Lion Air operates a fleet of nine Boeing 737MAX 8 aircraft.
On 2018-11-07 the Federal Aviation Administration (FAA) issued an emergency Airworthiness Directive (AD) for all operators of the Boeing 737-800 and 737-900 variants. The AD continues as follows:
Runaway Stabilizer
In the event of an uncommanded horizontal stabilizer trim movement,
combined with any of the following potential effects or indications
resulting from an erroneous Angle of Attack (AOA) input, the flight crew
must comply with the Runaway Stabilizer procedure in the Operating
Procedures chapter of this manual:
• Continuous or intermittent stick shaker on the affected side only.
• Minimum speed bar (red and black) on the affected side only.
• Increasing nose down control forces.
• IAS DISAGREE alert.
• ALT DISAGREE alert.
• AOA DISAGREE alert (if the option is installed).
• FEEL DIFF PRESS light.
• Autopilot may disengage.
• Inability to engage autopilot
FAA EAD US-2018-23-51 [LINK]
---
IMAGES & VIDEO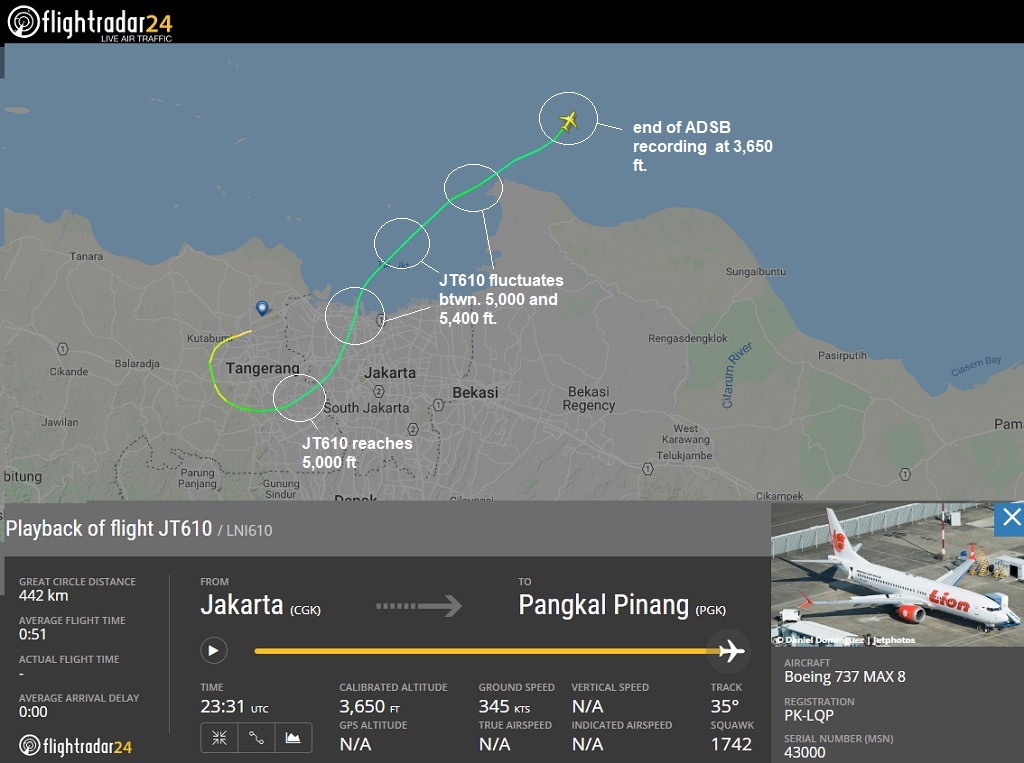 © Flightradar24.com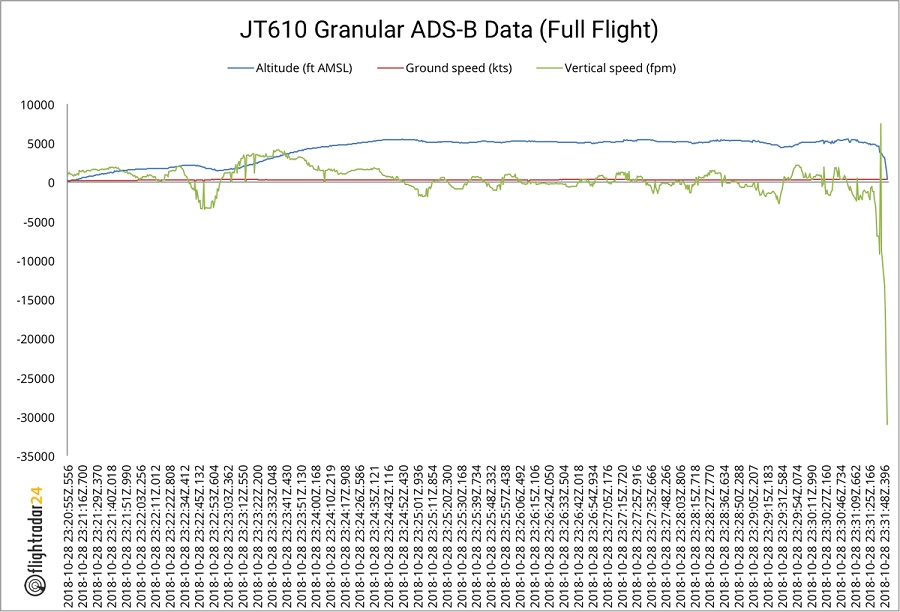 © Flightradar24.com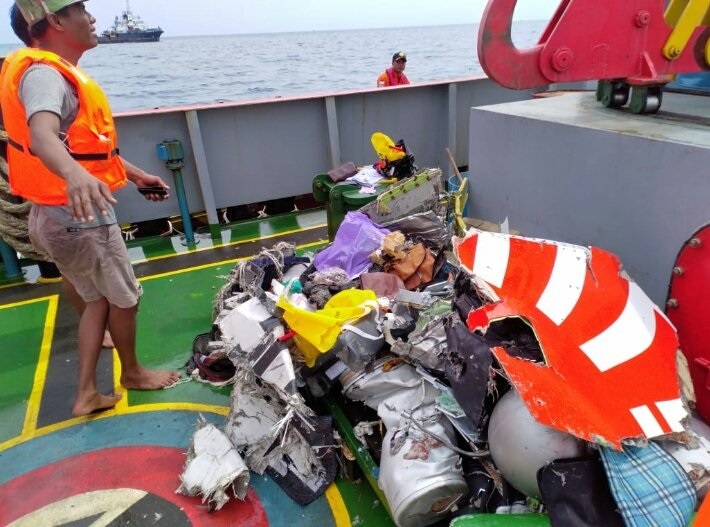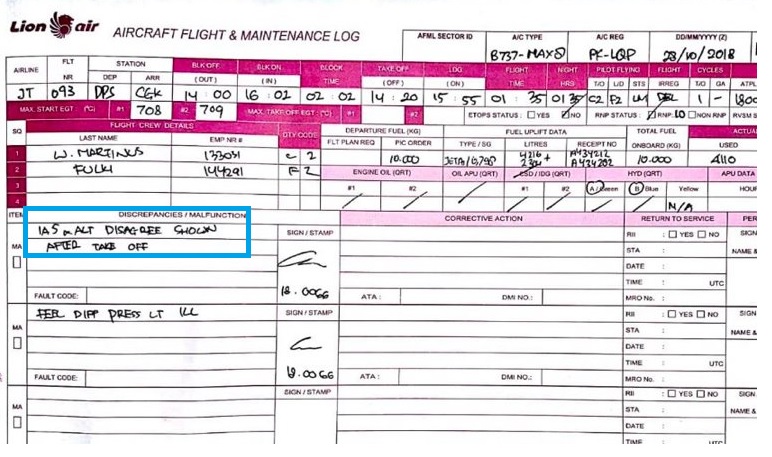 © TheAirCurrent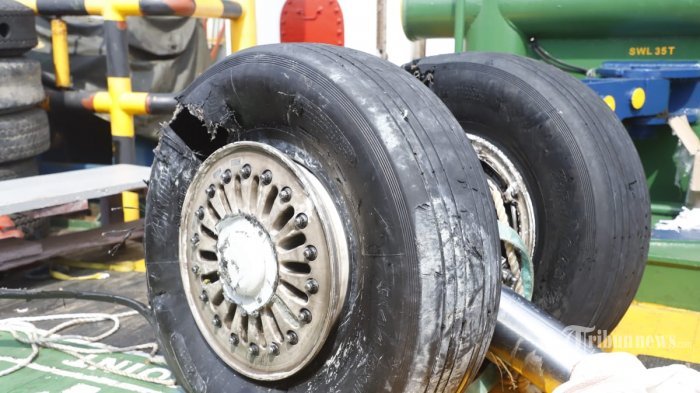 © Tribunnews
---
https://m.vidio.com/watch/1507838-tim-selam-marinir-temukan-roda-pesawat-lion-jt-610
Tweet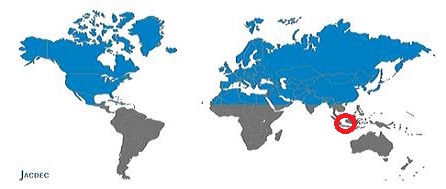 Aircraft
Type: Boeing 737 MAX 8
Registration: PK-LQP
Age a/c: 0.2 years
Constr. No.: 43000

| | | | | |
| --- | --- | --- | --- | --- |
| | Crew | Pax | Other | Total |
| Occupants | 8 | 181 | 0 | 189 |
| Fatalities | 8 | 181 | 0 | 189 |
| Survivors | 0 | 0 | 0 | 0 |
OCCURENCE DATASET
Date: 2018-10-29 Time: 06:33
Location: Java Sea, off Jakarta
Country: Indonesia
Flight phase: ENR2 – Climb above 1000 ft. AGL to Cruise; Climb from end of ICL to intended cruise level
Damage to a/c: hull loss
Flight
Flight no.: JT 610
From: WIII /CGK : Jakarta Soekarno Hatta Intl Airport To: WIKK /PGK : Pangkal Pinang
Type: Passenger
Operator: Lion Air
JACDEC 25-year Statistics :
31th safety occurence for the operator
208th hull loss and worst ever of type (B737)
2nd worst accident in Indonesia
1st safety occurence for aircraft in question
Image & Information Sources
Copyright - Terms of Usage
All written and shown content on JACDEC.de is provided in the most accurate way. All information may be subject to changes because JACDEC.de cannot always ensure a full support of information updates to each news story.
No publication (or part of) provided by at JACDEC.de may be reproduced or transmitted in any form or by any means or by any information retrieval system without written permission from JACDEC. The below information includes unofficial information and should be treated as this. Editors cannot be held responsible for any errors or omissions caused by any information source mentioned herein. The nature of the following information should be regarded as preliminary.
Furthermore, the author cannot be held accountable for correctness, completeness or quality of the information provided herein. Liability claims regarding damage caused by the use of any information provided, including any kind of information which is incomplete or incorrect, will therefore be rejected.
For further terms and conditions, check our legal disclaimer section:
AP = Airport / AL = Airlines / Avn = Aviation / AW = Airways / C/N: Construction Number / DSP = Domestic Scheduled Passenger / DNP = Domestic Non-Scheduled Passenger / DSC = Domestic Scheduled Cargo / DNC= Domestic Non-Scheduled Cargo / GND = On the ground / parked, stored / FMN= Flying Mission, Air Work / FRY = Ferry-, Positioning Flight / IMC = Intrument Meteorological (flying) Conditions / ISP = International Scheduled Passenger / ISC=International Scheduled Cargo / INP = International Non-Scheduled Passenger / INC =International Non-Scheduled Cargo/ OPS = Flight Operation(s) / NRV = Non-revenue, Private Flight / TRN =Training Flight / TST = Test & Certification Flight / VMC = Visual Meteorological (flying) Conditions