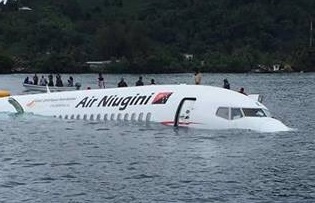 2018-09-28 Air Niugini Boeing 737-800 landed in lagoon at Chuuk
The Boeing 737-800 hit the water on final approach to Chuuk Airport and ended up in a lagoon. The aircraft stayed afloat long enough so that 46 people survived and were rescued. One passenger did not survive.
UPDATE 2018-10-26

Air Niugini flight PX73 (Pohnpei – Chuuk – Port Moresby) took-off at Pohnpei Airport for a scheduled flight to its intermediate stop at Chuuk having Port Moresby as its ultimate destination.
The flight proceeded normally until final approach to runway 04 at Chuuk Airport, Weno Island, Micronesia when the weather conditions deteriorated. According to eyewitness accounts and local media reports, the aircraft descended below the proper approach path until it hit the water surface ending in Chuuk Lagoon approximately 200 m from the beginning of the runway.
Despite water ingress, the aircraft managed to stay afloat for some time allowing passenger evacuation via the overwing exits and the forward passenger door. The Boeing later submerged below the window line.
All 36 passengers and all eleven crewmembers were able to get off-board unhurt and all but one were rescued by small boats. At the end of the day, there were eight people taken to the hospital, four of them with serious, but not life-threatening injuries. However, on 2018-09-29 Air Niugini reported one male passenger was unaccounted for and was reported missing. One day later, the man's dead body was found inside the aircraft. He was the only fatality in this accident.
The 737 received major structural damage. The main undercarriage separated during the water impact sequence. A clear line of buckling is visible just aft of the wings. The aircraft eventually sank in 90 ft of water to the seabed of Chuuk Lagoon.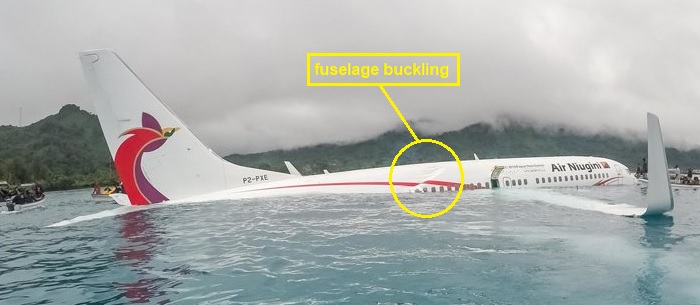 At the time local weather consisted of local thunderstorm activity associated with reduced visibility (from 14 to 3 miles) and intense rain showers. The weather deteriorated rapidly during approach.
Chuuk Airport does not have an ILS approach. There is an RNAV/GPD and/or NDB to runway 04 available.  [CHARTS HERE]
Footage by a US Navy underwater construction team who scrambled to the floating jet in the minutes after the landing revealed that large part of the right engine cowling has broken away and ascended to the surface indicating further damage to the underside of the aircraft.
METAR: Chuuk Intl Airport (PTKK):
01/09/2018 02:30->

METAR PTKK 272250Z VRB05KT 14SM SCT012CB BKN120 OVC280 26/25
           A2973 RMK CB ALQDS SLP071 T02610246=

27/09/2018 23:40->

SPECI PTKK 272340Z 04007KT 3SM SHRA BKN000 OVC008CB 26/25
A2973 RA BKN000 CB ALQDS MOV SW=

 
On Oct 26th 2018, the PNG Accident Investigation Commission published it's Preliminary Report [DOWNLOAD HERE]
The pilot in command was a 52 year old from PNG with a record of 19,780 h flying experience and 2,276 h in a Boeing 737.
The copilot was a 35 year old Australian, with a record of 4,618 h flying experience and 368 h in a Boeing 737.
---
IMAGES & VIDEO

© PNG Accident Investigation Commission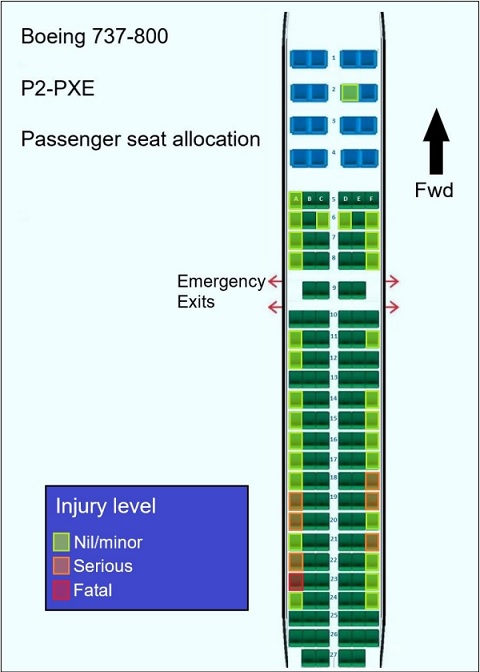 © PNG Accident Investigation Commission
---
---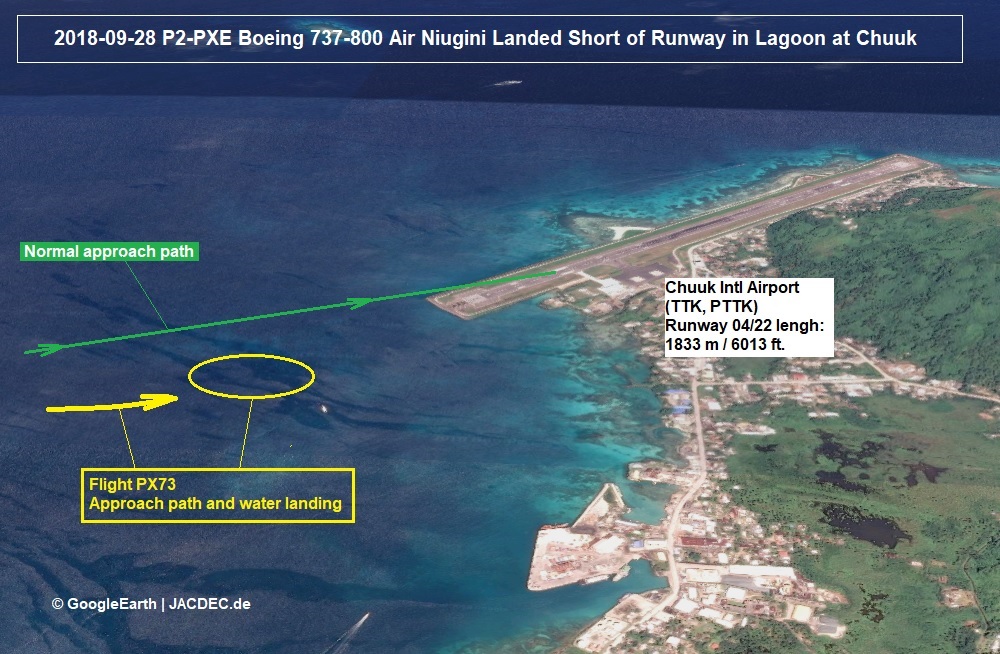 © JACDEC.de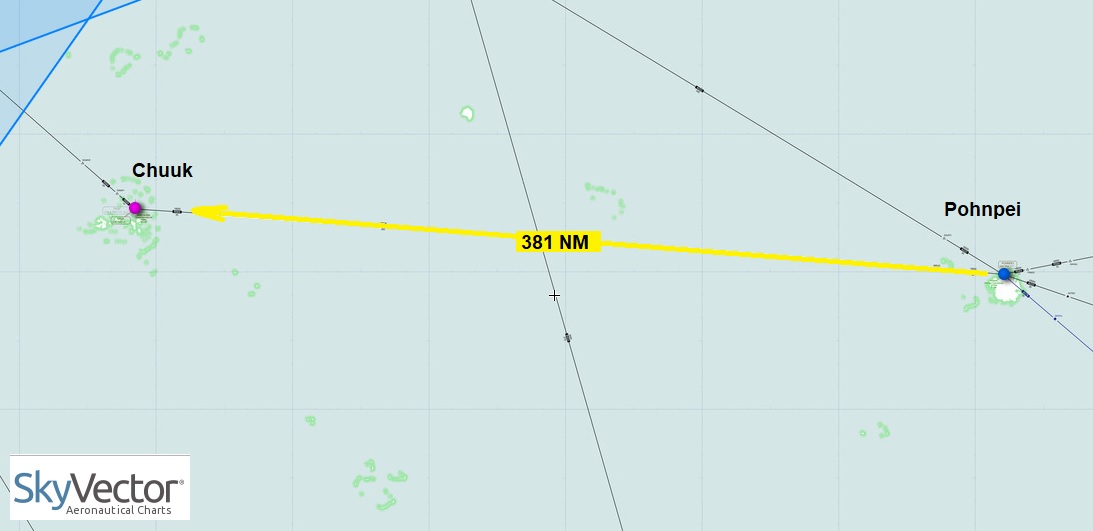 © Skyvector.com
Tweet

Aircraft
Type: Boeing 737-800
Registration: P2-PXE
Age a/c: 13.5 years
Constr. No.: 33024
Previous owners: Air-India Express 2005-2010, Jet Airways 2010-2013, CIT Aerospace 07-2013-09-2013
Crew
Pax
Other
Total
Occupants
 12
35
0
47
Fatalities /
Missing
0
1
0
1
Injuries
–
–
0
8
OCCURENCE DATASET
Date: 2018-09-28 Time: 09:45
Location: PTKK TKK Chuuk Intl
Country: Micronesia
Flight phase: LDG – Flare, Landing Roll, Aborted Landing after Touchdown
Damage to a/c: substantial
Flight
Flight no.: PX 73
From: PTPN /PNI : Pohnpei To: PTKK /TKK : Chuuk Intl
Type: Passenger
Operator: Air Niugini
JACDEC 30-year Statistics :
14th safety occurence for the operator
684th safety occurence of type (B737-800)
1st safety occurence at Chuuk Airport
4th safety occurence for aircraft in question
– 2018-07-04 engine failure on take-off Port Moresby
– 2018-05-12 ground collision w C-130 Port Moresby
– 2007-07-11 runway excursion on landing Cochin
Image & Information Sources
http://airniugini.com.pg/
Copyright - Terms of Usage
All written and shown content on JACDEC.de is provided in the most accurate way. All information may be subject to changes because JACDEC.de cannot always ensure a full support of information updates to each news story.
No publication (or part of) provided by at JACDEC.de may be reproduced or transmitted in any form or by any means or by any information retrieval system without written permission from JACDEC. The below information includes unofficial information and should be treated as this. Editors cannot be held responsible for any errors or omissions caused by any information source mentioned herein. The nature of the following information should be regarded as preliminary.
Furthermore, the author cannot be held accountable for correctness, completeness or quality of the information provided herein. Liability claims regarding damage caused by the use of any information provided, including any kind of information which is incomplete or incorrect, will therefore be rejected.
For further terms and conditions, check our legal disclaimer section:
AP = Airport / AL = Airlines / Avn = Aviation / AW = Airways / C/N: Construction Number / DSP = Domestic Scheduled Passenger / DNP = Domestic Non-Scheduled Passenger / DSC = Domestic Scheduled Cargo / DNC= Domestic Non-Scheduled Cargo / GND = On the ground / parked, stored / FMN= Flying Mission, Air Work / FRY = Ferry-, Positioning Flight / IMC = Intrument Meteorological (flying) Conditions / ISP = International Scheduled Passenger / ISC=International Scheduled Cargo / INP = International Non-Scheduled Passenger / INC =International Non-Scheduled Cargo/ OPS = Flight Operation(s) / NRV = Non-revenue, Private Flight / TRN =Training Flight /  TST = Test & Certification Flight / VMC = Visual Meteorological (flying) Conditions