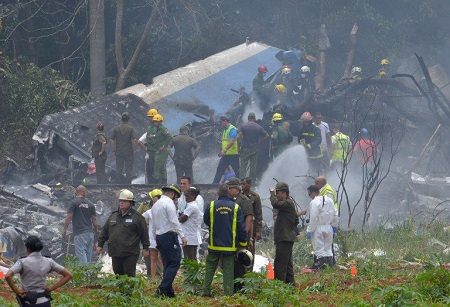 2018-05-18 Cubana | Global Air Boeing 737-200 crashed near Havana Airport
The Boeing 737 lost height and crashed soon after departure from Havana carrying 113 people. Only one of them has survived.
UPDATE 2018-05-25
The aircraft was leased-in from Mexican charter company Global Air (officially the company is registered as Aerolineas Damojh) and was flying the scheduled service CU972 from Havana to Holguin.  The 38-year old 737-200 departed runway 06 at 12:08L o'clock when the pilots apparently lost control. The aircraft was seen by ground observers turning sharply to the right, losing height until it struck power lines and trees before it exploded in a fireball on to the south of the airport.
The identity of the aircraft has been confirmed by the Mexican Ministry of Transportation.[LINK]
The flight presumably departed on runway 06 until it came down in a sparsely wooded area less than a mile southeast of the airport between the towns of Boyeros and Santiago de Las Vegas close to a railway embankment.
A surveillance camera showed the aircraft got airborne but entered a spin lacking any lateral or vertical control nor does it seem flight CU972 has sufficient lift to stay in the air. Control was not regained until it impacted it impacted the ground and burst into flames.
Firefighters and first responders are at the scene close to the José Marti International Airport. The aircraft was destroyed.
According to initial press statements, there have been many casualties among the 113 on board. It also was reported that three occupants have been rescued alive but they are in critical condition.
On 2018-05-21 one of the survivors passed away in hospital pushing the total fatality number to 111.
On 2018-05-25 another survivor passed away bringing the total death toll to 112.
In November 2017, Aerolineas Damojh (Global Air) was the subject of a safety verification by Mexican authorities which it passed. Subsequently, the airline was cleared to carry out passenger flights. 
On 2018-05-19 cockpit voice recorder (CVR) has been recovered from the wreckage.
On 2018-05-22 Mexican authorities revoked the operating certificate of Global Air Damojh amidst an ongoing safety inspection.
NOTE: According to industry reports, on May 3rd, Cuba's National Aviation Authority ordered the grounding of the last operating Antonov An-158 due to the lack of spare parts and technical issues. The other five AN-158's were grounded many months earlier for the same reason.
METAR: Havana – Jose Marti Intl Airport (MUHA):
18/05/2018 11:55->

METAR MUHA 181555Z 17004KT 140V220 9000 SCT017 OVC210 28/23
           Q1015=

18/05/2018 10:55->

METAR MUHA 181455Z 17006KT 140V220 9000 SCT013 OVC130 27/24
           Q1015=
---
IMAGES & VIDEO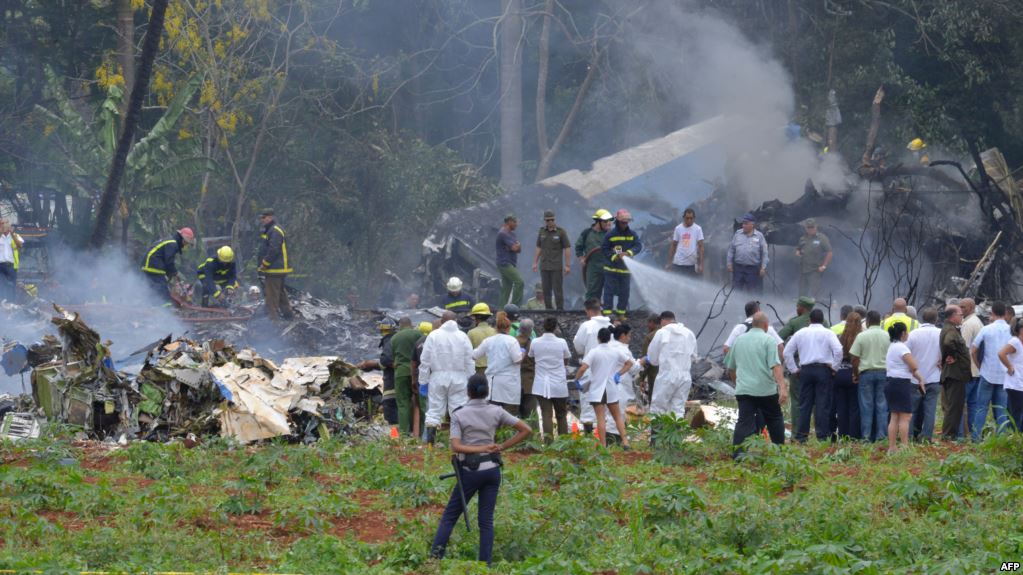 © AFP/Getty_Dailymail
---
---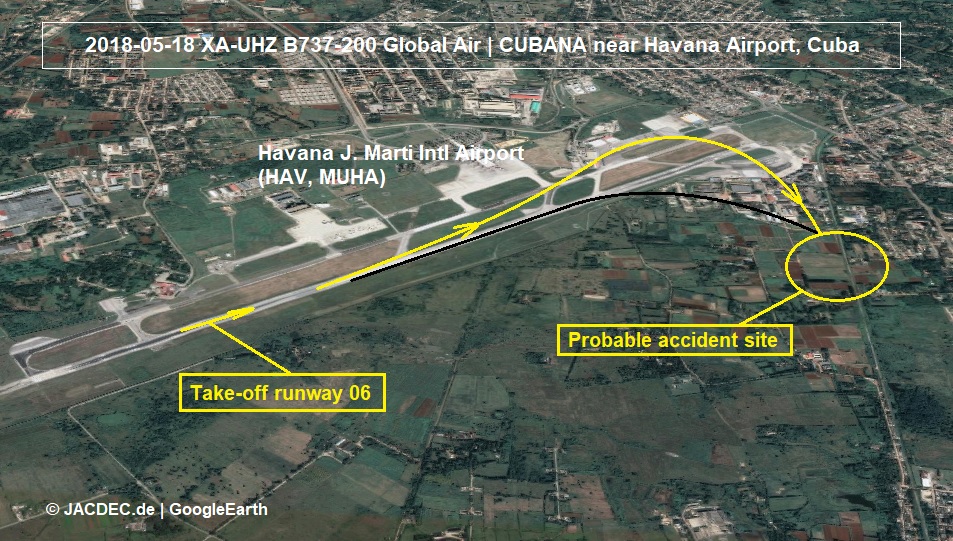 © JACDEC.de
Tweet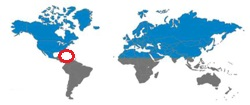 Aircraft (ID not confirmed yet)
Type: Boeing 737-200
Registration: XA-UHZ
Age a/c: 36.8 years
Constr. No.: 21816
Previous owners: Piedmont Airlines 1979, USAir 1989, Royal Aviation 2000, Canada 3000 2001, United States Navy 2001, Magnicharters 2005, Global Air 2008
| | | | | |
| --- | --- | --- | --- | --- |
| | Crew | Pax | Other | Total |
| Occupants |  6 | 107 | 0 | 113 |
| Fatalities | 6 |  106 | 0 |  112 |
| Survivors |  0 | 1 | 0 | 1 |
OCCURENCE DATASET
Date: 2018-05-18 Time: 12:08
Location: MUHA HAV Havana
Country: Cuba
Flight phase: ICL – Airborne – 1.000 ft AGL
Damage to a/c: hull loss
Flight
Flight no.: CU972
From: MUHA/HAV: Havana To: MUHG/HOG: Holguin
Type: Passenger
Operator: Global Air
Leased from: Cubana
JACDEC 25-year Statistics :
2nd safety occurence for the operator (Global Air)
16th safety occurence for the operator (Cubana)
191th safety occurence of type (B737-200)
9th safety occurence at Havana Airport
1st safety occurence for aircraft in question
Image & Information Sources
Copyright - Terms of Usage
All written and shown content on JACDEC.de is provided in the most accurate way. All information may be subject to changes because JACDEC.de cannot always ensure a full support of information updates to each news story.
No publication (or part of) provided by at JACDEC.de may be reproduced or transmitted in any form or by any means or by any information retrieval system without written permission from JACDEC. The below information includes unofficial information and should be treated as this. Editors cannot be held responsible for any errors or omissions caused by any information source mentioned herein. The nature of the following information should be regarded as preliminary.
Furthermore, the author cannot be held accountable for correctness, completeness or quality of the information provided herein. Liability claims regarding damage caused by the use of any information provided, including any kind of information which is incomplete or incorrect, will therefore be rejected.
For further terms and conditions, check our legal disclaimer section:
AP = Airport / AL = Airlines / Avn = Aviation / AW = Airways / C/N: Construction Number / DSP = Domestic Scheduled Passenger / DNP = Domestic Non-Scheduled Passenger / DSC = Domestic Scheduled Cargo / DNC= Domestic Non-Scheduled Cargo / GND = On the ground / parked, stored / FMN= Flying Mission, Air Work / FRY = Ferry-, Positioning Flight / IMC = Intrument Meteorological (flying) Conditions / ISP = International Scheduled Passenger / ISC=International Scheduled Cargo / INP = International Non-Scheduled Passenger / INC =International Non-Scheduled Cargo/ OPS = Flight Operation(s) / NRV = Non-revenue, Private Flight / TRN =Training Flight /  TST = Test & Certification Flight / VMC = Visual Meteorological (flying) Conditions