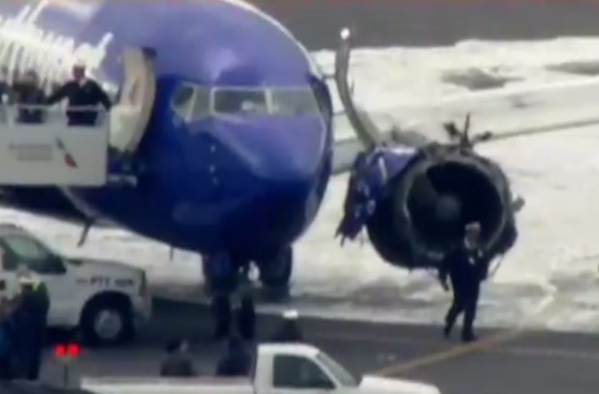 2018-04-19 Southwest B737-700 uncontained engine failure Philadelphia
About 20 minutes after departure the left engine experienced an uncontained failure resulting in a cabin decompression. The pilots were able to make an emergency single-engine landing at Philadelphia. One passenger did not survive.
UPDATE 2018-04-21
Southwest Airlines flight WN1380 to Dallas-Love Field (KDAL) departed New York La Guardia Airport (KLGA) at 10:43L from runway 31. The Boeing 737-700 climbed and turned on a westerly heading until it approached 32.000 feet (9754 m) at 11:03L.
Around this time the fan blade #13 (of 24) broke inside the left engine #1 (CFM-56) and separated. The explosion ripped off a large portion of the fan casing and the fan-turbine blades separated. High energy shrapnel shot in every direction impacting the left wing and a passenger window. The window was shattered and could not withstand the much higher cabin pressure resulting in a rapid decompression of the passenger cabin.
About 3 minutes east of Harrisburg, Pennsylvania, the pilots declared an emergency. They discontinued the flight, performed an emergency descent and set course to Philadelphia Airport. Flying on the right engine only, the pilots were vectored for an approach to runway 27L at Philadelphia airport where a safe landing was made at around 11:15L.
Immediately after coming to a stop on taxiway "Sierra 9", the fire service began to foam the left engine.
There was no engine fire and no emergency evacuation took place.
According to passenger accounts, a 43-year-old female passenger sitting on seat 14A – next to the damaged window – was nearly sucked out by the airstream of the decompression, but fellow passengers having a presence of mind could hold her back. From her waist above she was hanging outside. This female passenger later succumbed to her injuries in hospital. There have been seven other passengers sustaining minor injuries.
For Southwest Airlines this accident marks the first ever onboard fatality in their 47 years of operations. 
Philadelphia Airport was forced to close for all traffic until the emergency situation was called off.
The incident is under investigation of the NTSB. A part of the engine cowling was found later that day near Bernville, PA [MAP].
NOTE: On 2016-08-27 another 737 of Southwest Airlines suffered an in-flight engine separation event. [LINK]
On 2018-04-20 the FAA released an Emergency Airworthiness Directive to all owners and operators of CFM56-7B engines. [LINK]
(1) Within 20 days after receipt of this AD, perform a one-time ultrasonic inspection (USI) of
all 24 fan blade dovetail concave and convex sides to detect cracking.
(2) Use the Accomplishment Instructions, paragraphs 3.A.(3)(a) through (i), of CFM Service
Bulletin CFM56-7B S/B 72-1033, dated April 20, 2018, to perform the inspection required by
paragraph (g)(1) of this AD.
If any unserviceable indication, as specified in CFM Service Bulletin CFM56-7B S/B
72-1033, dated April 20, 2018, is found during any inspection required by this AD, remove the
affected fan blade from service before further flight.
METAR: Philadelphia Intl Airport (KPHL):
17/04/2018 10:54->

METAR KPHL 171454Z 29018G27KT 10SM BKN048 BKN080 07/M04 A2975
           RMK AO2 PK WND 27028/1442 SLP072 T00721044 58002=

17/04/2018 11:54->

METAR KPHL 171554Z 27016G21KT 10SM BKN049 OVC080 07/M04 A2973
           RMK AO2 PK WND 27029/1517 SLP069 T00721039=
---
Soundfile of Air Traffic Control conversations with PHL-Tower provided by LiveATC.net

---
IMAGES & VIDEO
© Youtube.com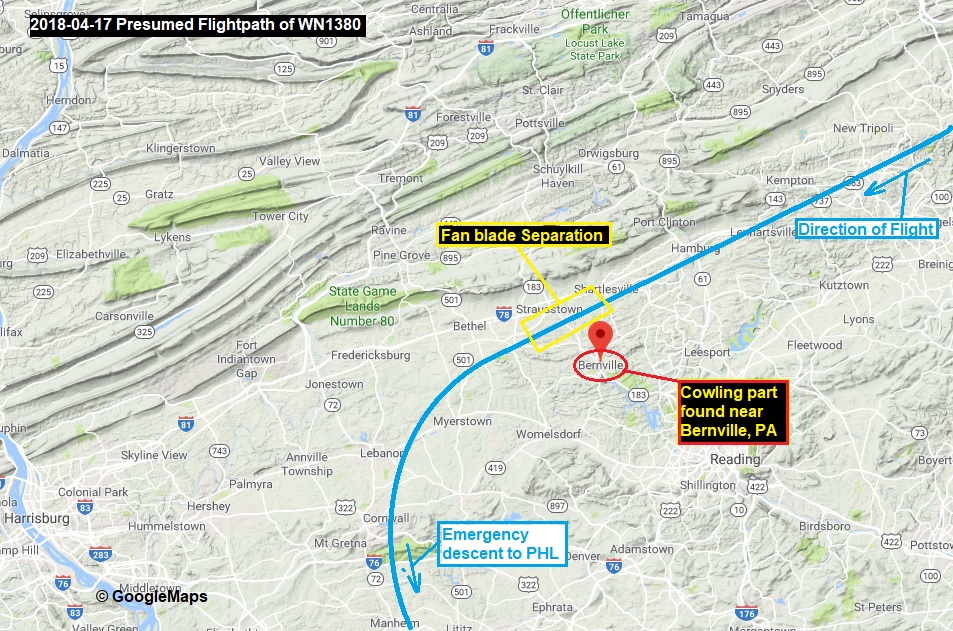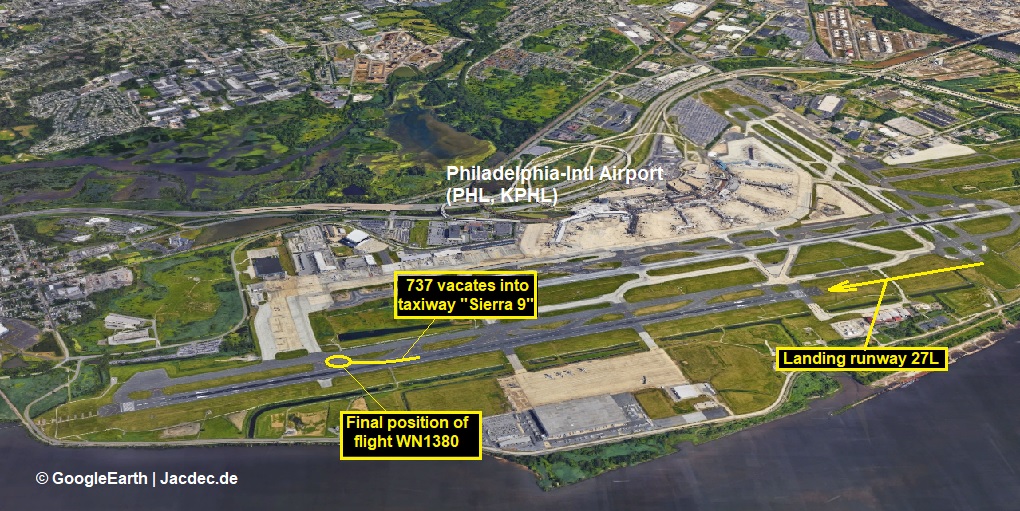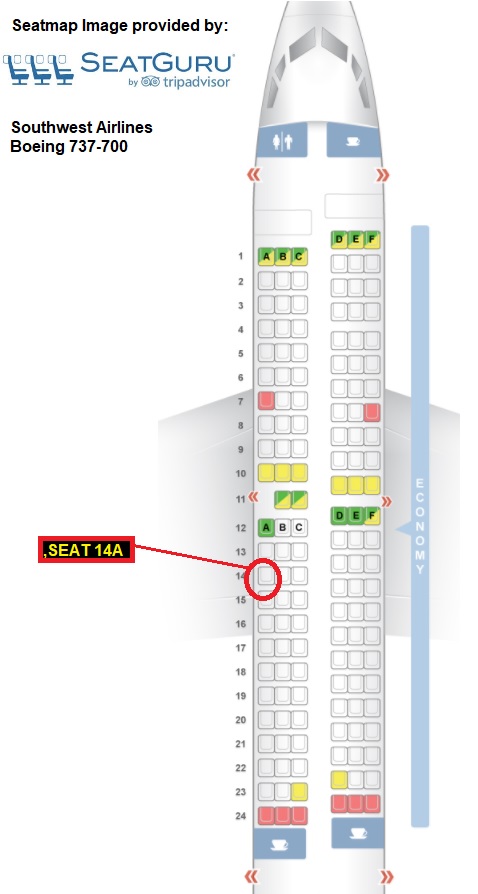 © Seatguru.com
Tweet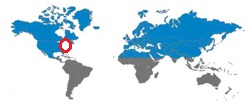 Type: Boeing 737-700
Registration: N772SW
Age a/c: 17.8 years
Constr. No.: 278807
| | | | | |
| --- | --- | --- | --- | --- |
| | Crew | Pax | Other | Total |
| Occupants | 5 | 143 | 0 | 148 |
| Fatalities | 0 | 1 | 0 | 1 |
| Injuries |  0 | 7 | 0 | 7 |
OCCURENCE DATASET
Date: 2018-04-17 Time: 11:03
Location: over eastern Ohio
Country: United States of America
Flight phase: ENR – Cruise, Descent, Holding
Damage to a/c: substantial
Flight
Flight no.: WN 1380
From: KLGA/LGA: New York La Guardia To: KDAL/DAL: Dallas Love Field
Type: Passenger
Operator: Southwest Airlines
JACDEC 30-year Statistics :
82nd safety occurence for the operator
140th safety occurence of type (B737-700)
17th safety occurence at Philadelphia Airport
1st safety occurence for aircraft in question
Image & Information Sources
Copyright - Terms of Usage
All written and shown content on JACDEC.de is provided in the most accurate way. All information may be subject to changes because JACDEC.de cannot always ensure a full support of information updates to each news story.
No publication (or part of) provided by at JACDEC.de may be reproduced or transmitted in any form or by any means or by any information retrieval system without written permission from JACDEC. The below information includes unofficial information and should be treated as this. Editors cannot be held responsible for any errors or omissions caused by any information source mentioned herein. The nature of the following information should be regarded as preliminary.
Furthermore, the author cannot be held accountable for correctness, completeness or quality of the information provided herein. Liability claims regarding damage caused by the use of any information provided, including any kind of information which is incomplete or incorrect,will therefore be rejected.
For further terms and conditions, check our legal disclaimer section:
http://www.jacdec.de/imprint-legal-disclaimer/ 
AP = Airport / AL = Airlines / Avn = Aviation / AW = Airways / C/N: Construction Number / DSP = Domestic Scheduled Passenger / DNP = Domestic Non-Scheduled Passenger / DSC = Domestic Scheduled Cargo / DNC= Domestic Non-Scheduled Cargo / GND = On the ground / parked, stored / FMN= Flying Mission, Air Work / FRY = Ferry-, Positioning Flight / IMC = Intrument Meteorological (flying) Conditions / ISP = International Scheduled Passenger / ISC=International Scheduled Cargo / INP = International Non-Scheduled Passenger / INC =International Non-Scheduled Cargo/ OPS = Flight Operation(s) / NRV = Non-revenue, Private Flight / TRN =Training Flight /  TST = Test & Certification Flight / VMC = Visual Meteorological (flying) Conditions