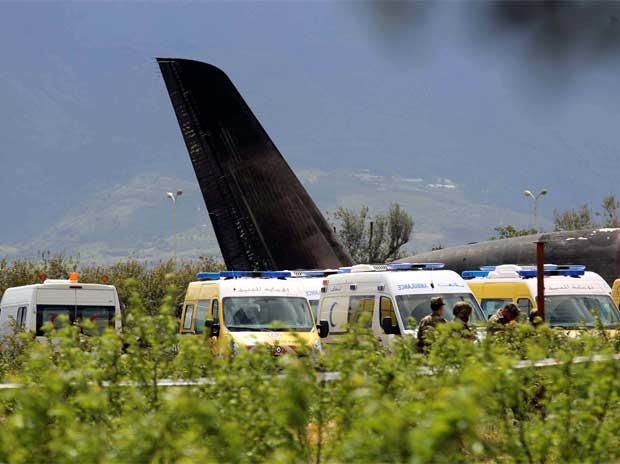 2018-04-11 IL-78 Algerian Air Force crashed near Blida Airport
The military transport aircraft crashed after take-off from Boufarik Air Base, Algeria with 257 persons on board. There were no survivors.
UPDATE
The military aircraft was due to perform a performing a passenger transport flight from Boufarik Air Force Base (DAAK) – about 30 km (18 nm) – southwest of the capital Algiers, to  Béchar -Boudghene Ben Lotfi Airport in the far West of the country. The flight distance of 392 miles (726 km).  There were 247 soldiers (destined for West Sahara to replace the Algerian border patrol unit) and 10 crewmembers on board the Ilyushin IL-78.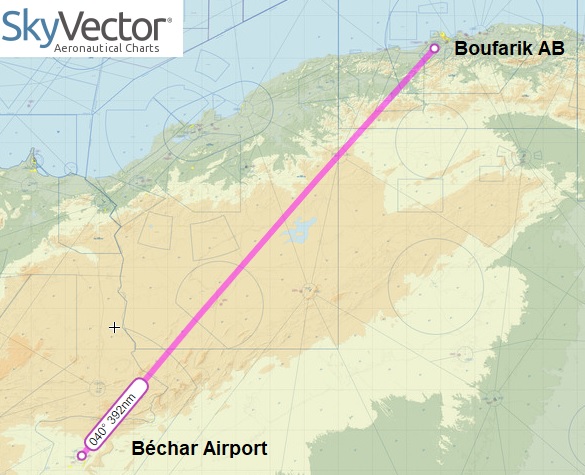 Multiple media outlets reported an engine problem might have occurred at or immediately after getting airborne ultimately resulting in a loss of control. A ground witness reported an engine on the right wing burst into flames and the aircraft began to bank to one side before another engine (on the left side) caught fire as well.
The IL-78 lost height and came down on an citrus field near the town of Blida, about 4 km south of Bourfarik. On impact, the aircraft broke up and caught fire.
Despite a massive emergency operation, no survivors have been found. It is understood that all 257 people on board received fatal injuries in the crash.
According to the ATDB Database, the Algerian Air Force does operate 18 IL-76's and six IL-78's.
If the fatality numbers are to be confirmed, this accident was the 17 worst aviation disaster of all time.
METAR: Boufarik Air Base (DAAK):
| | | |
| --- | --- | --- |
| | 11/04/2018 07:30-> | NO METAR REPORTS AVAILABLE |
| | 11/04/2018 08:00-> | NO METAR REPORTS AVAILABLE |
More to come..
---
IMAGES & VIDEO
© GoogleEarth | JACDEC.de
Tweet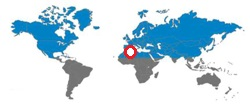 Aircraft
Type: Ilyushin Il-76
Registration: 7T-WIV
Age a/c: 23.4 years
Constr. No.: 1043419649
| | | | | |
| --- | --- | --- | --- | --- |
| | Crew | Pax | Other | Total |
| Occupants | 10 | 247 | 0 | 257 |
| Fatalities | 10 | 247 | 0 | 257 |
| Injuries |  0 | 0 | 0 | 0 |
OCCURENCE DATASET
Date: 2018-04-11 Time: 07:50L
Location: DAAK – Boufarik Air Base
Country: Algeria
Google Maps: (LINK)
Flight phase: ICL – Airborne – 1.000 ft AGL
Damage to a/c: hull loss
Flight
Flight no.: –
From: DAAK/-: Boufarik Air Base To: DAOO/ORN: Oran Es Senia
Type: Military / Government
Operator: Algerian Air Force
JACDEC 25-year Statistics :
4th safety occurence for the operator
77th safety occurence of type (IL76/78)
1st safety occurence at Boufarik Airport
1st safety occurence for aircraft in question
Image & Information Sources
Copyright - Terms of Usage
All written and shown content on JACDEC.de is provided in the most accurate way. All information may be subject to changes because JACDEC.de cannot always ensure a full support of information updates to each news story.
No publication (or part of) provided by at JACDEC.de may be reproduced or transmitted in any form or by any means or by any information retrieval system without written permission from JACDEC. The below information includes unofficial information and should be treated as this. Editors cannot be held responsible for any errors or omissions caused by any information source mentioned herein. The nature of the following information should be regarded as preliminary.
Furthermore, the author cannot be held accountable for correctness, completeness or quality of the information provided herein. Liability claims regarding damage caused by the use of any information provided, including any kind of information which is incomplete or incorrect,will therefore be rejected.
For further terms and conditions, check our legal disclaimer section:
http://www.jacdec.de/imprint-legal-disclaimer/ 
AP = Airport / AL = Airlines / Avn = Aviation / AW = Airways / C/N: Construction Number / DSP = Domestic Scheduled Passenger / DNP = Domestic Non-Scheduled Passenger / DSC = Domestic Scheduled Cargo / DNC= Domestic Non-Scheduled Cargo / GND = On the ground / parked, stored / FMN= Flying Mission, Air Work / FRY = Ferry-, Positioning Flight / IMC = Intrument Meteorological (flying) Conditions / ISP = International Scheduled Passenger / ISC=International Scheduled Cargo / INP = International Non-Scheduled Passenger / INC =International Non-Scheduled Cargo/ OPS = Flight Operation(s) / NRV = Non-revenue, Private Flight / TRN =Training Flight /  TST = Test & Certification Flight / VMC = Visual Meteorological (flying) Conditions