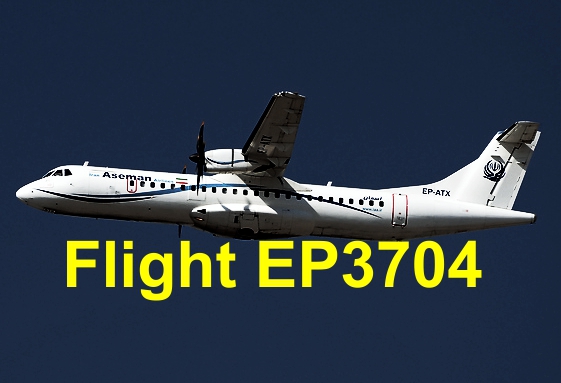 2018-02-18 Iran Aseman ATR-72 flew into terrain near Yasuj
The ATR-72 was reported missing on approach to Yasuj Airport. Later the wreckage was found on Dena Mountain. There were no survivors.
UPDATE 2018-03-03
Flight EP3704 took off from Tehran-Mehrabad Airport at 08:03L on runway 29L/R for a scheduled flight to Yasuj.  The aircraft then turned to a southerly heading to join the airway "W13" to waypoint "PEKAM" while maintaining its cruise altitude of 21.000 feet. It continues along airway "P574" to waypoint "OBTUX" where it turns right to join airway "W144" direct to Yasuj.
About 45 minutes later, while in descent to its destination, all contact to the pilots or the aircraft was abruptly lost. Previously the crew had requested a change in altitude, and was descending from 21,000 ft to 17,000 Ft.  of was flying over high rising terrain of the Dena Mountain Range, east of Yasuj Airport with summits above 13000 feet.
Local weather conditions (snowfall in the mountains) is hampering rescue efforts.
On 2018-02-20 the scattered wreckage was found 30 m below a mountaintop at 4.000 (13.200 ft) m located south of Noqol almost in the way of the "W144" airway. 
Iranian CAO has begun an investigation.
Iran Aseman Airlines released a list of all 66 occupants on board [LINK]
Since 2016 Iran Aseman Airlines is among the airlines banned from entering European Union (EU) airspace because of safety concerns.
On 2018-03-03 the black boxes were recovered from the crash site and brought to laboratories for further analysis.
On March 11th the Iranian Investigation Commission CAO published a preliminary report in persian. [LINK]
METAR: Yasuj Airport (OISY):
| | | |
| --- | --- | --- |
| | 18/02/2018 09:00-> | METAR OISY 180530Z 09004KT 9999 FEW035CB SCT040 OVC090 14/M01 Q1022 |
| | 18/02/2018 08:30-> | METAR OISY 180500Z 00000KT 9999 SCT040 OVC090 11/M00 Q1021= |
---
IMAGES & VIDEO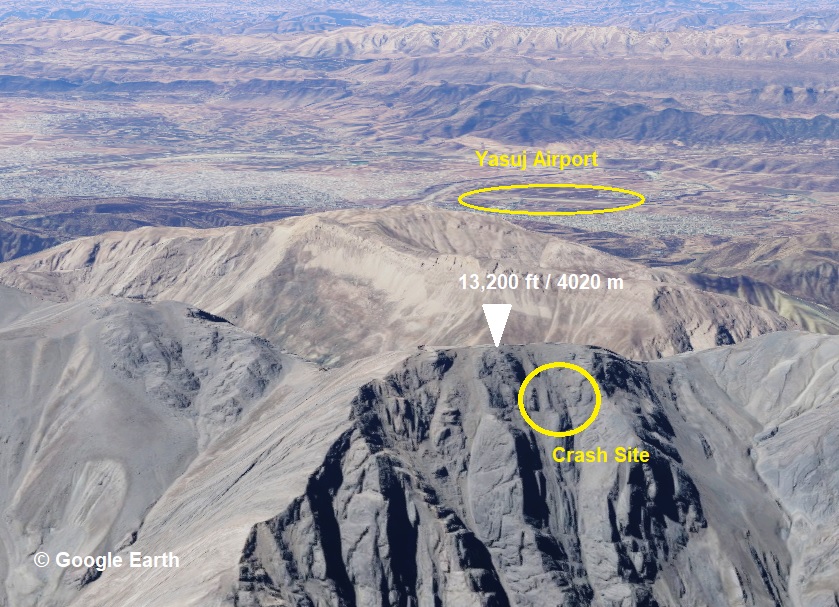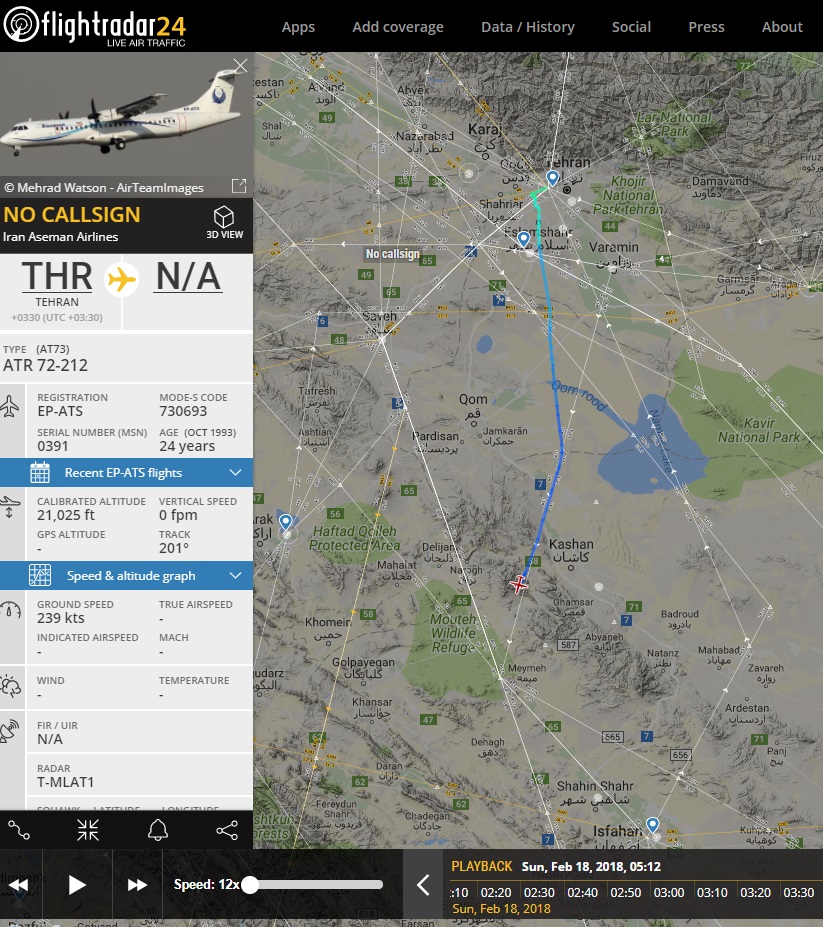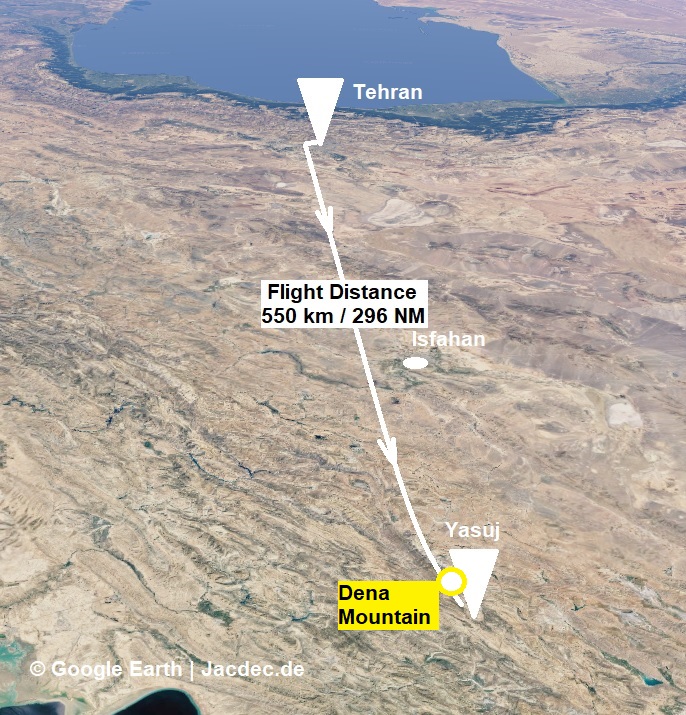 Tweet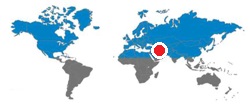 | | | | | |
| --- | --- | --- | --- | --- |
| | Crew | Pax | Other | Total |
| Occupants | 6 |  60 | 0 | 66 |
| Fatalities | 6 | 60 | 0 | 66 |
| Injuries |  0 | 0 | 0 | 0 |
OCCURENCE DATASET
Date: 2018-02-18 Time: 08:45
Location: Smirom area, Yasuj
Country: Iran
Flight phase: ENR3 – Descent IFR Descent from cruise to Initial Approach Fix (IAF) or VFR pattern entry.
Damage to a/c: hull loss
Flight
Flight no.: EP 3704
From: OIII/THR: Tehran Mehrabad Intl To: OISY/YES: Yasouj
Type: Passenger
Operator: Iran Aseman Airlines
JACDEC 30-year Statistics :
10th safety occurence for the operator
– 2nd fatal acc since 1994
226th safety occurence of type (ATR-72)
1st safety occurence at/near Yasuj Airport
1st safety occurence for aircraft in question
Image & Information Sources
Copyright - Terms of Usage
All written and shown content on JACDEC.de is provided in the most accurate way. All information may be subject to changes because JACDEC.de cannot always ensure a full support of information updates to each news story.
No publication (or part of) provided by at JACDEC.de may be reproduced or transmitted in any form or by any means or by any information retrieval system without written permission from JACDEC. The below information includes unofficial information and should be treated as this. Editors cannot be held responsible for any errors or omissions caused by any information source mentioned herein. The nature of the following information should be regarded as preliminary.
Furthermore, the author cannot be held accountable for correctness, completeness or quality of the information provided herein. Liability claims regarding damage caused by the use of any information provided, including any kind of information which is incomplete or incorrect,will therefore be rejected.
For further terms and conditions, check our legal disclaimer section:
http://www.jacdec.de/imprint-legal-disclaimer/ 
AP = Airport / AL = Airlines / Avn = Aviation / AW = Airways / C/N: Construction Number / DSP = Domestic Scheduled Passenger / DNP = Domestic Non-Scheduled Passenger / DSC = Domestic Scheduled Cargo / DNC= Domestic Non-Scheduled Cargo / GND = On the ground / parked, stored / FMN= Flying Mission, Air Work / FRY = Ferry-, Positioning Flight / IMC = Intrument Meteorological (flying) Conditions / ISP = International Scheduled Passenger / ISC=International Scheduled Cargo / INP = International Non-Scheduled Passenger / INC =International Non-Scheduled Cargo/ OPS = Flight Operation(s) / NRV = Non-revenue, Private Flight / TRN =Training Flight /  TST = Test & Certification Flight / VMC = Visual Meteorological (flying) Conditions