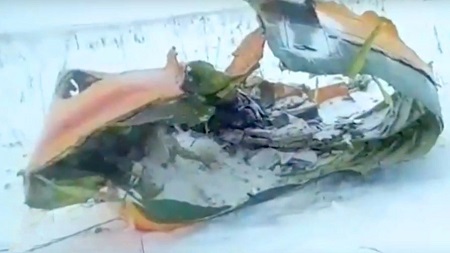 2018-02-11 Saratov Airlines An-148 crashed east of Moscow
An Antonov An-148 of Saratov Airlines lost control and crashed 7 minutes after take-off with 71 people on board. There were no survivors.
UPDATE 2018-02-13
Saratov Airlines scheduled flight 6W 703 departed from runway 14R(ight) at Moscow-Domodedovo Intl Airport (DME, UUDD) at 14:21 L. The Antonov An-148 climbed along departure route OKREM 14G turning left to a heading of about 090 (heading east) when its climb was interrupted at about 5 minutes later when crossing about 6.500 feet.
The altitude began fluctuating around 6.000 feet until it the aircraft lost altitude very rapidly.
The aircraft hit open, flat, snow-covered countryside near the village of Argunovo in Ramenskoye district and exploded on impact.
That same afternoon, debris and other wreckage items were found. Saratov Airlines confirmed the accident on their website. [LINK]
There were no indications about any survivors among the 65 passengers and six crewmembers.
Local media reports the pilots radioed a distress signal indicating a technical malfunction on board and expressing their intention to make an emergency landing at Zhukovsky Airport, about 30 km (18 nautical miles) left of their position. After that conversation, all contact was lost.
Russian Aviation Safety Authority MAK is investigating. Both flight recorders (DFDR and CVR) have been located and were recovered. Specialists brought them to MAK laboratory for decoding and analyzing.
According to a MAK press statement, initial analysis of the DFDR recorder showed that the pitot tubes heating system has been turned off on the accident flight.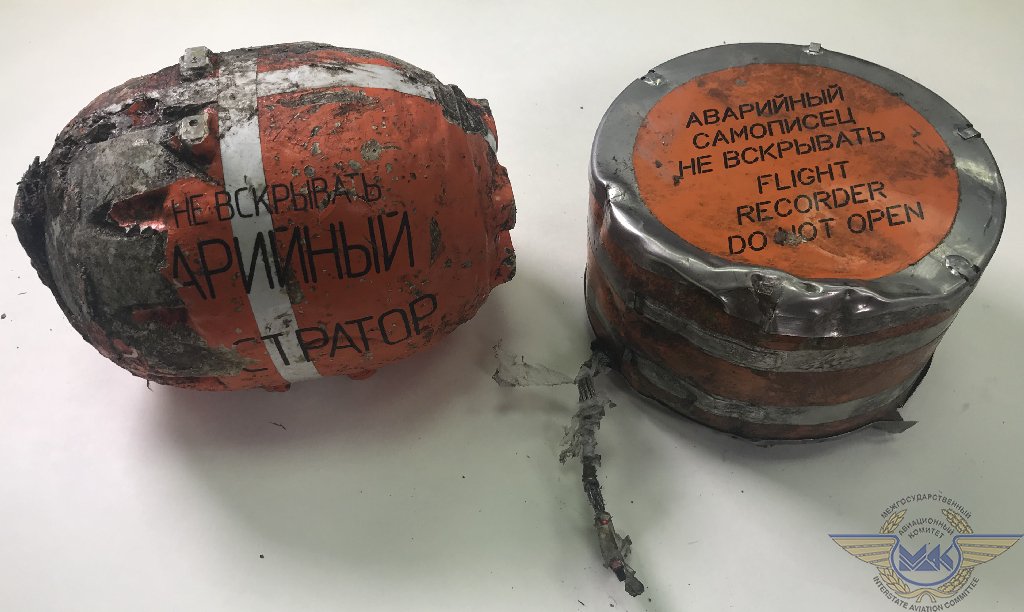 © MAK
Normally turning on the pitot heating is part of the routine pre-flight checklists, in particular when winter weather conditions are prevailing. Keeping these tubes warm enough that no precipitation can freeze is vital for all airspeed indications in the cockpit. Iced-up pitot tubes
The pitot tubes on an Antonov An-148 are shown on the image below in the yellow ring.
® Photo: Jan-Arwed Richter | JACDEC.de
The data revealed that the pitot heating system was engaged on the previous 15 flights, but not on the accident flight.
After being airborne for 2,5 minutes, flying at 250 knots at around 4,000 ft., the FDR showed irregularities in speed indications. A disagreement which was growing gradually until at 6,000 ft., at this point the pilots disengaged the autopilot and flew the An-148 manually until the end of flight.
50 seconds later the no. 1 airspeed sensor indicated "zero" knots and the vertical G-loads began to increase. At the moment of impact the no. 3 speed sensor showed 432 knots associated with a nose-down angle of 30 degrees.
---
6W 703 ATC Conversation via 

 (in russian, emr starts at 29:00 min)
METAR: Moscow-Domodedovo Airport (UUDD):
| | | |
| --- | --- | --- |
| | 11/01/2018 1430Z -> | UUDD 111130Z 13006MPS 2100 -SN SCT008 OVC026 M05/M06 Q1019 R14R/590293 R14L/590392 TEMPO 1200 SHSN BKN012CB |
| | 11/01/2018 1400Z -> | UUDD 111100Z 14006MPS 1800 R14R/1900U R14L/1800U SHSN BKN007 BKN026CB M05/M06 Q1019 R14R/590293 R14L/590392 NOSIG |
---
IMAGES & VIDEO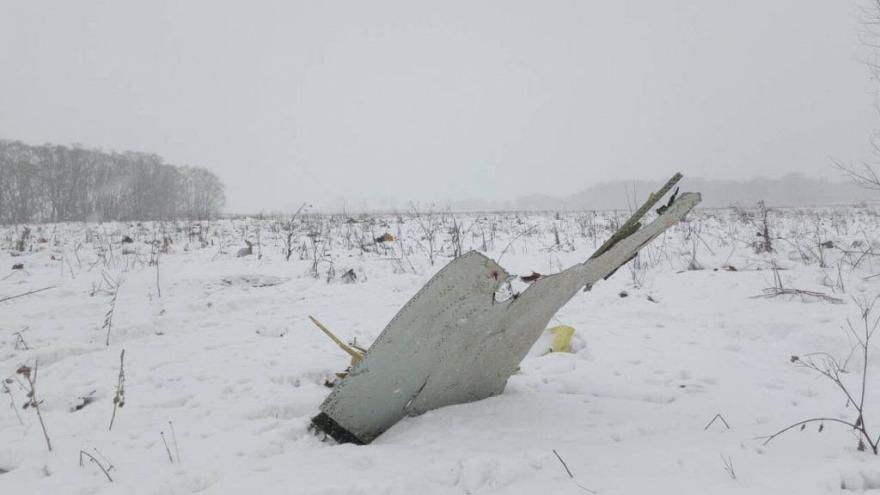 © mk.ru
Aerial tracking shot of the crash site (© Life)
Moment of ground impact captured by surveillance cam (© Kullverstukas):
---
Flightpath (provided by Flightradar24)
Flightpath (provided by JeppView via uvaairlines.com)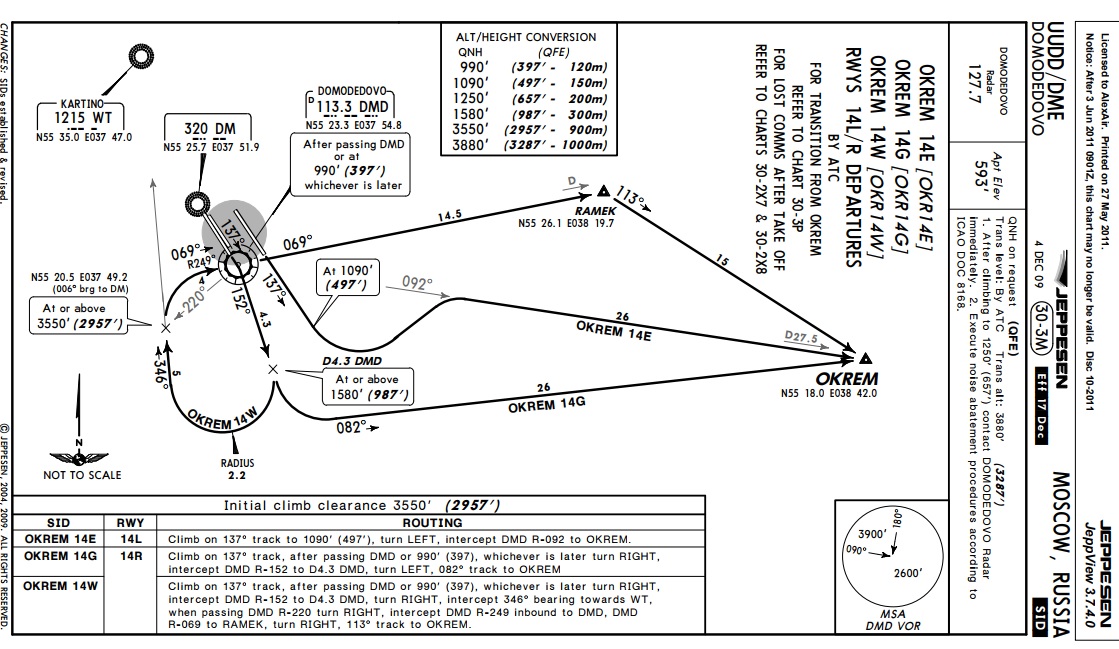 Tweet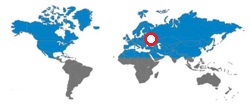 Aircraft
Type: Antonov An-148
Registration: RA-61704
Age a/c: 7.8 years
Constr. No.: 27015040004
Former Operators: Rossiya Airlines JUN-2010, in storage APR-2015, Saratov AL FEB-2017
| | | | | |
| --- | --- | --- | --- | --- |
| | Crew | Pax | Other | Total |
| Occupants |  6 | 65 | 0 |  71 |
| Fatalities | 6 | 65 | 0 | 71 |
| Injuries |  0 |  0 | 0 |  0 |
OCCURENCE DATASET
Date: 2018-02-11 Time: 14:27
Location: Ramenskoye District
Country: Russia
Flight phase: ENR2 – Climb above 1000 ft. AGL to Cruise; Climb from end of ICL to intended cruise level
Damage to a/c: hull loss
Flight
Flight no.: 6W 703
From: UUDD/DME: Moscow Domodedovo To: UWOR/OSW: Orsk
Type: Passenger
Operator: Saratov Airlines
JACDEC 25-year Statistics :
5th safety occurence for the operator (1st fatal)
8th safety occurence of type (AN148)
17th accident in Moscow Region
1st safety occurence for aircraft in question
Image & Information Sources
Copyright - Terms of Usage
All written and shown content on JACDEC.de is provided in the most accurate way. All information may be subject to changes because JACDEC.de cannot always ensure a full support of information updates to each news story.
No publication (or part of) provided by at JACDEC.de may be reproduced or transmitted in any form or by any means or by any information retrieval system without written permission from JACDEC. The below information includes unofficial information and should be treated as this. Editors cannot be held responsible for any errors or omissions caused by any information source mentioned herein. The nature of the following information should be regarded as preliminary.
Furthermore, the author cannot be held accountable for correctness, completeness or quality of the information provided herein. Liability claims regarding damage caused by the use of any information provided, including any kind of information which is incomplete or incorrect,will therefore be rejected.
For further terms and conditions, check our legal disclaimer section:
http://www.jacdec.de/imprint-legal-disclaimer/ 
AP = Airport / AL = Airlines / Avn = Aviation / AW = Airways / C/N: Construction Number / DSP = Domestic Scheduled Passenger / DNP = Domestic Non-Scheduled Passenger / DSC = Domestic Scheduled Cargo / DNC= Domestic Non-Scheduled Cargo / GND = On the ground / parked, stored / FMN= Flying Mission, Air Work / FRY = Ferry-, Positioning Flight / IMC = Intrument Meteorological (flying) Conditions / ISP = International Scheduled Passenger / ISC=International Scheduled Cargo / INP = International Non-Scheduled Passenger / INC =International Non-Scheduled Cargo/ OPS = Flight Operation(s) / NRV = Non-revenue, Private Flight / TRN =Training Flight /  TST = Test & Certification Flight / VMC = Visual Meteorological (flying) Conditions