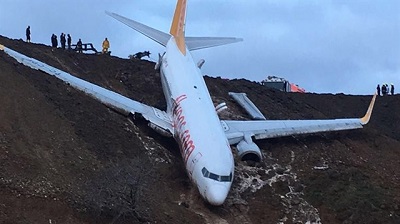 2018-01-13 Pegasus B737-800 landing accident at Trabzon
On landing the aircraft veered to the side of the runway where it fell down a steep embankment before it came to rest. All 166 on board survived. Some of them received minor injuries.
UPDATE 2018-01-24
Pegasus Airlines flight PC 8622  from Ankara was landing from the west on runway 11 in darkness and rain (23:26L) at Trabzon-International Airport when during the deceleration process, the aircraft ran to the left of the runway.
The pilots were, however, unable to correct the misalignment with the runway centerline until the aircraft departed paved surface of the hard shoulder and rolled over soft, downsloping terrain where it came to a stop in a strong nose-down position only a few meters away from the waves of the Black Sea.
An emergency evacuation was initiated via overwings exists and chutes. All 166 on board made it out safely.
The wings, engines and undercarriage received substantial damage. The nosegear and the right maingear were sheared off or collapsed. The right engine separated and was found to have fallen into the shallow waters of the Black Sea.
There almost was any wind at the time of the accident, but local visibility was somewhat reduced because of rainfall. Turkish authorities have launched an investigation.
The Airport operations came to a halt because of an ongoing emergency beneath the runway.
Trabzon Airport is built close to the shoreline. Its single runway is measuring 2640 x 45 m (8661 x 148 ft).
NOTAM LTCG:
LTCG A0284/18 AIRCRAFT WRECK -60M BEYOND THR RWY 29 -75M RIGHT
SIDE OF RWY 29 CENTERLINE -5M HEIGHT. 14 JAN 06:55 2018 UNTIL
29 JAN 14:00 2018. CREATED: 14 JAN 06:56 2018
Early reports in Turkish media – based on the reports of both pilots – indicated the right engine #2 (CFM56 -7B26) unintentionally developed forward when the 737 had already reached a slower groundspeed. This created a strong turning momentum around the vertical axis to such an extent the pilots were unable to counteract. This thrust asymmetry occurred at the end of what appeared to be a normal landing run on runway 11. 
Due to a lack of suitable maintenance facilities, it was decided not to repair the aircraft making it the 1st hull loss for Pegasus Airlines.
METAR: Trabzon Airport (LTCG, TZX):
 

13/01/2018 20:20->

METAR LTCG 132020Z 24001KT 4000 -RA BR BKN003 BKN025 08/07
           Q1021 NOSIG=

 

13/01/2018 20:50->

METAR LTCG 132050Z 25001KT 2800 -RA BR BKN004 BKN025 08/07
           Q1021 BECMG TL2100 3200=
---
IMAGES & VIDEO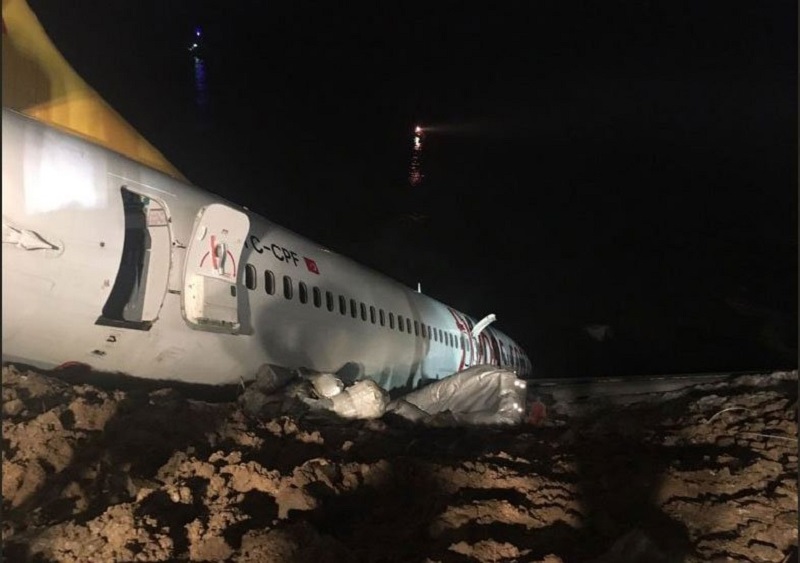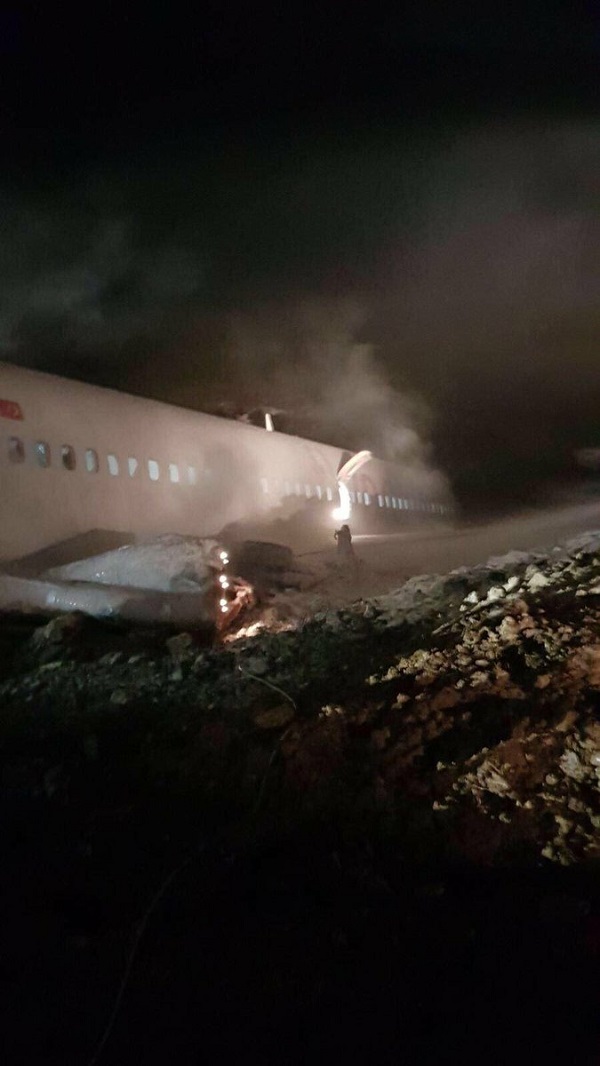 © Sondakika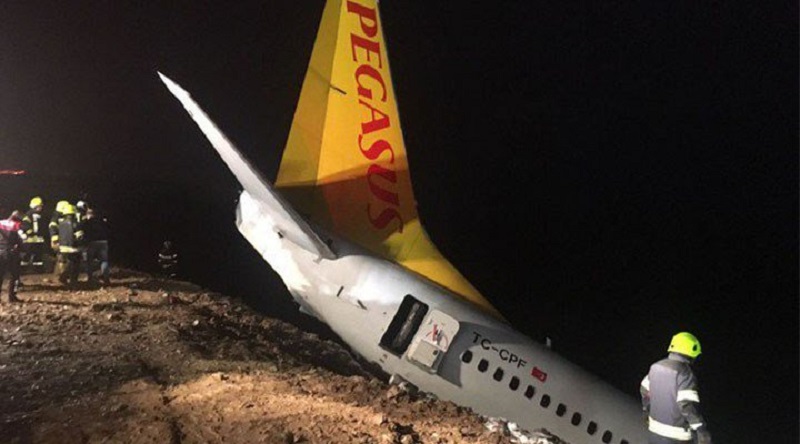 © Airporthaber
---
Drone Camera Images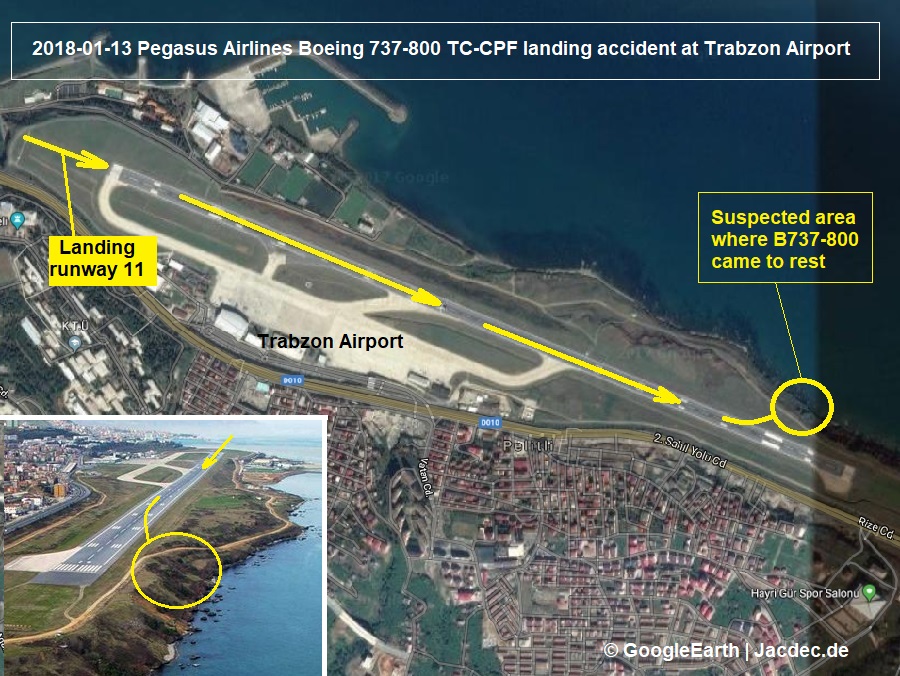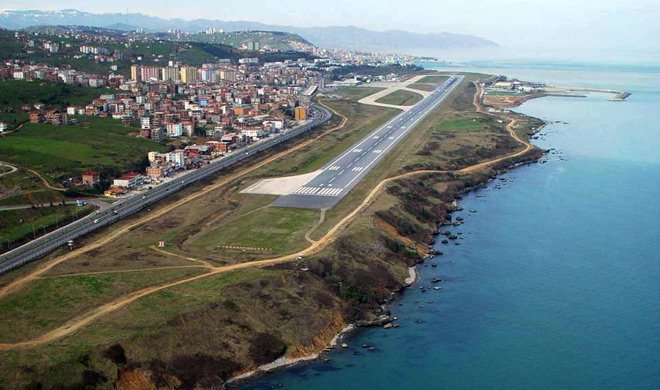 © Twitter | Kokpit.aero
Flightpath (provided by Flightradar24)
Tweet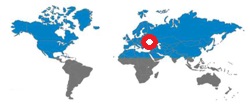 Aircraft
Type: Boeing 737-800
Registration: TC-CPF
Age a/c: 5.16 years
Constr. No.: 40879
| | | | | |
| --- | --- | --- | --- | --- |
| | Crew | Pax | Other | Total |
| Occupants |  6 | 162 | 0 | 166 |
| Fatalities | 0 | 0 | 0 | 0 |
| Injuries | | | 0 | |
OCCURENCE DATASET
Date: 2018-01-12 Time: 23:25
Location: LTCG TZX Trabzon
Country: Turkey
Flight phase: LDG – Flare, Landing Roll, Aborted Landing after Touchdown
Damage to a/c: damaged beyond repair / Hull Loss
Flight
Flight no.: PC 8622
From: LTAC/ESB: Ankara Esenboga International To: LTCG/TZX: Trabzon
Type: Passenger
Operator: Pegasus Airlines
JACDEC 30-year Statistics :
20th safety occurence for the operator
– no hull loss accidents for Pegasus AL until today
576th safety occurence of type (B737-800)
3rd safety occurence at Trabzon Airport
1st safety occurence for aircraft in question
Image & Information Sources
Copyright - Terms of Usage
All written and shown content on JACDEC.de is provided in the most accurate way. All information may be subject to changes because JACDEC.de cannot always ensure a full support of information updates to each news story.
No publication (or part of) provided by at JACDEC.de may be reproduced or transmitted in any form or by any means or by any information retrieval system without written permission from JACDEC. The below information includes unofficial information and should be treated as this. Editors cannot be held responsible for any errors or omissions caused by any information source mentioned herein. The nature of the following information should be regarded as preliminary.
Furthermore, the author cannot be held accountable for correctness, completeness or quality of the information provided herein. Liability claims regarding damage caused by the use of any information provided, including any kind of information which is incomplete or incorrect,will therefore be rejected.
For further terms and conditions, check our legal disclaimer section:
http://www.jacdec.de/imprint-legal-disclaimer/ 
AP = Airport / AL = Airlines / Avn = Aviation / AW = Airways / C/N: Construction Number / DSP = Domestic Scheduled Passenger / DNP = Domestic Non-Scheduled Passenger / DSC = Domestic Scheduled Cargo / DNC= Domestic Non-Scheduled Cargo / GND = On the ground / parked, stored / FMN= Flying Mission, Air Work / FRY = Ferry-, Positioning Flight / IMC = Intrument Meteorological (flying) Conditions / ISP = International Scheduled Passenger / ISC=International Scheduled Cargo / INP = International Non-Scheduled Passenger / INC =International Non-Scheduled Cargo/ OPS = Flight Operation(s) / NRV = Non-revenue, Private Flight / TRN =Training Flight /  TST = Test & Certification Flight / VMC = Visual Meteorological (flying) Conditions