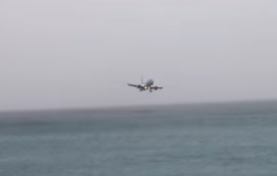 2017-03-07 Westjet Airlines Boeing 737-800 too low near Sint Maarten
The 737 flew very low above the sea on final approach to Sint Maarten Island until a go-around was initiated. The flight made a safe landing 45 min later.
UPDATE 2017-10-05
Canadian investigation authority TSB changed the incident classification from "non-reportable" to "reportable".
Westjet Flight WS 2652 from Toronto was on approach to Princess Juliana Airport, Sint Maarten, Neth. Antilles. The 737 was following a VOR DME approach (without altitude guidance by the autopilot) to runway 09. About 2 miles out, the aircraft descended below the proper approach profile.
It was about 0,7 NM out over Maho Beach Bay when the flight came extremely low over the water until the pilots initiated a go-around from an estimated altitude of about 25-30 meters.
The aircraft climbed out to 3,800 ft and entered a holding west of the airfield. About 45 min later the pilots made a safe landing on their 2nd attempt.
At the time local weather consisted of overcast skies associated with gusty winds above 20 knots, rain and the visibility was reduced to about 2,000 meters.
The airline denied in a press statement the following day, there was no deviation from the normal approach path, saying: "According to the information I have been given there was nothing unusual about the first approach."
According to credible eyewitness accounts, the 737 flew substantially lower than any other of the arriving aircraft. Passenger footage from a right-hand window seat confirmed the aircraft descending close to the ocean without a sign of any turbulence. Precipitation increased before a female passenger exclaimed: "Oh my god, we are so low." Seconds later the go-around was initiated. (see video below)
That same female passenger continued to report that it took about 10 minutes before the cockpit made any announcement. When they did so, they apologized for being silent saying they've been just too busy to address to the passengers. They justified the go-around by allegedly saying it was due to adverse weather conditions and poor visibility and that they will wait for the weather to pass. The pilots concluded they would be able to land soon.
The Canadian Transportation Safety Board has launched an investigation. [TSB-Investigation Website].
Westjet statement excerpt about flight 2652:
"[]..In this case, our crew experienced rapidly changing weather conditions and as a result descended below the normal glide path on the approach to the landing. The crew recognized the situation, and the regularly trained and desired outcome was obtained – a safe missed approach to a safe landing…[]" Read the full press statement
METAR: Sint Maarten Intl Airport (SXM, TNCM):
07/03/2017 16:00->

METAR TNCM 072000Z 05015KT 2000 -SHRA FEW016 OVC035 22/22
           Q1019 A3009 TEMPO SHRA=

07/03/2017 15:25->

SPECI TNCM 071925Z 05021KT 2000 -SHRA FEW016 BKN035 22/21
           Q1019 A3009=

07/03/2017 15:00->

METAR TNCM 071900Z 05018KT 9999 FEW014 BKN035 24/21 Q1018
           A3008 NOSIG=
---
IMAGES & VIDEO
[IMAGE REMOVED ORIGINAL LINK]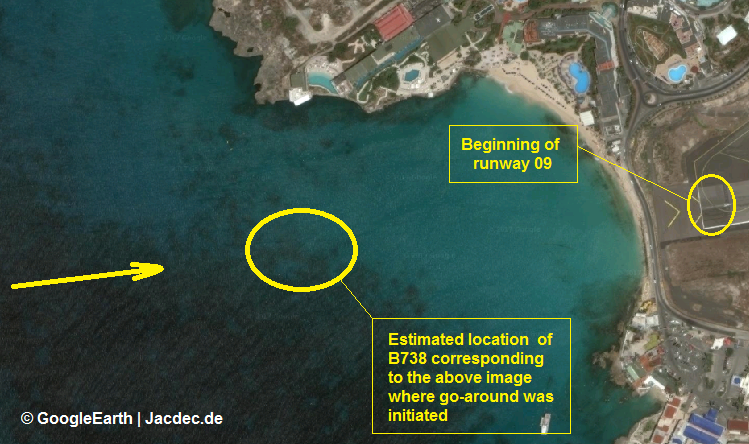 ---
2 Screenshots from Mahobeachcam which captured both approaches:
---
NEW: Final approach of WS2652 from a passenger perspective
© ATCpilot
Van attempted to cross the final approach path on Beacon Hill Road until the driver realized the low flying aircraft and braked to a stand.
---
Flightpath (provided by Flightradar24)
Tweet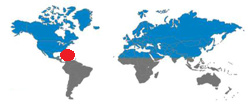 Aircraft
Type: Boeing 737-800
Registration: C-GWSV
Age a/c: 8.0 years
Constr. No.: 37158
| | | | | |
| --- | --- | --- | --- | --- |
| | Crew | Pax | Other | Total |
| Occupants |  – | – | 0 |  164 |
| Fatalities | 0 | 0 | 0 | 0 |
| Injuries |  0 | 0 | 0 | 0 |
OCCURENCE DATASET
Date: 2017-03-07 Time: 15:33
Location: TNCM SXM St Maarten Princess Juliana
Country: Netherl-Antilles
Flight phase: APR – Initial Approach (IFR), Final Approach, all Circuit Patterns, Missed Approach/Go-Around
Damage to a/c: none
Flight
Flight no.: WS 2652
From: CYYZ/YYZ: Toronto Lester B. Pearson Intl Airport To: TNCM/SXM: St Maarten Princess Juliana
Type: Passenger
Operator: WestJet Airlines
JACDEC 25-year Statistics :
15th safety occurence for the operator
462nd safety occurence of type (B738)
2nd safety occurence at Sint Maarten
1st safety occurence for aircraft in question
Image & Information Sources
Copyright - Terms of Usage
All written and shown content on JACDEC.de is provided in the most accurate way. All information may be subject to changes because JACDEC.de cannot always ensure a full support of information updates to each news story.
No publication (or part of) provided by at JACDEC.de may be reproduced or transmitted in any form or by any means or by any information retrieval system without written permission from JACDEC. The below information includes unofficial information and should be treated as this. Editors cannot be held responsible for any errors or omissions caused by any information source mentioned herein. The nature of the following information should be regarded as preliminary.
Furthermore, the author cannot be held accountable for correctness, completeness or quality of the information provided herein. Liability claims regarding damage caused by the use of any information provided, including any kind of information which is incomplete or incorrect,will therefore be rejected.
For further terms and conditions, check our legal disclaimer section .
AP = Airport / AL = Airlines / Avn = Aviation / AW = Airways / C/N: Construction Number / DSP = Domestic Scheduled Passenger / DNP = Domestic Non-Scheduled Passenger / DSC = Domestic Scheduled Cargo / DNC= Domestic Non-Scheduled Cargo / GND = On the ground / parked, stored / FMN= Flying Mission, Air Work / FRY = Ferry-, Positioning Flight / IMC = Intrument Meteorological (flying) Conditions / ISP = International Scheduled Passenger / ISC=International Scheduled Cargo / INP = International Non-Scheduled Passenger / INC =International Non-Scheduled Cargo/ OPS = Flight Operation(s) / NRV = Non-revenue, Private Flight / TRN =Training Flight /  TST = Test & Certification Flight / VMC = Visual Meteorological (flying) Conditions