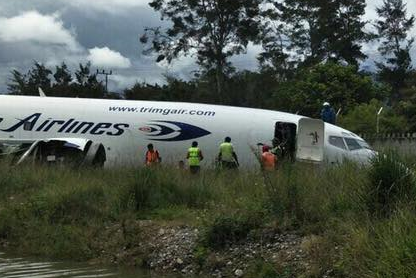 2017-07-18 TRI-MG Boeing 737-300F runway excursion at Wamena
After a "firm" landing the aircraft veered to the left of the runway where it ran across soft ground and a canal before ending in badly damaged condition. All five crewmembers remained unhurt.
Cargo flight TMG103 from Timika was landing on runway 24 in rainy conditions but was unable to keep track during deceleration.
The 737 drifted strongly to the left where it left paved surface and ran across soft ground where its undercarriage was either torn off or collapsed. The aircraft then crossed a small drainage canal situated about 100 meters to the east of the airfield before it eventually came to rest only meters before a concrete wall.
Both engine, wings and forward fuselage were seriously damaged making the 29-year-old aircraft a strong hull loss candidate. One maingear was found about in the trail, a hundred meters short of its final position. There was no fire.
The only runway at Wamena Airport is 2175 meters (7136 ft.) in length. The 737 was carrying 15,080 kg of support goods like furniture, gypsum, pipes, cement, mattresses, a bathtub and other foodstuffs.
Initial reports indicate the aircraft may have bounced on landing following a "heavy" touchdown.
The aircraft in question (PK-YGG, msn 23743) accidentally tipped on its tail during loading at Wamena in April 2017.
This accident marks the 7th serious occurrence at Wamena since 2015, 6 of them involved a Boeing 737-300/-200 and 4 of them were runway excursions / mishaps on landing.
On 2017-07-19 the National Transportation Committee (NTSC) has launched an investigation.
METAR: Wamena Airport (WAVV):
| | | |
| --- | --- | --- |
| | 18/07/2017 12:00-> | NO METAR AVAILABLE |
| | 18/07/2017 13:00-> | NO METAR AVAILABLE |
---
IMAGES & VIDEO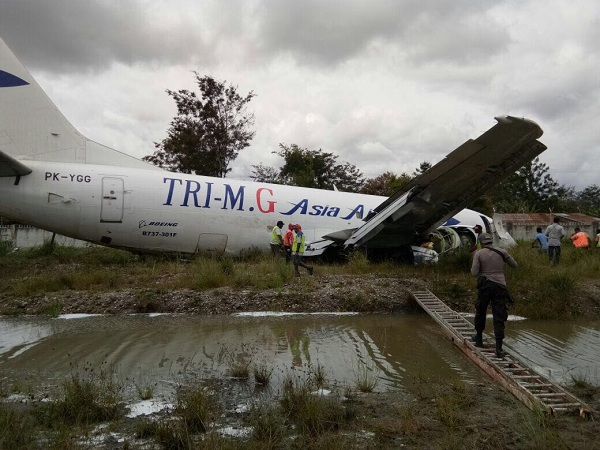 © E Siswanto | Okezone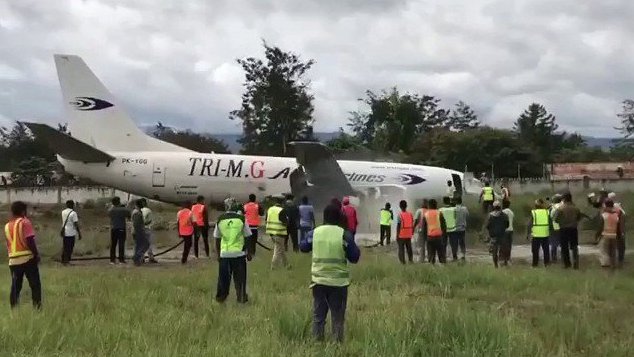 © Antaranews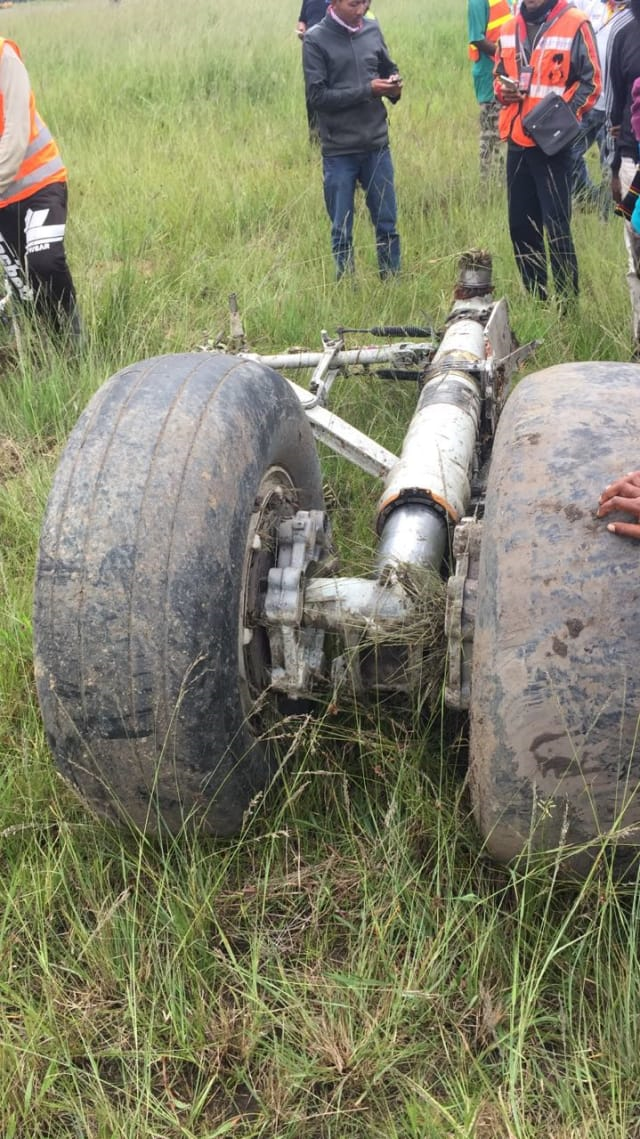 © Kumparan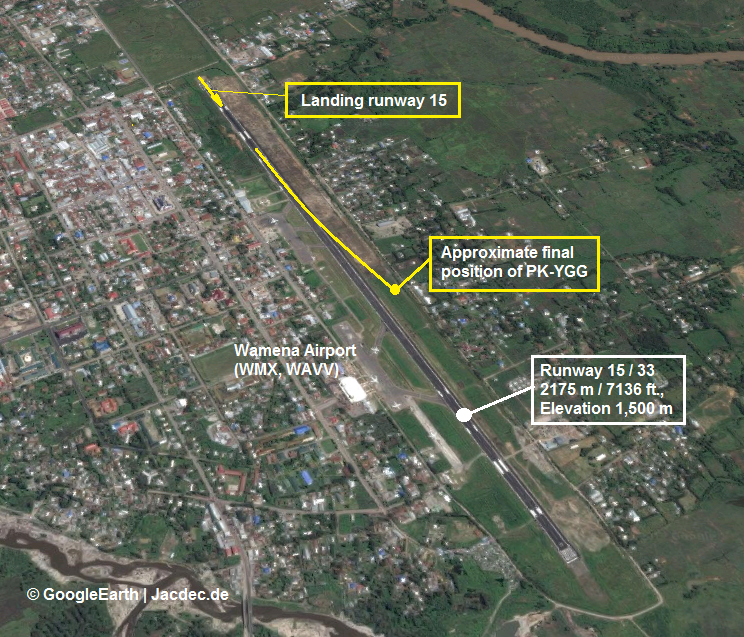 Tweet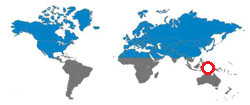 Aircraft
Type: Boeing 737-300F
Registration: PK-YGG
Age a/c: 29.5 years
Constr. No.: 23743
Previous Operators:  JAN 2009 Saicus Air , NOV 2007 Agroar,  APR 2007 Flyant, SEP 2005 converted to freighter, FEB 1997 US Airways, AUG 1989 merged to USAir, 1988-02-19 delivered to Piedmont Airlines, 1988-02-05 first flight
| | | | | |
| --- | --- | --- | --- | --- |
| | Crew | Pax | Other | Total |
| Occupants | 5 |  0 | 0 | 5 |
| Fatalities | 0 | 0 | 0 | 0 |
| Injuries |  0 | 0 | 0 | 0 |
OCCURENCE DATASET
Date: 2017-07-18 Time: 13:00
Location: WAJW WMX Wamena
Country: Indonesia
Flight phase: LDG – Flare, Landing Roll, Aborted Landing after Touchdown
Damage to a/c: substantial
Flight
Flight no.: TMG 103
From: WABP/TIM: Timika To: WAVV/WMX: Wamena
Type: Passenger
Operator: Tri MG Airlines
JACDEC 30-year Statistics :
3rd safety occurence for the operator
251th safety occurence of type (B737-300)
18th safety occurence at Wamena Airport
3rd safety occurence for aircraft in question
2008-05-27 temp runway excursion at Madeira, PT
2017-04-03 tipped onto tail during loading, Wamena
Image & Information Sources
Copyright - Terms of Usage
All written and shown content on JACDEC.de is provided in the most accurate way. All information may be subject to changes because JACDEC.de cannot always ensure a full support of information updates to each news story.
No publication (or part of) provided by at JACDEC.de may be reproduced or transmitted in any form or by any means or by any information retrieval system without written permission from JACDEC. The below information includes unofficial information and should be treated as this. Editors cannot be held responsible for any errors or omissions caused by any information source mentioned herein. The nature of the following information should be regarded as preliminary.
Furthermore, the author cannot be held accountable for correctness, completeness or quality of the information provided herein. Liability claims regarding damage caused by the use of any information provided, including any kind of information which is incomplete or incorrect,will therefore be rejected.
For further terms and conditions, check our legal disclaimer section:
http://www.jacdec.de/imprint-legal-disclaimer/ 
AP = Airport / AL = Airlines / Avn = Aviation / AW = Airways / C/N: Construction Number / DSP = Domestic Scheduled Passenger / DNP = Domestic Non-Scheduled Passenger / DSC = Domestic Scheduled Cargo / DNC= Domestic Non-Scheduled Cargo / GND = On the ground / parked, stored / FMN= Flying Mission, Air Work / FRY = Ferry-, Positioning Flight / IMC = Intrument Meteorological (flying) Conditions / ISP = International Scheduled Passenger / ISC=International Scheduled Cargo / INP = International Non-Scheduled Passenger / INC =International Non-Scheduled Cargo/ OPS = Flight Operation(s) / NRV = Non-revenue, Private Flight / TRN =Training Flight /  TST = Test & Certification Flight / VMC = Visual Meteorological (flying) Conditions