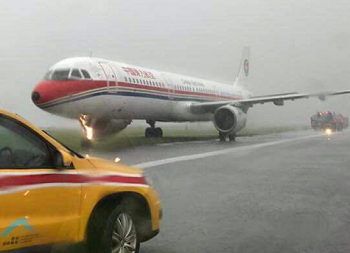 2017-05-24 China Eastern Airbus A321 runway excursion at Hong Kong
The Airbus A321 exited the right side of the runway while landing amidst heavy downpour.
UPDATE
China Eastern Airlines flight MU 765 from Nanjing, abandoned its approach to runway 07L at 10:18L , likely for weather reasons, when the aircraft was on short final and repositioned for a reciprocal approach to the opposite runway 25L.
At the time local weather consisted of heavy rain and reduced visibility conditions.(METAR see below) A number of other aircraft also discontinued their approaches to runway 07L because of the weather situation.  Immediately ahead of MU 765 was Hong Kong Airlines flight HX 453 (A320) from Chengdu that failed to land and was following a missed approach track.
About 40 minutes later (at around 10:49L) the A321 landed on runway 25R but was unable to vacate to the left as air traffic control requested. Instead it drifted to the right and ran off the right shoulder of the runway until it came to rest with its nose and right maingear in soft grass between the "Alpha 4" and "Alpha 3" exits.
All passengers and crewmembers remained unscathed.
The runway was immediately closed for all traffic until the immobilized aircraft was removed about 2 hours later.
METAR: Hong Kong Chek Lap Kok Intl Airport (VHHH):
24/05/2017 10:41->

SPECI VHHH 240241Z 35015KT 320V030 3300 R07R/P2000U R25L/1300U
           R07L/P2000U R25R/1700U +TSRA +SHRA FEW010CB SCT025
           25/23 Q1008 TEMPO 1600 TSRA SHRA FEW010CB SCT020=

24/05/2017 10:35->

SPECI VHHH 240235Z 35021G33KT 0650 0500E R07R/1900U R25L/1200D
           R07L/1400U R25R/1100N +TSRA +SHRA FEW010CB SCT025
           25/23 Q1008 TEMPO 1600 TSRA SHRA FEW010CB SCT020=
---
IMAGES & VIDEO
Flightpath (provided by Flightradar24)
Tweet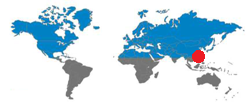 Aircraft
Type: Airbus A321
Registration: B-6366
Age a/c: 8.8 years
Constr. No.: 3593
| | | | | |
| --- | --- | --- | --- | --- |
| | Crew | Pax | Other | Total |
| Occupants | | | 0 | 141 |
| Fatalities | 0 | 0 | 0 | 0 |
| Injuries |  0 | 0 | 0 | 0 |
OCCURENCE DATASET
Date: 2017-05-24 Time: 10:45:00
Location: VHHH HKG Hong Kong-Chek Lap Kok Intl Airport
Country: Hong Kong
Flight phase: LDG – Flare, Landing Roll, Aborted Landing after Touchdown
Damage to a/c: none
Flight
Flight no.: MU 765
From: ZSNJ/NKG: Nanjing To: VHHH/HKG: Hong Kong-Chek Lap Kok Intl Airport
Type: Passenger
Operator: China Eastern Airlines
JACDEC 25-year Statistics :
38th safety occurence for the operator
168th safety occurence of type (A321)
37th safety occurence at Hong Kong Airport
1st safety occurence for aircraft in question
Image & Information Sources
Copyright - Terms of Usage
All written and shown content on JACDEC.de is provided in the most accurate way. All information may be subject to changes because JACDEC.de cannot always ensure a full support of information updates to each news story.
No publication (or part of) provided by at JACDEC.de may be reproduced or transmitted in any form or by any means or by any information retrieval system without written permission from JACDEC. The below information includes unofficial information and should be treated as this. Editors cannot be held responsible for any errors or omissions caused by any information source mentioned herein. The nature of the following information should be regarded as preliminary.
Furthermore, the author cannot be held accountable for correctness, completeness or quality of the information provided herein. Liability claims regarding damage caused by the use of any information provided, including any kind of information which is incomplete or incorrect,will therefore be rejected.
For further terms and conditions, check our legal disclaimer section:
http://www.jacdec.de/imprint-legal-disclaimer/ 
AP = Airport / AL = Airlines / Avn = Aviation / AW = Airways / C/N: Construction Number / DSP = Domestic Scheduled Passenger / DNP = Domestic Non-Scheduled Passenger / DSC = Domestic Scheduled Cargo / DNC= Domestic Non-Scheduled Cargo / GND = On the ground / parked, stored / FMN= Flying Mission, Air Work / FRY = Ferry-, Positioning Flight / IMC = Intrument Meteorological (flying) Conditions / ISP = International Scheduled Passenger / ISC=International Scheduled Cargo / INP = International Non-Scheduled Passenger / INC =International Non-Scheduled Cargo/ OPS = Flight Operation(s) / NRV = Non-revenue, Private Flight / TRN =Training Flight /  TST = Test & Certification Flight / VMC = Visual Meteorological (flying) Conditions