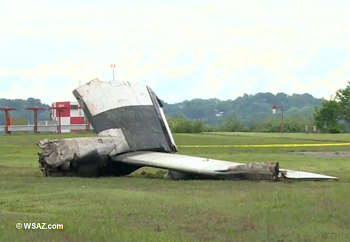 2017-05-05 Air Cargo Carriers SH330 crashed at Charleston Yeager Airport
The cargo aircraft crashed on landing and ran off the runway at Charleston-Yeager Aiport leaving both crewmembers dead.
UPDATED
Air Cargo Carrier flight SNC 1260 from Louisville – operated on behalf of UPS – was about to land runway 05 at Charleston-Yeager Airport when it hit trees short of the runway and fell down a steep ravine.
It is understood that both crew members did not survive.
All regular traffic at the airport was halted until the next day. Barlow Drive and Keystone Drive were cordoned off until wreckage removal and on-site investigations have ended.
Charleston Yeager Airport main runway (05/23) dimensions are 6802 x 150 ft (2073 x 46 meters). The whole airport is located on a table-top hill with steep slopes surrounding the entire runways.
According to Yeager Airport spokesman, the cargo aircraft hit the runway hard, turned to the side until the left wing hit the runway and broke off. Leaking fuel caused a fire before the Shorts 330 drifted off to the left side of the runway and down a steep hill where it came to rest among logs and trees.
Local weather at the time was described as good, with calm winds and +10 statute miles visibility.
The National Transportation Safety Board as launched an investigation.
The initial findings of the NTSB were: The Shorts 330 struck the runway 340 feet behind the threshold. From that point it skidded uncontrolled to the left and off the runway for another 650 feet down the hill where came to rest in densly wooded and difficult-to access area.
According to the RZjets fleet analysis: The operator (Air Cargo Carriers) owns 18 Shorts 360 and 5 SH-330s. The average ages are 32 and 36 years.
---
Listen to live ATC recording of KCRW Tower/Approach at the time of the accident. (MP3 file)


 [LINK]
---
METAR: Charleston-Yeager Airport (KCRW):
05/05/2017 06:54->

METAR KCRW 051054Z 23003KT 10SM FEW001 OVC005 14/13 A2941
           RMK AO2 SLP952 VLY FG T01440133=

05/05/2017 06:59->

SPECI KCRW 051059Z 00000KT 10SM FEW001 OVC005 14/13 A2940
           RMK AO2 T01440133=
---
IMAGES & VIDEO

© NTSB media briefing 2017-05-05 , by Bill English, Investor In Charge

© NTSB 2017-05-05 , wreckage distribution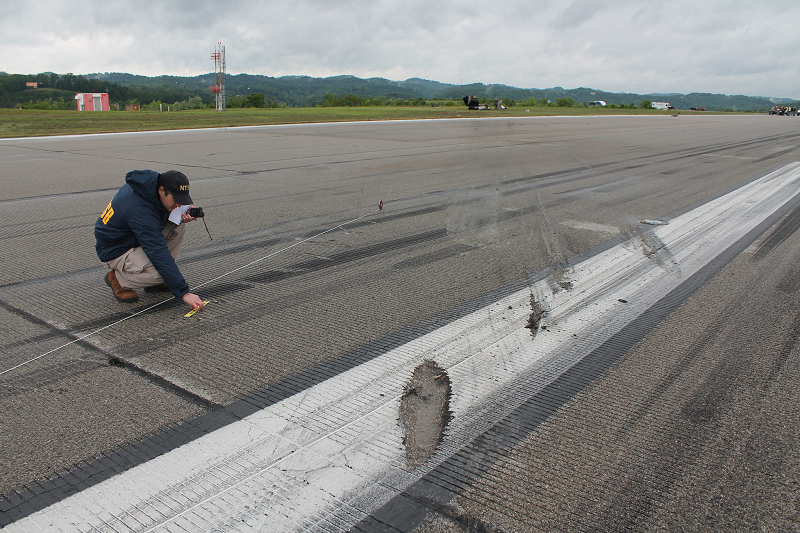 © NTSB | flickr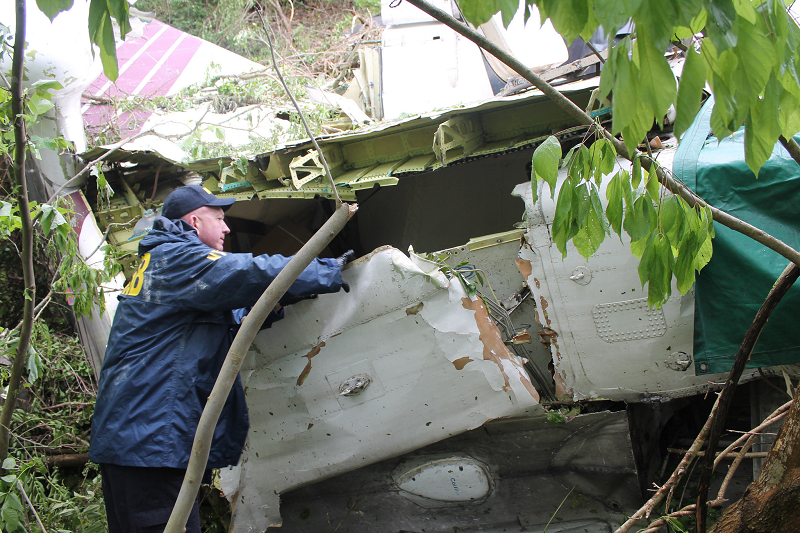 © NTSB | flickr

© GoogleEarth
Flightpath (provided by Flightaware)
Tweet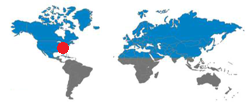 Aircraft
Type: Shorts 330
Registration: N334AC
Age a/c: 37.9 years
Constr. No.: SH3029
| | | | | |
| --- | --- | --- | --- | --- |
| | Crew | Pax | Other | Total |
| Occupants | 2 | 0 | 0 | 2 |
| Fatalities | 2 | 0 | 0 | 2 |
| Injuries |  0 | 0 | 0 | 0 |
OCCURENCE DATASET
Date: 2017-05-05 Time: 06:53
Location: KCRW CRW Charleston-Yeager
Country: United States of America
Flight phase: APR – Initial Approach (IFR), Final Approach, all Circuit Patterns, Missed Approach/Go-Around
Damage to a/c: hull loss
Flight
Flight no.: SNC 1260
From: KSDF/SDF: Louisville Intl Standiford To: KCRW/CRW: Charleston-Yeager
Type: Cargo
Operator: Air Cargo Carriers
Leased from: UPS Airlines
JACDEC 25-year Statistics :
6th safety occurence for the operator
– 5 of them hull loss events
26th safety occurence of type (SH330)
4th safety occurence at Charleston-CRW Airport
1st safety occurence for aircraft in question
Image & Information Sources
Copyright - Terms of Usage
All written and shown content on JACDEC.de is provided in the most accurate way. All information may be subject to changes because JACDEC.de cannot always ensure a full support of information updates to each news story.
No publication (or part of) provided by at JACDEC.de may be reproduced or transmitted in any form or by any means or by any information retrieval system without written permission from JACDEC. The below information includes unofficial information and should be treated as this. Editors cannot be held responsible for any errors or omissions caused by any information source mentioned herein. The nature of the following information should be regarded as preliminary.
Furthermore, the author cannot be held accountable for correctness, completeness or quality of the information provided herein. Liability claims regarding damage caused by the use of any information provided, including any kind of information which is incomplete or incorrect,will therefore be rejected.
For further terms and conditions, check our legal disclaimer section:
http://www.jacdec.de/imprint-legal-disclaimer/ 
AP = Airport / AL = Airlines / Avn = Aviation / AW = Airways / C/N: Construction Number / DSP = Domestic Scheduled Passenger / DNP = Domestic Non-Scheduled Passenger / DSC = Domestic Scheduled Cargo / DNC= Domestic Non-Scheduled Cargo / GND = On the ground / parked, stored / FMN= Flying Mission, Air Work / FRY = Ferry-, Positioning Flight / IMC = Intrument Meteorological (flying) Conditions / ISP = International Scheduled Passenger / ISC=International Scheduled Cargo / INP = International Non-Scheduled Passenger / INC =International Non-Scheduled Cargo/ OPS = Flight Operation(s) / NRV = Non-revenue, Private Flight / TRN =Training Flight /  TST = Test & Certification Flight / VMC = Visual Meteorological (flying) Conditions