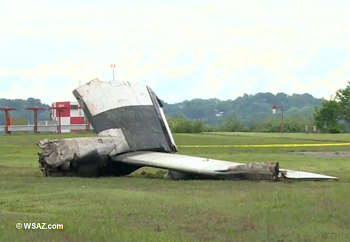 2017-05-05 Air Cargo Carriers SH330 crashed at Charleston Yeager Airport
The cargo aircraft crashed on landing and ran off the runway at Charleston-Yeager Aiport leaving both crewmembers dead.
UPDATED 2018-06-06
Air Cargo Carrier flight SNC 1260 from Louisville – operated on behalf of UPS – was about to land runway 05 at Charleston-Yeager Airport when it hit trees short of the runway and fell down a steep ravine.
It is understood that both crew members did not survive.
All regular traffic at the airport was halted until the next day. Barlow Drive and Keystone Drive were cordoned off until wreckage removal and on-site investigations have ended.
Charleston Yeager Airport main runway (05/23) dimensions are 6802 x 150 ft (2073 x 46 meters). The whole airport is located on a table-top hill with steep slopes surrounding the entire runways.
According to Yeager Airport spokesman, the cargo aircraft hit the runway hard, turned to the side until the left wing hit the runway and broke off. Leaking fuel caused a fire before the Shorts 330 drifted off to the left side of the runway and down a steep hill where it came to rest among logs and trees.
Local weather at the time was described as good, with calm winds and +10 statute miles visibility.
The National Transportation Safety Board has launched an investigation.
The initial findings of the NTSB were: The Shorts 330 struck the runway 340 feet behind the threshold. From that point, it skidded uncontrolled to the left and off the runway for another 650 feet down the hill where came to rest in densely wooded and difficult-to-access area.
According to the RZjets fleet analysis: The operator (Air Cargo Carriers) owns 18 Shorts 360 and 5 SH-330s. The average ages are between 32 and 36 years.
On 2018-06-06 the NTSB released its investigation docket containing a long exchange of SMS text messages between the copilot and two of her private friends where she exchanged her views about flights and the pilot-in-command prior to the accident. [Investigation Docket] [MESSAGES]
SMS Readouts of Copilot
DATE
TIME
MESSAGE EXERPTS
EST
2016-12-31
00:58:38
until
01:40:43
We loaded the plane and went to take off. Once we were off the ground, we went to put the gear up and saw that the nose gear light stayed on instead of indicating that it was up and locked.. [] We cycled it a few times and nothing happened. So the captain said he'd fly while I went to look up the emergency checklist for the gear.. [] Before I even finished going through the checklist, we went into the clouds and lost all visual reference of the ground.. [] So we went to line up for this runway and landed and when we
touched down im like thank god it's over..but then! I think since we
came in a little fast and with the crazy crosswind, it started pushing
us off the runway.. [] Dude, I was for sure we were going to run off the side of the runway, up the bank and flip over..[] The entire time the captain was like # # #
2017-01-14
08:59:25
until
09:03:34
Did I tell you I thought I was going to die last week? Scariest # of
my life lol.. [] No you didn't. I need to hear about this. But your gonna have to tell me later in the mountains again. It's starting to get spotty..
2017-01-17
23:24:56 until
23:37:54
Captain is sleeping. I'm gonna need you to keep me entertained for
the rest of the flight.. [] Friend: Wait wait wait. There's a pilot and a co pilot, and right now the pilot is asleep and the co pilot is texting. Is that accurate? .. [] Yes.. [] Wait not entirely because it's captain and first officer. I'm pilot too,
you know!.. [] And I'm the one flying right now.. [] Can you imagine if this plane had autopilot? We'd both be asleep hahhaha..
2017-01-18
22:17:12
until
22:30:22
The snow eventually slowed down but it was still really windy. So we went to take off and when we went to bring the gear up, only the main lights went out. The nose was still indicating down and locked.. [] Then all of a sudden we went into IMC and you know how we have all these hills around.. [] And [the captain] hates being in IMC so he immediately banks the plane to the right. Snow coming at us, couldn't see #..and he's doing 60 degrees of bank and we we're only at like 3000 feet or so.. [] And the entire time I'm like #, we're gonna hit that hill..it's gonna happen. We're gonna hit.. [] So now we're looking all over for the airport and it was behind us so he started turning towards it but we went into IMC again!.. [] And dude, I could tell he was starting to get disoriented. Like we were nosediving for the ground..
2017-02-02
22:09:44
until
22:26:18
[the captain] totally # me off last week.. [] Why.. [] So he's really lazy when it comes to flying. He's asked me to fly for him once or twice when he's tired so I'm like okay whatever..[] But then last week, after he broke up with the gf, he was all depressed and he told me he couldn't sleep or whatever so he would ask me to fly for him.. [] Tuesday, same thing. I fly my leg and then when it was his turn, like literally 5 minutes into cruise, he starts yawning and turning in his seat and then he'll turn to me and ask if I could take it.. [] And what # me off was that he told me he couldn't sleep. And yet when we got to SDF and we had like a 2-3 hour sit, instead of going to take a nap, he would sit in the cafeteria watching Netflix.. [] And then the minute he got the plane, he # falls asleep.. [] And she did 3 illegal approaches. Had to go missed twice. She
didn't realize they were NOTAMed out.. [] No she diverted to Charleston after going missed twice and had a low fuel pressure indication. Mechanic came out. After it was fixed, she went back to Beckley and that's when she blew it..[] No she diverted to Charleston after going missed twice and had a low fuel pressure indication. Mechanic came out. After it was fixed, she went back to Beckley and that's when she blew it.. [] I think they said worst case is she'll get a warning from the FAA..
2017-03-31
18:27:12
until
18:39:45
We asked for 4 as our final so we just stayed down there the entire
time. But yeah he doesn't like to be in IMC lol..[] His IFR flying is not great..[] Friend: He's use to flying VFR out of Alaska.. [] Yeah he can fly VFR all day but once he gets in IMC..no bueno..
It was determined, the aircraft impacted the runway with its left wing down in a roll-angle of 42 degrees to the left and the nose pointed down by an angle of 14 °. 
---
Listen to live ATC recording of KCRW Tower/Approach at the time of the accident. (MP3 file)


 [LINK]
---
METAR: Charleston-Yeager Airport (KCRW):
05/05/2017 06:54->

METAR KCRW 051054Z 23003KT 10SM FEW001 OVC005 14/13 A2941
           RMK AO2 SLP952 VLY FG T01440133=

05/05/2017 06:59->

SPECI KCRW 051059Z 00000KT 10SM FEW001 OVC005 14/13 A2940
           RMK AO2 T01440133=
---
IMAGES & VIDEO

© NTSB media briefing 2017-05-05 , by Bill English, Investor In Charge

© NTSB 2017-05-05 , wreckage distribution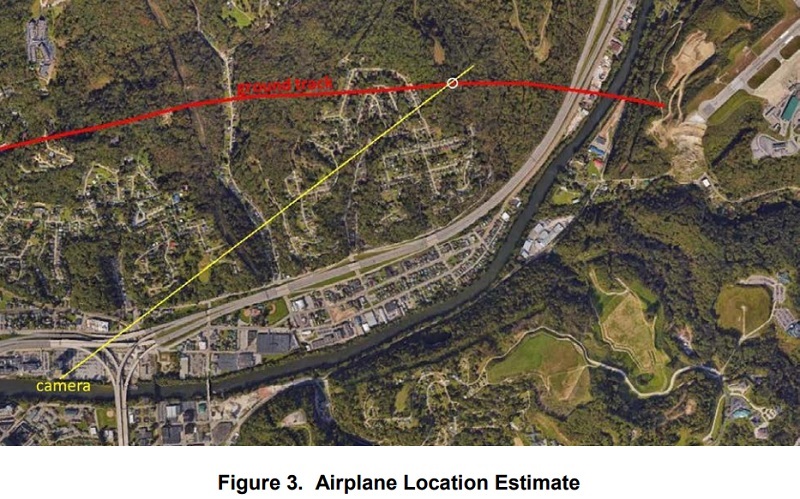 © NTSB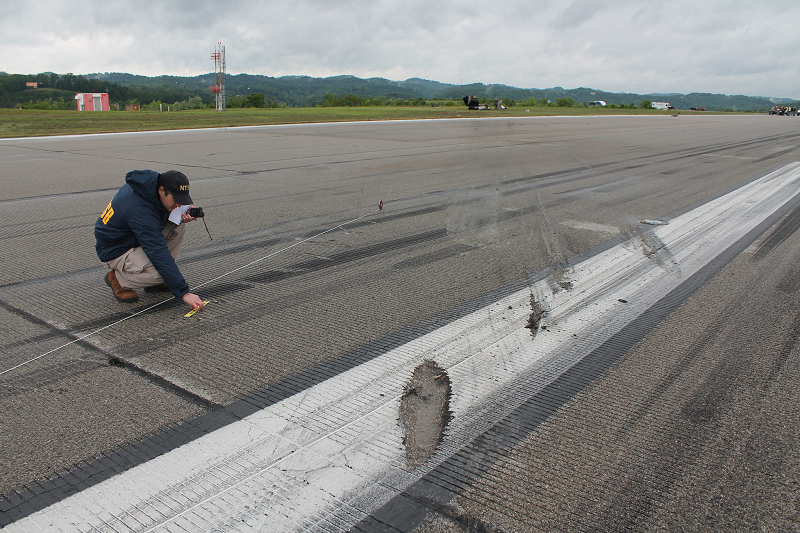 © NTSB | flickr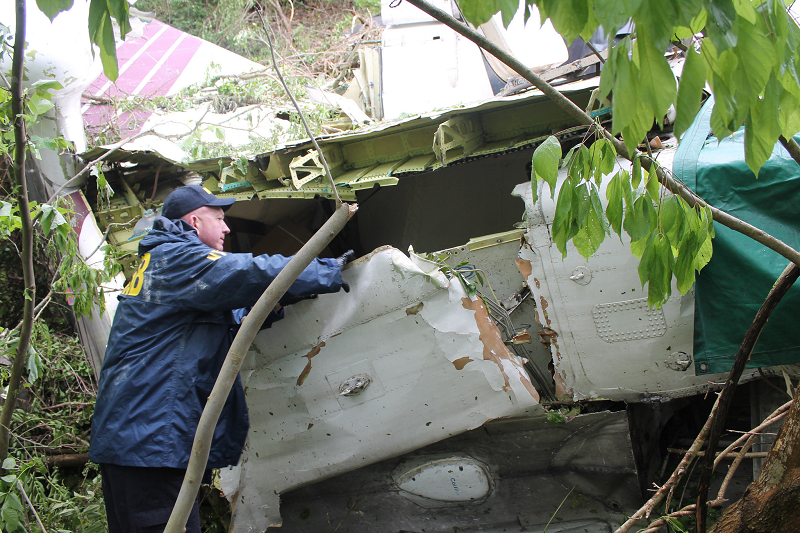 © NTSB | flickr

© GoogleEarth
Flightpath (provided by Flightaware)
Tweet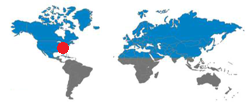 Aircraft
Type: Shorts 330
Registration: N334AC
Age a/c: 37.9 years
Constr. No.: SH3029
| | | | | |
| --- | --- | --- | --- | --- |
| | Crew | Pax | Other | Total |
| Occupants | 2 | 0 | 0 | 2 |
| Fatalities | 2 | 0 | 0 | 2 |
| Injuries |  0 | 0 | 0 | 0 |
OCCURENCE DATASET
Date: 2017-05-05 Time: 06:53
Location: KCRW CRW Charleston-Yeager
Country: United States of America
Flight phase: APR – Initial Approach (IFR), Final Approach, all Circuit Patterns, Missed Approach/Go-Around
Damage to a/c: hull loss
Flight
Flight no.: SNC 1260
From: KSDF/SDF: Louisville Intl Standiford To: KCRW/CRW: Charleston-Yeager
Type: Cargo
Operator: Air Cargo Carriers
Leased from: UPS Airlines
JACDEC 25-year Statistics :
6th safety occurence for the operator
– 5 of them hull loss events
26th safety occurence of type (SH330)
4th safety occurence at Charleston-CRW Airport
1st safety occurence for aircraft in question
Image & Information Sources
Copyright - Terms of Usage
All written and shown content on JACDEC.de is provided in the most accurate way. All information may be subject to changes because JACDEC.de cannot always ensure a full support of information updates to each news story.
No publication (or part of) provided by at JACDEC.de may be reproduced or transmitted in any form or by any means or by any information retrieval system without written permission from JACDEC. The below information includes unofficial information and should be treated as this. Editors cannot be held responsible for any errors or omissions caused by any information source mentioned herein. The nature of the following information should be regarded as preliminary.
Furthermore, the author cannot be held accountable for correctness, completeness or quality of the information provided herein. Liability claims regarding damage caused by the use of any information provided, including any kind of information which is incomplete or incorrect,will therefore be rejected.
For further terms and conditions, check our legal disclaimer section:
http://www.jacdec.de/imprint-legal-disclaimer/ 
AP = Airport / AL = Airlines / Avn = Aviation / AW = Airways / C/N: Construction Number / DSP = Domestic Scheduled Passenger / DNP = Domestic Non-Scheduled Passenger / DSC = Domestic Scheduled Cargo / DNC= Domestic Non-Scheduled Cargo / GND = On the ground / parked, stored / FMN= Flying Mission, Air Work / FRY = Ferry-, Positioning Flight / IMC = Intrument Meteorological (flying) Conditions / ISP = International Scheduled Passenger / ISC=International Scheduled Cargo / INP = International Non-Scheduled Passenger / INC =International Non-Scheduled Cargo/ OPS = Flight Operation(s) / NRV = Non-revenue, Private Flight / TRN =Training Flight /  TST = Test & Certification Flight / VMC = Visual Meteorological (flying) Conditions