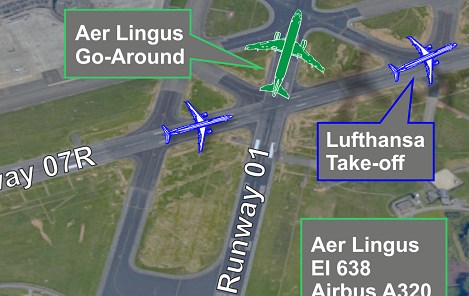 2016-10-05 Aer Lingus A320 and Air Dolomiti E195 in serious runway incursion at Brussels
The incoming Aer Lingus came into conflict with a departing Air Dolomiti / Lufthansa Regional aircraft at Brussels Airport.
UPDATE 2017-03-30
In darkness but in good visibility (CAVOK) conditions, the Aer Lingus Airbus A320 was on final approach to runway 01 at Brussels-Zaventem Intl Airport, Belgium. A minute earlier ATC had cleared a Lufthansa Regional Embraer E-195 (operated by franchise company Air Dolomiti) to line-up on runway 07R(ight) via the taxiway "Charlie 6".
When the A320 was closing in towards the runway threshold, a conflict alert sounded in the tower. The tower controller immediately ordered the Airbus pilots to go-around and climb because the Embraer unexpectedly already began its take-off run.
It appears, at no time a take-off clearance was given to the Embraer pilots.
Both runways cross each other after 980 resp. 590 meters. The Lufthansa Regional / Air Dolomiti flight continued its take-off and proceeded normally to its destination.
The Aer Lingus flight climbed to 2600 ft. and returned to land safely about seven minutes later.  No one was hurt.
An eye-witness who was a passenger on Aer Lingus flight describes he felt the go-around was initiated "less than half a minute from touchdown" , he went on saying the captain then explained to the cabin that "someone was blocking our approach".
The incident is being investigated by Belgian authorities AAIU Belgium, a Final Report has been published on 2017-03-30. Download Final Report (PDF)
Cause:
"The incident was caused by the take-off without clearance of an aircraft instructed to "line up and wait" on Runway 07R while an aircraft was in final approach of Runway 01."
Contributing Factors:
Not using a mnemonic and/or cross-check for the take-off clearance by the DLH4TX crew.
 Limited traffic information/situational awareness given when delivering ATC clearances.
 Inadequate doubt-clearing management in the cockpit.
 The unfamiliarity of the crew with the airport.
 Authorizing aircraft to line up on RWY 07R at a short distance from the intersection with RWY 01 without correlation with landing traffic on this latter.
 Intersection and status of RWY 01 not indicated on RWY 07R.
 The complex taxiway layout (junction connecting 6 taxiways right before C6, the oblique angled entry taxiway including a part of the taxiway centerline lights).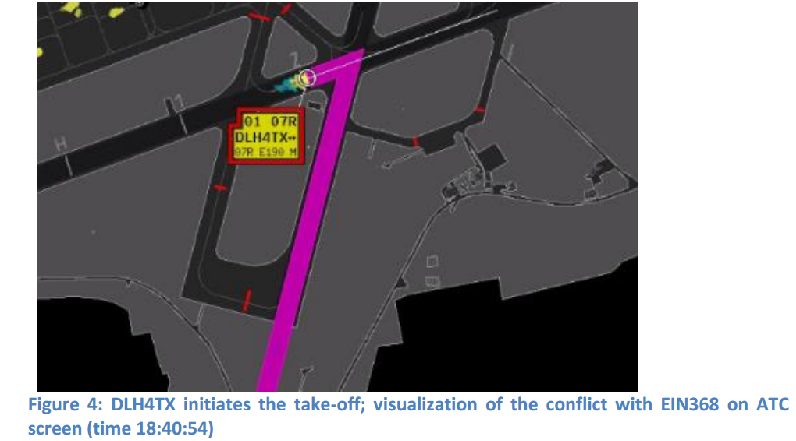 © Fed Public Service Mobility and Transport – AAIU
---
ATC Radio Transcript Brussels Tower :
(Note: this transcript is inofficial and can contain inadequate data)
Tower: "Lufthansa 4 Tango X-Ray (LH 2293) Charlie six, line-up and wait runway 07 right."
Tower: "Shamrock (Aer Lingus) 638, cleared to land 01, (wind reading)"
EI 638: "Cleared-to land 01, Shamrock 638."
About 50 seconds later an aural alarm was heared in the tower indicating a conflict alert on the runway.
Tower: "Shamrock 638 Go-around Sir, go-around."
EI 638: "Going around."
LH 2293: "Lufthansa 4 Tango X-Ray ..?"
Tower: (unintelligible) "..ah you were not cleared to take-off I'm sorry to say."
Tower: "Yeah, you can continue now (the take-off) Sir."
1 minute later
Tower: "Lufthansa 4 Tango X-Ray, contact departue now 126.625."
LH 2293: "126.625 Lufthansa 4 Tango X-Ray, sorry for misunderstanding."
Tower: "No problem, I just want to inform you that I have to write a report (unintelligible) you do the same for your side."
LH 2293: "Ja, we do the same, thank you very much."
METAR Burssels Intl Airport (EBBR):
| | | |
| --- | --- | --- |
| | 05/10/2016 20:20-> | METAR EBBR 051820Z 06005KT CAVOK 09/04 Q1029 NOSIG= |
| | 05/10/2016 20:50-> | METAR EBBR 051850Z 06005KT CAVOK 08/04 Q1029 NOSIG= |
OCCURENCE DATASET
Date: 2016-10-05 Time: 20:40
Location: EBBR BRU Brussels Airport
Country: Belgium
Flight phase: APR – Initial Approach (IFR), Final Approach, all Circuit Patterns, Missed Approach/Go-Around
Damage to a/c: none
Flight1
Flight no.: EI 638
From: EIDW/DUB: Dublin To: EBBR/BRU: Brussels Airport
Type: Passenger
Operator: Aer Lingus
Flight2
Flight no.: LH 2293
From: EBBR/BRU: Brussels Airport To: EDDM/MUC: Munich International Airport
Type: Passenger
Operator: Air Dolomiti (Lufthansa Regional)
Tweet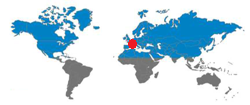 Aircraft1
Type: Airbus A320
Registration: EI-EZW
Age a/c: 13.6 years
Constr. No.: 1983
Aircraft2
Type: Embraer E-195
Registration: I-ADJO
Age a/c: 7.6 years
Constr. No.: 19000280
| | | | | |
| --- | --- | --- | --- | --- |
| | Crew | Pax | Other | Total |
| Occupants | | | 0 | |
| Fatalities | 0 | 0 | 0 | 0 |
| Injuries |  0 | 0 | 0 | 0 |
JACDEC 25-year Statistics :
21st safety occurence for the operator(AerLingus)
6th safety occurence for the operator(AirDolomiti)
534th safety occurence of type (A320)
51st safety occurence of type (E195)
23rd safety occurence at Brussels Intl Airport
2nd safety occurence for aircraft in question(EI-EZW)
– 2007-09-30 runway incursion at Tel Tel Aviv (as I-EEFZ)
1st safety occurence for aircraft in question(I-ADJO)
Image & Information Sources
Copyright - Terms of Usage
All written and shown content on JACDEC.de is provided in the most accurate way. All information may be subject to changes because JACDEC.de cannot always ensure a full support of information updates to each news story.
No publication (or part of) provided by at JACDEC.de may be reproduced or transmitted in any form or by any means or by any information retrieval system without written permission from JACDEC. The below information includes unofficial information and should be treated as this. Editors cannot be held responsible for any errors or omissions caused by any information source mentioned herein. The nature of the following information should be regarded as preliminary.
Furthermore, the author cannot be held accountable for correctness, completeness or quality of the information provided herein. Liability claims regarding damage caused by the use of any information provided, including any kind of information which is incomplete or incorrect,will therefore be rejected.
For further terms and conditions, check our legal disclaimer section:
http://www.jacdec.de/imprint-legal-disclaimer/ 
AP = Airport / AL = Airlines / Avn = Aviation / AW = Airways / C/N: Construction Number / DSP = Domestic Scheduled Passenger / DNP = Domestic Non-Scheduled Passenger / DSC = Domestic Scheduled Cargo / DNC= Domestic Non-Scheduled Cargo / GND = On the ground / parked, stored / FMN= Flying Mission, Air Work / FRY = Ferry-, Positioning Flight / IMC = Intrument Meteorological (flying) Conditions / ISP = International Scheduled Passenger / ISC=International Scheduled Cargo / INP = International Non-Scheduled Passenger / INC =International Non-Scheduled Cargo/ OPS = Flight Operation(s) / NRV = Non-revenue, Private Flight / TRN =Training Flight /  TST = Test & Certification Flight / VMC = Visual Meteorological (flying) Conditions