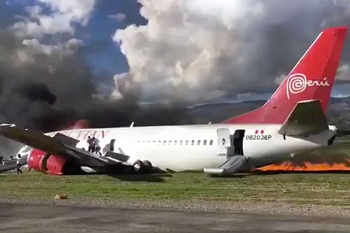 2017-03-28 Peruvian AL Boeing 737-300 landing accident at Jauja
On landing the 737 suffered an undercarriage collapse resulting in a runway excursion and ensuing fire.  All on board evacuated safely.
UPDATE 2017-03-30
In daylight and good visibility, Peruvian Airlines flight P9 112 was landing runway 31 at Jauja's Francisco Carle Airport. Reportedly, the touchdown was pretty hard resulting in a bounced landing.  On the 2nd touchdown the right maingear collapsed causing the right wing and engine to drag on the ground. The pilots were unable to maintain directional control and the aircraft veered to the right where it ran across soft ground and into a drainage ditch.
The right wing/engine assembly was damaged resulting in a ruptured fuel line. Leaking fuel caught fire leaving a burning trail behind the 737 until it came to a stop after about 2 / 3 of the runway.
The only runway at Jauja Airport is 2814 x 45 meters (9233 x 148 ft.) in lengh.
An emergency evacuation was carried out immediately. According to local press reports, there were no injuries among passengers and crewmembers whereas other sources claim there were 29 injured persons. All were non-life threatening.
Despite the involvement of fire trucks the fire spread and eventually destroyed the entire aircraft.
The Peruvian Accident Investigation Commission is going to launch an investigation.
Initial Press Statement of Peruvian Airlines: [LINK]
Jauja Airport's Elevation is 11,034 feet/3363 meters MSL, the airport offers runway 13/31 of 2810 meters/9220 feet length.
METAR: Jauja Airport (SPJJ):
| | | |
| --- | --- | --- |
| | 28/03/2017 18:24-> | METAR SPJJ 281124Z 00000KT 9999 SCT030 OVC050 09/08 Q1029= |
| | | |
---
IMAGES & FOOTAGE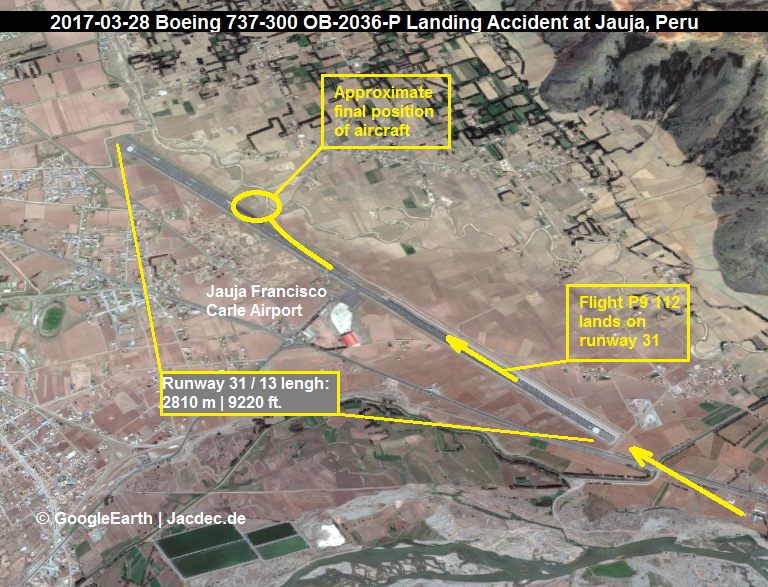 Tweet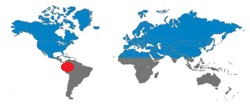 Aircraft
Type: Boeing 737-300
Registration: OB-2036-P
Age a/c: 25.9 years
Constr. No.: 25071
| | | | | |
| --- | --- | --- | --- | --- |
| | Crew | Pax | Other | Total |
| Occupants | | | 0 | |
| Fatalities | 0 | 0 | 0 | 0 |
| Injuries |  0 | 0 | 0 | 0 |
OCCURENCE DATASET
Date: 2017-03-28 Time: 16:28
Location: SPJJ JAU Jauja
Country: Peru
Flight phase: LDG – Flare, Landing Roll, Aborted Landing after Touchdown
Damage to a/c: hull loss
Flight
Flight no.: P9 112
From: SPJC/LIM: Lima-Callao Intl Airport To: SPJJ/JAU: Jauja
Type: Passenger
Operator: Peruvian Airlines
JACDEC 25-year Statistics :
5th safety occurence for the operator (2nd hull loss)
213th safety occurence of type (B733)
1st safety occurence at Jauja Airport
1st safety occurence for aircraft in question
Image & Information Sources
Copyright - Terms of Usage
All written and shown content on JACDEC.de is provided in the most accurate way. All information may be subject to changes because JACDEC.de cannot always ensure a full support of information updates to each news story.
No publication (or part of) provided by at JACDEC.de may be reproduced or transmitted in any form or by any means or by any information retrieval system without written permission from JACDEC. The below information includes unofficial information and should be treated as this. Editors cannot be held responsible for any errors or omissions caused by any information source mentioned herein. The nature of the following information should be regarded as preliminary.
Furthermore, the author cannot be held accountable for correctness, completeness or quality of the information provided herein. Liability claims regarding damage caused by the use of any information provided, including any kind of information which is incomplete or incorrect,will therefore be rejected.
For further terms and conditions, check our legal disclaimer section:
http://www.jacdec.de/imprint-legal-disclaimer/ 
AP = Airport / AL = Airlines / Avn = Aviation / AW = Airways / C/N: Construction Number / DSP = Domestic Scheduled Passenger / DNP = Domestic Non-Scheduled Passenger / DSC = Domestic Scheduled Cargo / DNC= Domestic Non-Scheduled Cargo / GND = On the ground / parked, stored / FMN= Flying Mission, Air Work / FRY = Ferry-, Positioning Flight / IMC = Intrument Meteorological (flying) Conditions / ISP = International Scheduled Passenger / ISC=International Scheduled Cargo / INP = International Non-Scheduled Passenger / INC =International Non-Scheduled Cargo/ OPS = Flight Operation(s) / NRV = Non-revenue, Private Flight / TRN =Training Flight /  TST = Test & Certification Flight / VMC = Visual Meteorological (flying) Conditions