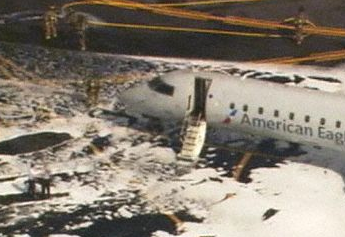 2017-02-15 PSA Airlines CRJ-700 deer collision at Charlotte
The aircraft was involved in a ground collision with a deer. The aircraft landed safely but sustained substantial wing damage.
UPDATED 2017-02-16
PSA Airlines flight AA 5320 (on behalf of AA Eagle/Envoy Air) was in the final moments of its take-off run on runway 36C (Center) in daylight and good visibility, and when a loud bang was heard. The take-off was continued and after transitioned into a stable climb, the pilots reported about it to air traffic control.
The pilots elected to discontinue further climb and levelled off at 4,000 feet altitude.
Meanwhile runway 36 was closed for runway inspection which found a body  of a deer.  Flight 5320 then performed a low approach to runway 36R to allow a visual inspection of possible damage to the undercarriage from the tower.
All three landing gears appeared in the correct position for landing but the right wing was trailing a cloud of vaporized fuel.
About 10 minutes later the pilots performed an emergency landing on runway 36R with emergency vehicles on stand-by. The landing run was safe despite the right wings still was leaking amounts of jet fuel. The Canadair CRJ-700 turned into highspeed taxiway "Romeo" and stopped there.
The aircraft was evacuated via the normal passenger door. There were no injuries. There was no fire.
Post landing inspection found substantial damage to the right hand wing leading edge and adjacent parts.
---
ATC Radio of flight AA / JIA 5320:


(Note: this recording is inofficial and can contain inadequate data)
---
METAR: Charlotte Douglas Intl Airport (KCLT):
| | | |
| --- | --- | --- |
| | 15/02/2017 11:47-> | KCLT 151647Z 35004KT 10SM BKN012 BKN018 10/07 A2958 RMK AO2 |
| | 15/02/2017 11:52-> | KCLT 151652Z 33004KT 10SM BKN015 BKN021 11/07 A2957 RMK AO2 SLP012 T01060067 |
---
IMAGES & VIDEO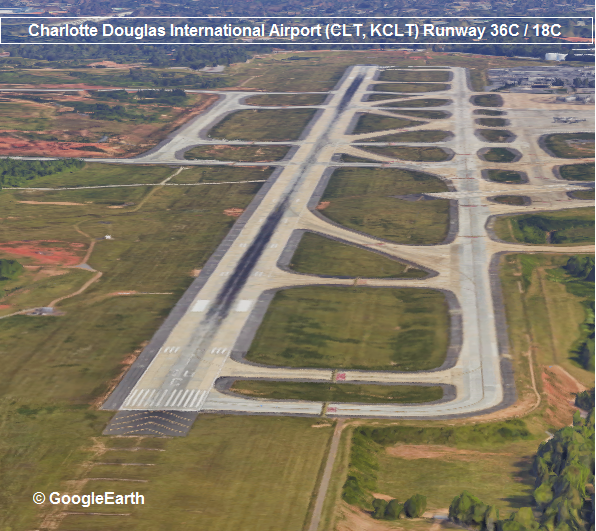 Flightpath (provided by Flightaware.com)
Tweet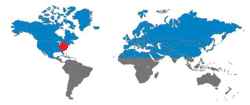 Aircraft
Type: Canadair CRJ-700
Registration: N709PS
Age a/c: 12.3 years
Constr. No.: 10165
| | | | | |
| --- | --- | --- | --- | --- |
| | Crew | Pax | Other | Total |
| Occupants |  4 |  44 | 0 | 48 |
| Fatalities | 0 | 0 | 0 | 0 |
| Injuries |  0 | 0 | 0 | 0 |
OCCURENCE DATASET
Date: 2017-02-15 Time: 11:42
Location: KCLT CLT Charlotte Douglas Intl
Country: United States of America
Flight phase: TOF – Take-off, Rejected Take-off
Damage to a/c: substantial
Flight
Flight no.: AA 5320
From: KCLT/CLT: Charlotte Douglas Intl To: KGPT/GPT: Gulfport
Type: Passenger
Operator: PSA Airlines
On behalf of: Envoy Air (AA Eagle)
JACDEC 25-year Statistics :
6th safety occurence for the operator
28th safety occurence of type (CRJ7)
22nd safety occurence at Charlotte Intl Airport
1st safety occurence for aircraft in question
Image & Information Sources
Copyright - Terms of Usage
All written and shown content on JACDEC.de is provided in the most accurate way. All information may be subject to changes because JACDEC.de cannot always ensure a full support of information updates to each news story.
No publication (or part of) provided by at JACDEC.de may be reproduced or transmitted in any form or by any means or by any information retrieval system without written permission from JACDEC. The below information includes unofficial information and should be treated as this. Editors cannot be held responsible for any errors or omissions caused by any information source mentioned herein. The nature of the following information should be regarded as preliminary.
Furthermore, the author cannot be held accountable for correctness, completeness or quality of the information provided herein. Liability claims regarding damage caused by the use of any information provided, including any kind of information which is incomplete or incorrect,will therefore be rejected.
For further terms and conditions, check our legal disclaimer section:
http://www.jacdec.de/imprint-legal-disclaimer/ 
AP = Airport / AL = Airlines / Avn = Aviation / AW = Airways / C/N: Construction Number / DSP = Domestic Scheduled Passenger / DNP = Domestic Non-Scheduled Passenger / DSC = Domestic Scheduled Cargo / DNC= Domestic Non-Scheduled Cargo / GND = On the ground / parked, stored / FMN= Flying Mission, Air Work / FRY = Ferry-, Positioning Flight / IMC = Intrument Meteorological (flying) Conditions / ISP = International Scheduled Passenger / ISC=International Scheduled Cargo / INP = International Non-Scheduled Passenger / INC =International Non-Scheduled Cargo/ OPS = Flight Operation(s) / NRV = Non-revenue, Private Flight / TRN =Training Flight /  TST = Test & Certification Flight / VMC = Visual Meteorological (flying) Conditions