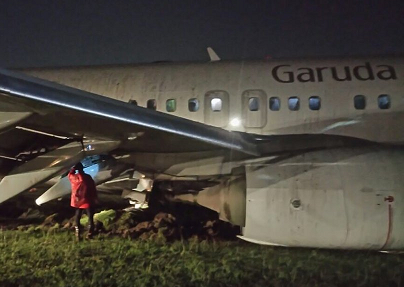 2017-02-01 Garuda Boeing 737-800 off runway at Yogyakarta
On landing in light rainfall the aircraft failed to stop before the end of the runway. It came to rest in soft ground. There were no serious injuries.
UPDATE 2017-02-02
In darkness, the aircraft ran off the end of runway 09 at Yogyakarta-Adi Sutjipto Airport coming to rest with all undercarriage in soft ground.
The runway lengh is 2200 meter, equivalent to 7,218 ft. (AIP Airport Charts WAHH)
At the time of the accident, local weather consisted of heavy rain that may have contributed to a reduction in braking efficiency.
According to local media reports, none of the passengers or crewmembers were injured.  The damage is being assessed but likely to be minor.
On arrival the aircraft (flight GA 258) has entered a holding pattern at around 19:25L about 15 NM southwest of the airport circling at 12,000 ft. The flight joined two other aircraft in the holding: Garuda 676 (B738 from Makassar) and Batik Air 7539 (B738 from Jakarta). The holding was canceled at 19:43L whilst descending to 5,000 ft. to resume the approach.
The following morning, the aircraft was removed and pulled by tug via an improvised paved accesspath back to the runway and to the main ramp.
According to a NOTAM, Adi Sutjipto Airport remains closed until 15:00L the next day.
METAR: Yogyakarta Airport (WAHH):
| | | |
| --- | --- | --- |
| | 01/02/2017 22:00-> | WAHH 011500Z 27002KT 5000 RA BKN014 24/23 Q1010= |
| | | |
---
IMAGES & VIDEO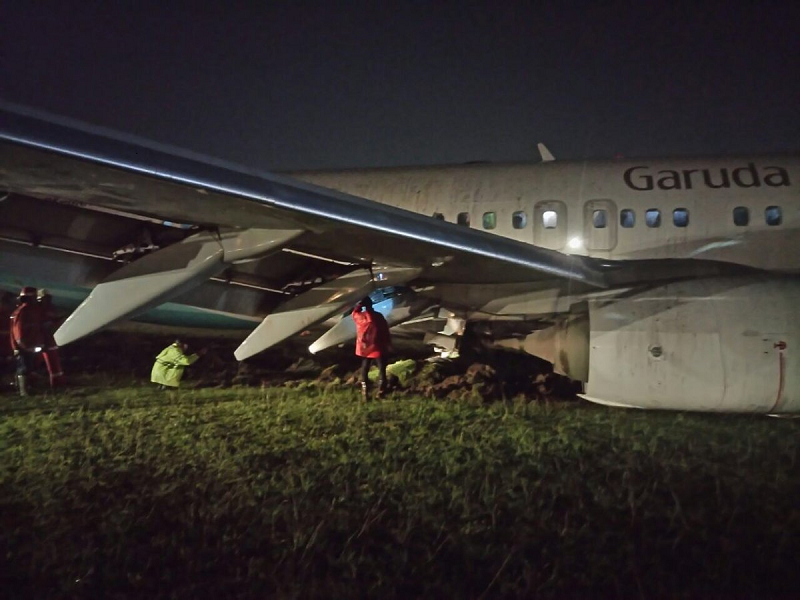 © Swaragama | Tribunjateng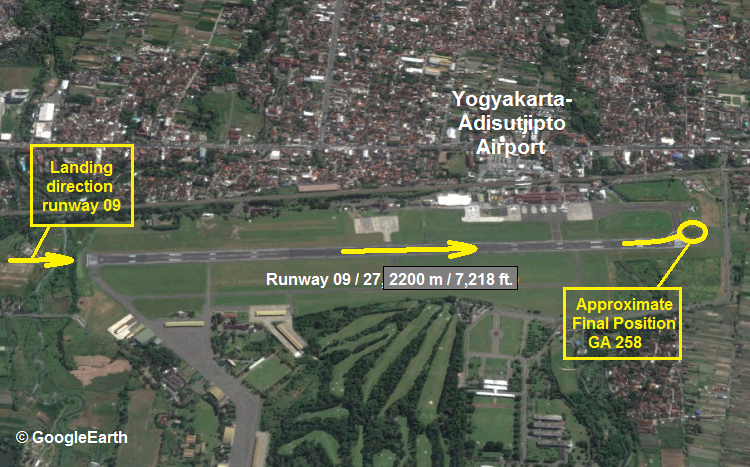 Flightpath (provided by Flightradar24)
Tweet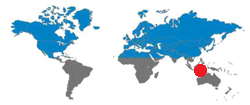 Aircraft
Type: Boeing 737-800
Registration: PK-GNK
Age a/c: 2.5 years
Constr. No.: 41798
| | | | | |
| --- | --- | --- | --- | --- |
| | Crew | Pax | Other | Total |
| Occupants | 5 | 123 | 0 | 128 |
| Fatalities | 0 | 0 | 0 | 0 |
| Injuries |  0 | 0 | 0 | 0 |
OCCURENCE DATASET
Date: 2017-02-01 Time: 19:50
Location: WAHH JOG Yogyakarta Airport (former Code WARJ)
Country: Indonesia
Flight phase: LDG – Flare, Landing Roll, Aborted Landing after Touchdown
Damage to a/c: minor
Flight
Flight no.: GA 258
From: WIII/CGK: Jakarta Soekarno Hatta Intl Airport To: WAHH/JOG: Yogyakarta Airport
Type: Passenger
Operator: Garuda Indonesia
JACDEC 30-year Statistics :
47th safety occurence for the operator
451th safety occurence of type (B738)
8th safety occurence at Yogyakarta Airport
1st safety occurence for aircraft in question
Image & Information Sources
Copyright - Terms of Usage
All written and shown content on JACDEC.de is provided in the most accurate way. All information may be subject to changes because JACDEC.de cannot always ensure a full support of information updates to each news story.
No publication (or part of) provided by at JACDEC.de may be reproduced or transmitted in any form or by any means or by any information retrieval system without written permission from JACDEC. The below information includes unofficial information and should be treated as this. Editors cannot be held responsible for any errors or omissions caused by any information source mentioned herein. The nature of the following information should be regarded as preliminary.
Furthermore, the author cannot be held accountable for correctness, completeness or quality of the information provided herein. Liability claims regarding damage caused by the use of any information provided, including any kind of information which is incomplete or incorrect,will therefore be rejected.
For further terms and conditions, check our legal disclaimer section:
http://www.jacdec.de/imprint-legal-disclaimer/ 
AP = Airport / AL = Airlines / Avn = Aviation / AW = Airways / C/N: Construction Number / DSP = Domestic Scheduled Passenger / DNP = Domestic Non-Scheduled Passenger / DSC = Domestic Scheduled Cargo / DNC= Domestic Non-Scheduled Cargo / GND = On the ground / parked, stored / FMN= Flying Mission, Air Work / FRY = Ferry-, Positioning Flight / IMC = Intrument Meteorological (flying) Conditions / ISP = International Scheduled Passenger / ISC=International Scheduled Cargo / INP = International Non-Scheduled Passenger / INC =International Non-Scheduled Cargo/ OPS = Flight Operation(s) / NRV = Non-revenue, Private Flight / TRN =Training Flight /  TST = Test & Certification Flight / VMC = Visual Meteorological (flying) Conditions