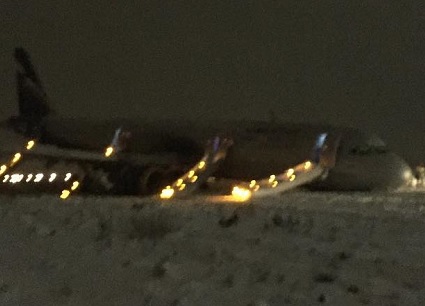 2017-01-03 Aeroflot Airbus A321 off runway at Kaliningrad
On landing the aircraft overran the end of the runway at Kaliningrad ending up in snow. All on board evacuated safely via chutes.
UPDATE 2017-01-10
On landing runway 24 in darkness and snow, the aircraft overshot the end of the runway (2500 m / 8,202 ft.) coming to rest with its nosegear collapsed on a snow covered field approximately 150 meters further.
An emergency evacuation was carried out via chutes.
There were no serious injuries among passengers or crewmembers.
Flight to and from Kaliningrad were delayed for up to 14 hours. The aircraft was hinged up on a flatbed truck and towed to a parking stand in front of the terminal. The nose is resting on wooden pallets.
According to information by AvHerald, the A321 veered off the right side of the runway coming to rest near the junction of taxiway "Charlie". 
The airline reported that breaking coefficient at the time of the incident were low (meaning reduced grip) and crosswinds were near the maximum allowable for that kind of aircraft.
METAR: Kaliningrad Airport (UMKK):
03/01/2017 22:30->

METAR UMKK 032030Z 18007MPS 150V210 1400 1300S R24/P2000N
           SHSNRA SCT004 BKN014CB 00/00 Q0992 R24/59//37
           NOSIG RMK QBB120 OBST OBSC QFE743/0991=

03/01/2017 23:00->

METAR UMKK 032100Z 18007MPS 1700 0200NE R24/0600 +SHSNRA
           BKN003 BKN014CB 00/00 Q0991 R24/59//32 NOSIG RMK
           QBB110 OBST OBSC QFE742/0990=
More to come..
---
IMAGES & VIDEO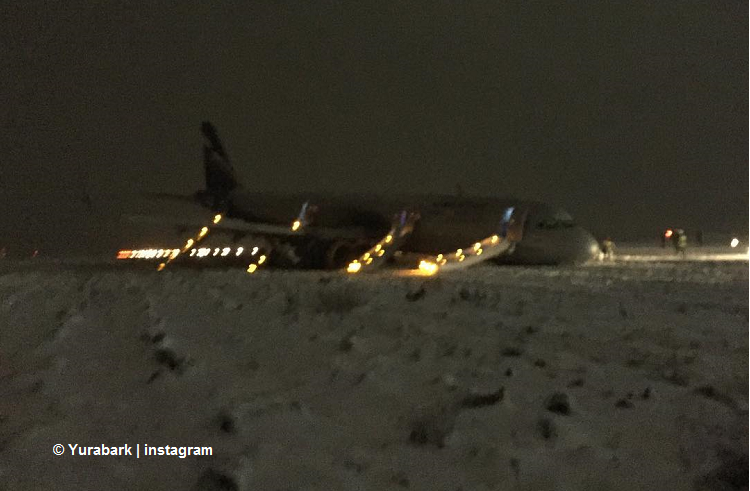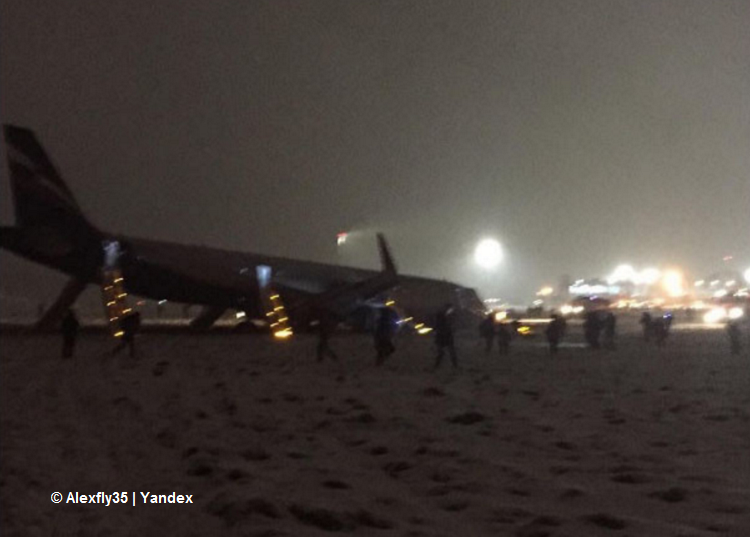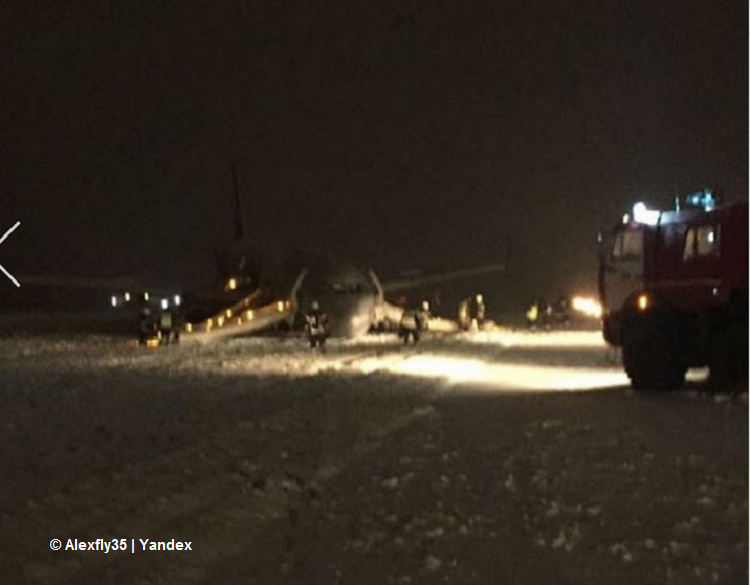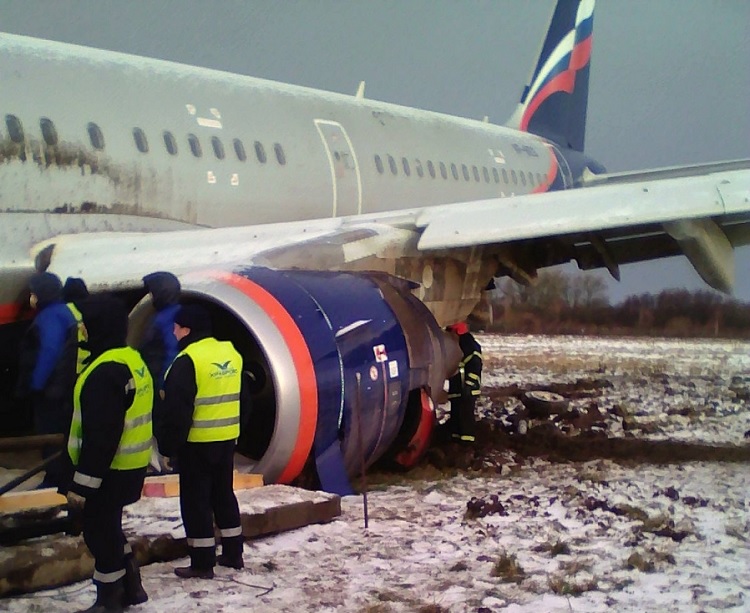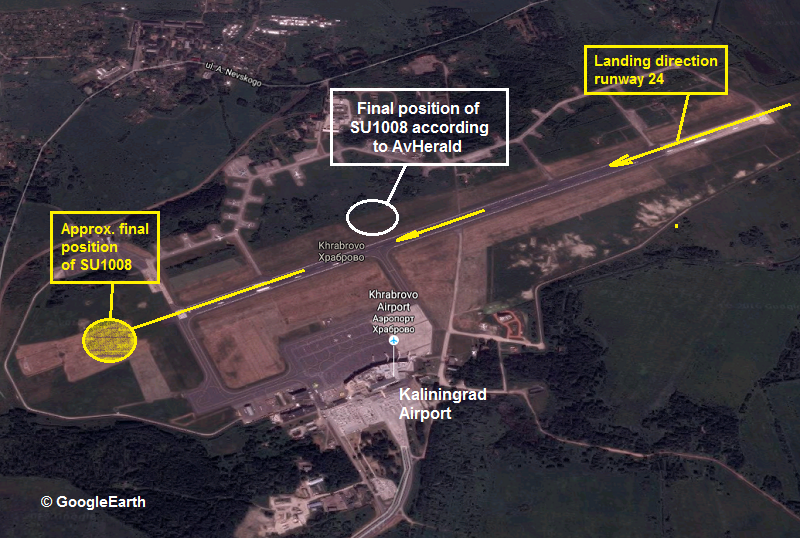 Flightpath (provided by Flightradar24)
Tweet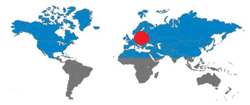 Aircraft
Type: Airbus A321
Registration: VP-BES
Age a/c: 1.2 years
Constr. No.: 6817
| | | | | |
| --- | --- | --- | --- | --- |
| | Crew | Pax | Other | Total |
| Occupants | 7 |  167 | 0 | 174 |
| Fatalities | 0 | 0 | 0 | 0 |
| Injuries |  0 | 0 | 0 | 0 |
OCCURENCE DATASET
Date: 2017-01-03 Time: 22:54
Location: UMKK KGD Kaliningrad Khrabrovo
Country: Russia
Flight phase: LDG – Flare, Landing Roll, Aborted Landing after Touchdown
Damage to a/c: substantial
Flight
Flight no.: SU 1008
From: UUEE/SVO: Moscow Sheremetyevo To: UMKK/KGD: Kaliningrad Khrabrovo
Type: Passenger
Operator: Aeroflot – Russian Airlines
JACDEC 25-year Statistics :
69th safety occurence for the operator
157th safety occurence of type (A321)
3rd safety occurence at Kaliningrad Airport
1st safety occurence for aircraft in question
Image & Information Sources
Copyright - Terms of Usage
All written and shown content on JACDEC.de is provided in the most accurate way. All information may be subject to changes because JACDEC.de cannot always ensure a full support of information updates to each news story.
No publication (or part of) provided by at JACDEC.de may be reproduced or transmitted in any form or by any means or by any information retrieval system without written permission from JACDEC. The below information includes unofficial information and should be treated as this. Editors cannot be held responsible for any errors or omissions caused by any information source mentioned herein. The nature of the following information should be regarded as preliminary.
Furthermore, the author cannot be held accountable for correctness, completeness or quality of the information provided herein. Liability claims regarding damage caused by the use of any information provided, including any kind of information which is incomplete or incorrect,will therefore be rejected.
For further terms and conditions, check our legal disclaimer section:
http://www.jacdec.de/imprint-legal-disclaimer/ 
AP = Airport / AL = Airlines / Avn = Aviation / AW = Airways / C/N: Construction Number / DSP = Domestic Scheduled Passenger / DNP = Domestic Non-Scheduled Passenger / DSC = Domestic Scheduled Cargo / DNC= Domestic Non-Scheduled Cargo / GND = On the ground / parked, stored / FMN= Flying Mission, Air Work / FRY = Ferry-, Positioning Flight / IMC = Intrument Meteorological (flying) Conditions / ISP = International Scheduled Passenger / ISC=International Scheduled Cargo / INP = International Non-Scheduled Passenger / INC =International Non-Scheduled Cargo/ OPS = Flight Operation(s) / NRV = Non-revenue, Private Flight / TRN =Training Flight /  TST = Test & Certification Flight / VMC = Visual Meteorological (flying) Conditions