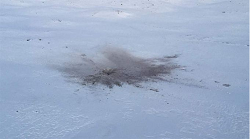 2016-01-08 West Atlantic Canadair CRJ-200 crashed in Sweden
 Accident site with 10 meter distance circles. CVR was found at the red cross closest to the center, FDR at the second cross. (Photo: Swedish Police)
© SHK statens haverikommision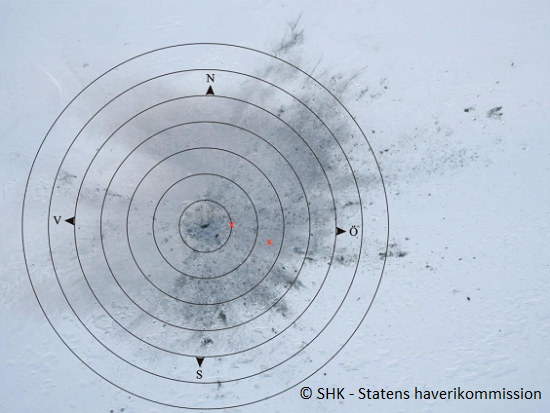 The cargo aircraft disappeared from radar screens whilst flying en-route east of Bodo, Norway. The wreckage was discovered near Akkajaure Lake, Sweden. Both crewmembers did not survive.
UPDATED
The Canadair CRJ-200 Regional Jet  (in cargo configuration) was found to have crashed in northern Sweden with two pilots on board. 
The regular mail flight took off from Oslo Gardermoen Airport at 22:10L climbing steadily to its assigned en-route altitude of 33.000 ft following the NUVSA4A departure route along the norwegian, swedish border. 
The aircraft followed air routes T311, N150 and  T65 to the north when contact was lost in the vicinity of TIPEL waypoint following a brief distress "mayday" call from the flight at 23:31L, according to the airline.
After the flight failed to arrive at its destination, a norwegian F-16 fighter plane was sent out to search for the missing Canadair.
The wreckage was spotted at 03:10L in a remote countryside on the northwestern tip of Lake Akkajaure, Sweden. 
The crash site is situated on an open snow-covered side of a hill. Only one single impact crater was visible. The small dimensions of the crater indicated a rather steep impact angle and a high impact forces.
There were no survivors.
The pilot in command was 34 years old, with 3173 hours flight experience and 2050 hours on the accident type. The first officer got 3050 hours of flight experience with 900 hours on the accident type.
Swedish Accident Investigation Board (SHK) opened its investigation. (SHK, statement as of 2016-01-09)
OCCURENCE DATASET
Date: 2016-01-08 Time: 00:18
Location: Akkjaure Lake area
Country: Sweden
Flight phase: ENR – Cruise, Descent, Holding
Damage to a/c: hull loss
Flight
Flight no.: SWN 294
From: ENGM/OSL: Oslo Gardermoen To: ENTC/TOS: Tromso Langes
Type: Cargo
Operator: West Atlantic Sweden
Map (provided by Flightradar24)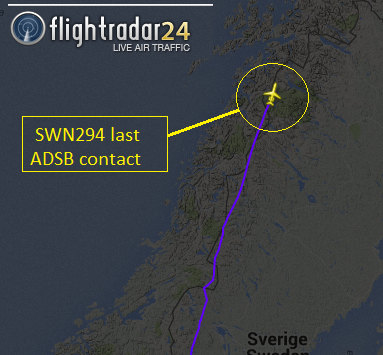 Full flight information and flight history for aircraft SE-DUX
Tweet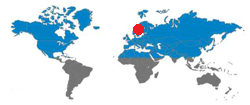 © G. Batolli | Jetphotos.net
Type: Canadair CRJ-200
Registration: SE-DUX
Age a/c: 22,8 years
Constr. No.: 7010
Former Operators: Lufthansa Cityline (1993-2006), converted to cargo operations and owned by Westair Sweden since 2007
Total Hours flown: 38.601:49
Total Flight Cycles: 31.036
| | | | | |
| --- | --- | --- | --- | --- |
| | Crew | Pax | Other | Total |
| Occupants | 2 | 0 | 0 | 2 |
| Fatalities |  2 | 0 | 0 | 2 |
| Injuries |  0 | 0 | 0 | 0 |
JACDEC 25-year Statistics :
2nd (and worst) safety occurence for the operator
113th safety occurence of type (CRJ1/2)
7th hull loss accident in Sweden, last fatal was in 2006
1st safety occurence for aircraft in question
Image & Information Sources
Copyright - Terms of Usage
All written and shown content on JACDEC.de is provided in the most accurate way. All information may be subject to changes because JACDEC.de cannot always ensure a full support of information updates to each news story.
No publication (or part of) provided by at JACDEC.de may be reproduced or transmitted in any form or by any means or by any information retrieval system without written permission from JACDEC. The below information includes unofficial information and should be treated as this. Editors cannot be held responsible for any errors or omissions caused by any information source mentioned herein. The nature of the following information should be regarded as preliminary.
Furthermore, the author cannot be held accountable for correctness, completeness or quality of the information provided herein. Liability claims regarding damage caused by the use of any information provided, including any kind of information which is incomplete or incorrect,will therefore be rejected.
For further terms and conditions, check our legal disclaimer section:
http://www.jacdec.de/imprint-legal-disclaimer/ 
AP = Airport / AL = Airlines / Avn = Aviation / AW = Airways / C/N: Construction Number / DSP = Domestic Scheduled Passenger / DNP = Domestic Non-Scheduled Passenger / DSC = Domestic Scheduled Cargo / DNC= Domestic Non-Scheduled Cargo / GND = On the ground / parked, stored / FMN= Flying Mission, Air Work / FRY = Ferry-, Positioning Flight / IMC = Intrument Meteorological (flying) Conditions / ISP = International Scheduled Passenger / ISC=International Scheduled Cargo / INP = International Non-Scheduled Passenger / INC =International Non-Scheduled Cargo/ OPS = Flight Operation(s) / NRV = Non-revenue, Private Flight / TRN =Training Flight /  TST = Test & Certification Flight / VMC = Visual Meteorological (flying) Conditions