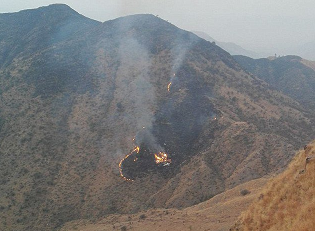 2016-12-07 Pakistan Intl ATR-42 crashed near Abbottabad after inflight emergency
The ATR-42 crashed near Abbottabad, Pakistan with 48 on board after inflight emergency. There were no survivors.
UPDATE 2016-12-12
Pakistan International Airlines flight PK 661 went missing en-route from Chitral to Islamabad with 48 people on board among them five crew members, one ground engineer and 42 passengers. The ATR climbed to an altitude measured by Flightradar24 as 13,000 ft. 
It was 16:14L  – about 45 min after take-off from Chitral – when Islamabad Air Traffic Control (ATC) received a transmission from PK661. The pilots released a distress message indicating troubles with engine #1 (left) and said they must give up their altitude and began to descend.  -> Engine type: Pratt & Whitney PW121A. A minute later a Mayday Call was received after which no further communication was established.
AUDIO FILE of ATC Recording of PK661

 [MP3-LINK]
Eyewitness reports stating the aircraft was found to have impacted on a mountainside the village of Havelian, 17 km south of Abbottabad.  After impact, a fire erupted consuming much of the surrounding bushes and grassland.
A rescue mission is ongoing but no survivors were found.

PIA Pakistan Intl Airlines press statement: [LINK]
In the wake of the accident and another mishap on a ATR-72 flight, Pakistan International Airlines announced they will ground their entire fleet of nine remaining ATR's for safety inspection. PIA press statement:  "In view of Civil Aviation Authority's decision of holding shakedown tests of PIA's entire ATR fleet, it has been decided to keep all 10 ATR aircrafts grounded till they are cleared after thorough examination."
NOTE: the aircraft question was substantially damaged in 2009 when it ran off runway on landing at Lahore Airport. The aircraft was repaired and returned to service again. In 2014 the aircraft in question experienced another failure of its left engine during flight from Skardu to Islamabad.

ALL CERTIFICATES  and Documents for ATR-42 AP-BHO msn 663 by PAK-CAA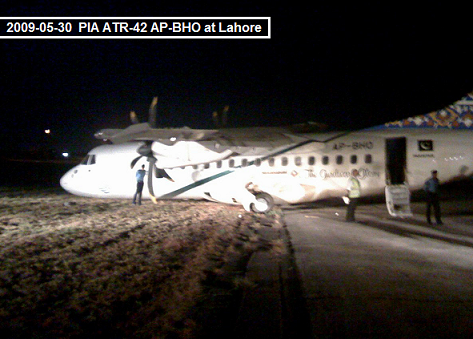 MAO view provided by GoogleEarth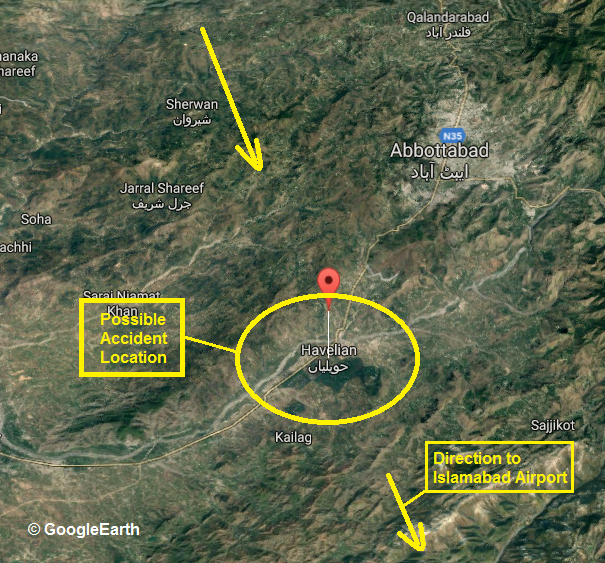 ---
Tweet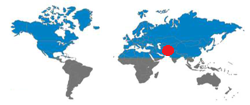 Aircraft
Type: ATR-42
Registration: AP-BHO
Age a/c: 9.6 years
Constr. No.: 663
| | | | | |
| --- | --- | --- | --- | --- |
| | Crew | Pax | Other | Total |
| Occupants | 6 | 42 | 0 | 48 |
| Fatalities | 6 | 42 | 0 | 48 |
| Survivors |  0 |  0 | 0 | 0 |
OCCURENCE DATASET
Date: 2016-12-07 Time: ~16:30
Location: Abbottabad area
Country: Pakistan
Flight phase: ENR – Cruise, Descent, Holding
Damage to a/c: hull loss
Flight
Flight no.: PK 661
From: OPCH/CJL: Chitral To: OPRN/ISB: Islamabad Chaklala
Type: Passenger
Operator: PIA – Pakistan International Airlines
JACDEC 25-year Statistics :
54th safety occurence for the operator
– 5th fatal accident of PIA since 1989
94th safety occurence of type (ATR-42)
4th safety occurence for aircraft in question
– 2009-05-30 off runway on landing Lahore
– 2012-03-09 severe birdstrike near Karachi
– 2014-09-15 left engine flame-out near Skardu
Copyright - Terms of Usage
All written and shown content on JACDEC.de is provided in the most accurate way. All information may be subject to changes because JACDEC.de cannot always ensure a full support of information updates to each news story.
No publication (or part of) provided by at JACDEC.de may be reproduced or transmitted in any form or by any means or by any information retrieval system without written permission from JACDEC. The below information includes unofficial information and should be treated as this. Editors cannot be held responsible for any errors or omissions caused by any information source mentioned herein. The nature of the following information should be regarded as preliminary.
Furthermore, the author cannot be held accountable for correctness, completeness or quality of the information provided herein. Liability claims regarding damage caused by the use of any information provided, including any kind of information which is incomplete or incorrect,will therefore be rejected.
For further terms and conditions, check our legal disclaimer section:
http://www.jacdec.de/imprint-legal-disclaimer/ 
AP = Airport / AL = Airlines / Avn = Aviation / AW = Airways / C/N: Construction Number / DSP = Domestic Scheduled Passenger / DNP = Domestic Non-Scheduled Passenger / DSC = Domestic Scheduled Cargo / DNC= Domestic Non-Scheduled Cargo / GND = On the ground / parked, stored / FMN= Flying Mission, Air Work / FRY = Ferry-, Positioning Flight / IMC = Intrument Meteorological (flying) Conditions / ISP = International Scheduled Passenger / ISC=International Scheduled Cargo / INP = International Non-Scheduled Passenger / INC =International Non-Scheduled Cargo/ OPS = Flight Operation(s) / NRV = Non-revenue, Private Flight / TRN =Training Flight /  TST = Test & Certification Flight / VMC = Visual Meteorological (flying) Conditions