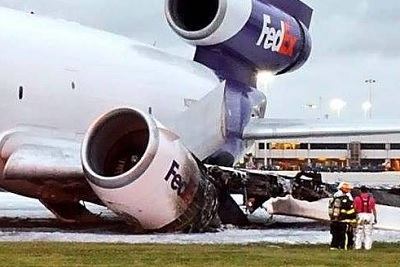 2016-10-28 FedEx MD-10F gear collapse and fire on landing Ft. Lauderdale
On landing at Ft. Lauderdale the cargo aircraft veered to the left and ended off the runway on fire. Both crewmembers escaped.
UPDATE
FedEx cargo flight FDX 910 was following an ILS approach to runway 10L(eft) at Ft.Lauderdale in windy weather. After touchdown its left maingear gave way and collapsed rearwards causing its left wing to drop and its left engine hit the ground.
Directional control was subsequently lost and the MD-10 ran to the left of the runway. At this time, the aircraft left a trail of fire behind it, apparently from a leaking fuel line resulting in dense black smoke and large flames.
The MD-10 came to a standstill in an angle of about 30 degrees immediately after passing taxiway "Alpha 4" . The left wing was completely on fire.
Both crewmembers escaped the cockpit via escape ropes and remained unhurt.
About a minute after standstill, an explosion occured inside a fuel tank intensifying the flames even more before – after about 2 minutes – the airport fire brigade arrived at the scene.
The Airport was closed until further notice. It is widely believed the aircraft is a write-off.
ATC recording Ft. Lauderdale Tower via 

 (mp3 file)
---
METAR Ft.Lauderdale-Hollywood intl Airport (FLL, KFLL)
28/10/2016 16:53->

METAR KFLL 282053Z 05015G25KT 10SM FEW024 SCT033 BKN041 OVC250
           26/20 A2999 RMK AO2 RAB32E41 SLP153 P0000 60000
           T02560200 58013=

28/10/2016 17:53->

METAR KFLL 282153Z 05015G24KT 10SM FEW021 FEW026 BKN050 OVC250
           26/21 A2998 RMK AO2 PK WND 06026/2132 SLP152 T02560211=
---

 


©
Tweet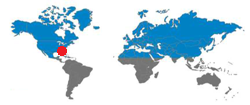 Aircraft
Type: McDD MD-10F
Registration: N370FE
Age a/c: 44.7 years
Constr. No.: 46608
| | | | | |
| --- | --- | --- | --- | --- |
| | Crew | Pax | Other | Total |
| Occupants | 2 |  0 | 0 | 2 |
| Fatalities | 0 | 0 | 0 | 0 |
| Injuries |  0 | 0 | 0 | 0 |
OCCURENCE DATASET
Date: 2016-10-28 Time: 17:50
Location: KFLL FLL Ft. Lauderdale
Country: United States of America
Flight phase: LDG – Flare, Landing Roll, Aborted Landing after Touchdown
Damage to a/c: substantial
Flight
Flight no.: FDX 910
From: KMEM/MEM: Memphis To: KFLL/FLL: Ft. Lauderdale
Type: Cargo
Operator: Fedex Express
JACDEC 25-year Statistics :
60th safety occurence for the operator
5th safety occurence of type (MD-10)
20th safety occurence at Ft.Lauderdale Airport
1st safety occurence for aircraft in question
Image & Information Sources
Copyright - Terms of Usage
All written and shown content on JACDEC.de is provided in the most accurate way. All information may be subject to changes because JACDEC.de cannot always ensure a full support of information updates to each news story.
No publication (or part of) provided by at JACDEC.de may be reproduced or transmitted in any form or by any means or by any information retrieval system without written permission from JACDEC. The below information includes unofficial information and should be treated as this. Editors cannot be held responsible for any errors or omissions caused by any information source mentioned herein. The nature of the following information should be regarded as preliminary.
Furthermore, the author cannot be held accountable for correctness, completeness or quality of the information provided herein. Liability claims regarding damage caused by the use of any information provided, including any kind of information which is incomplete or incorrect,will therefore be rejected.
For further terms and conditions, check our legal disclaimer section:
http://www.jacdec.de/imprint-legal-disclaimer/ 
AP = Airport / AL = Airlines / Avn = Aviation / AW = Airways / C/N: Construction Number / DSP = Domestic Scheduled Passenger / DNP = Domestic Non-Scheduled Passenger / DSC = Domestic Scheduled Cargo / DNC= Domestic Non-Scheduled Cargo / GND = On the ground / parked, stored / FMN= Flying Mission, Air Work / FRY = Ferry-, Positioning Flight / IMC = Intrument Meteorological (flying) Conditions / ISP = International Scheduled Passenger / ISC=International Scheduled Cargo / INP = International Non-Scheduled Passenger / INC =International Non-Scheduled Cargo/ OPS = Flight Operation(s) / NRV = Non-revenue, Private Flight / TRN =Training Flight /  TST = Test & Certification Flight / VMC = Visual Meteorological (flying) Conditions