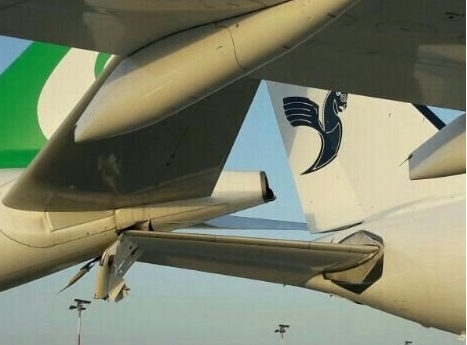 2016-09-27 Iran Air + Mahan Air ground collision at Tehran IKA
Both aircraft received damage in a heavy ground collision at Tehran-Imam Khomenei intl Airport, Iran. There were no reports about any injured persons.
UPDATE
In the morning hours in good visibility, both aircraft were pushing back out of their overnight parking stands, when the tail of the Airbus A310 collided with the tail of the larger A340.
The collsion was so severe, that the outer third of the A310's right horizontal stabilizer broke off. Additional damage occured to the lower auxiliary power unit (APU) access doors of the A340.
There are no reports of injured persons in this regard. Both aircraft were taken out of service.
There likely is further damage to other aircraft parts as well. The Airbus A340 was due to fly a scheduled service to London.
NOTE: On Sep 8th another ground collision took place at Tehran-IKA, when an Oman Air 737 struck a parked Mahan Air A310 during taxi. (Source)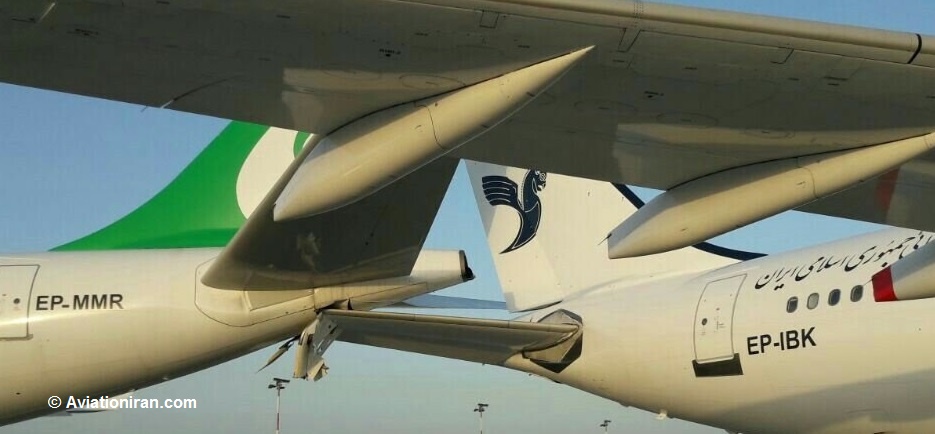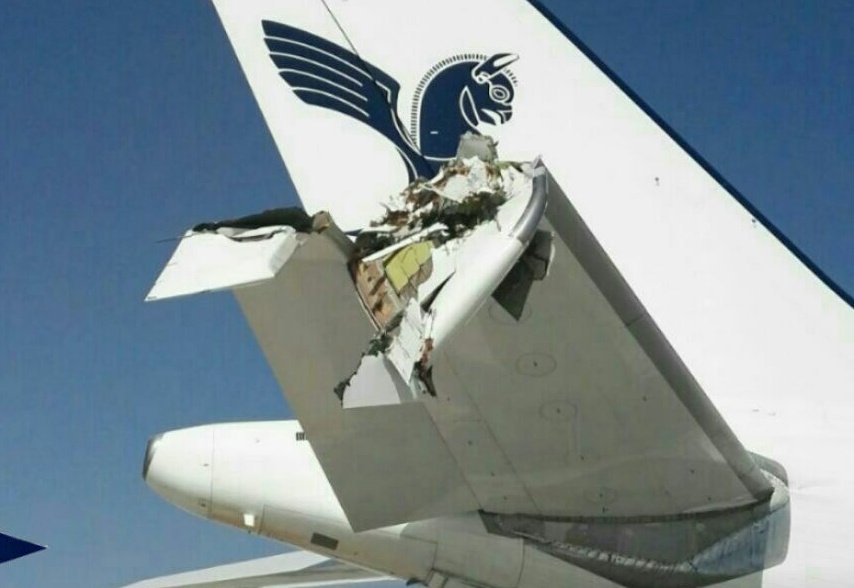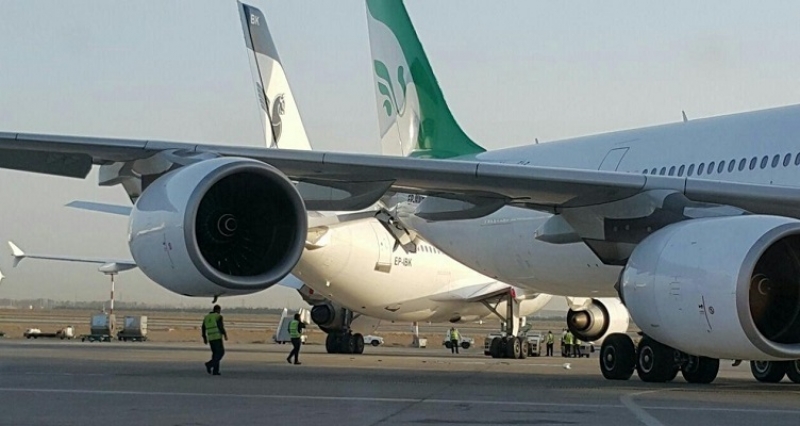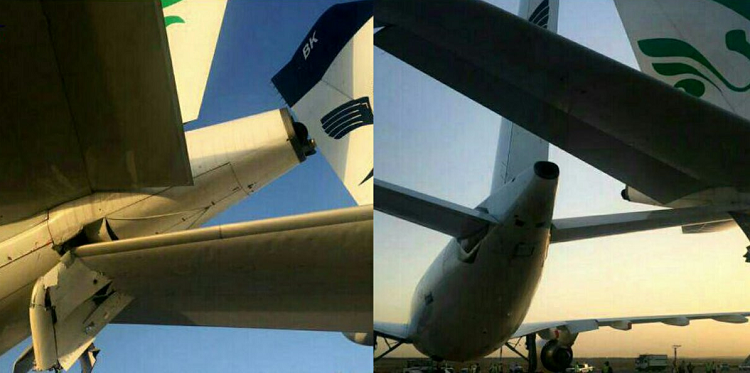 METAR Tehran-IKA Intl Airport (OIIE):
| | | |
| --- | --- | --- |
| | 27/09/2016 06:30-> | METAR OIIE 270400Z 30010KT CAVOK 19/M06 Q1017= |
| | 27/09/2016 09:00-> | METAR OIIE 270530Z 31015KT CAVOK 24/M04 Q1018= |
[
OCCURENCE DATASET
Date: 2016-09-27 Time: ~07:00
Location: OIIE IKA Imam Khomeini International
Country: Iran
Flight phase: PBT – Pushback / Towing with engines not in operation
Damage to a/c: substantial
Flight1
Flight no.:
From: 0000/: NONE To: 0000/: NONE
Type: Ground
Operator: Iran Air
Flight2
Flight no.:
From: 0000/: NONE To: 0000/: NONE
Type: Ground
Operator: Mahan Air
Tweet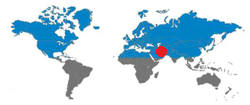 Aircraft1
Type: Airbus A310-300
Registration: EP-IBK
Age a/c: 23.6 years
Constr. No.: 671
Aircraft2
Type: Airbus A340-600
Registration: EP-MMR
Age a/c: 11.8 years
Constr. No.: 615
| | | | | |
| --- | --- | --- | --- | --- |
| | Crew | Pax | Other | Total |
| Occupants | | | 0 | |
| Fatalities | 0 | 0 | 0 | 0 |
| Injuries |  0 | 0 | 0 | 0 |
JACDEC 25-year Statistics :
38th safety occurence for the operator(Iran Air)
18th safety occurence for the operator(Mahan Air)
88th safety occurence of type (A310)
121st safety occurence of type (A340)
6th Safety occurence at Tehran-IKA Airport
2nd safety occurence for aircraft in question(EK-IBK)

– overran runway at Hamburg, Germany in July 2013

1st safety occurence for aircraft in question(EP-MMR)
Image & Information Sources
Copyright - Terms of Usage
All written and shown content on JACDEC.de is provided in the most accurate way. All information may be subject to changes because JACDEC.de cannot always ensure a full support of information updates to each news story.
No publication (or part of) provided by at JACDEC.de may be reproduced or transmitted in any form or by any means or by any information retrieval system without written permission from JACDEC. The below information includes unofficial information and should be treated as this. Editors cannot be held responsible for any errors or omissions caused by any information source mentioned herein. The nature of the following information should be regarded as preliminary.
Furthermore, the author cannot be held accountable for correctness, completeness or quality of the information provided herein. Liability claims regarding damage caused by the use of any information provided, including any kind of information which is incomplete or incorrect,will therefore be rejected.
For further terms and conditions, check our legal disclaimer section:
http://www.jacdec.de/imprint-legal-disclaimer/ 
AP = Airport / AL = Airlines / Avn = Aviation / AW = Airways / C/N: Construction Number / DSP = Domestic Scheduled Passenger / DNP = Domestic Non-Scheduled Passenger / DSC = Domestic Scheduled Cargo / DNC= Domestic Non-Scheduled Cargo / GND = On the ground / parked, stored / FMN= Flying Mission, Air Work / FRY = Ferry-, Positioning Flight / IMC = Intrument Meteorological (flying) Conditions / ISP = International Scheduled Passenger / ISC=International Scheduled Cargo / INP = International Non-Scheduled Passenger / INC =International Non-Scheduled Cargo/ OPS = Flight Operation(s) / NRV = Non-revenue, Private Flight / TRN =Training Flight /  TST = Test & Certification Flight / VMC = Visual Meteorological (flying) Conditions