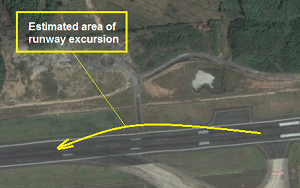 2016-09-21 Thai Airways Airbus A350 runway excursion at Phuket
During landing at Phuket in bad weather, the Airbus A350 suffered a temporary runway excursion causing some gear damage. All on board were able to deplane unharmed.
UPDATE 2016-10-28
Thai Airways flight TG 221 departed from Bangkok Suvarnabhumi International Airport at 1838L. The brand-new Airbus A350 was delivered about a month earlier and was the only fully operational one of its type in the fleet.
Upon final approach to Phuket it was dark and the local weather consisted of moderate to strong winds, rainfall and limited visibility.
Some time after touchdown the A350 drifted to the right of the runway centreline until its right maingear ran off the side of the runway ploughing through the grass beneath. The pilots regained control and managed to steer the A350 back onto the runway.
All four tires of the left maingear reportedly were blown.  No one inside the aircraft was harmed.
A number of runway edge lights were also affected.  A post-incident inspection showed many shards of destroyed runway lights.
Phuket Airport was forced to close for about 2,5 hours until the runway was cleaned and fully operational again.
The accident aircraft was ferried back to Bangkok on 2016-09-28.
METAR Phuket Airport (VTSP):
21/09/2016 19:00->

METAR VTSP 211200Z 28020KT 2000 +RA SCT015 SCT020 BKN100
           25/23 Q1012 NOSIG

21/09/2016 19:30->

METAR VTSP 211230Z 24012KT 1000 +RA SCT015 SCT020 BKN100
           24/22 Q1013 TEMPO SHRA=
Phuket International Airport is equipped with a single runway (09 / 27) 3000 meters in lengh and 45 meters in width.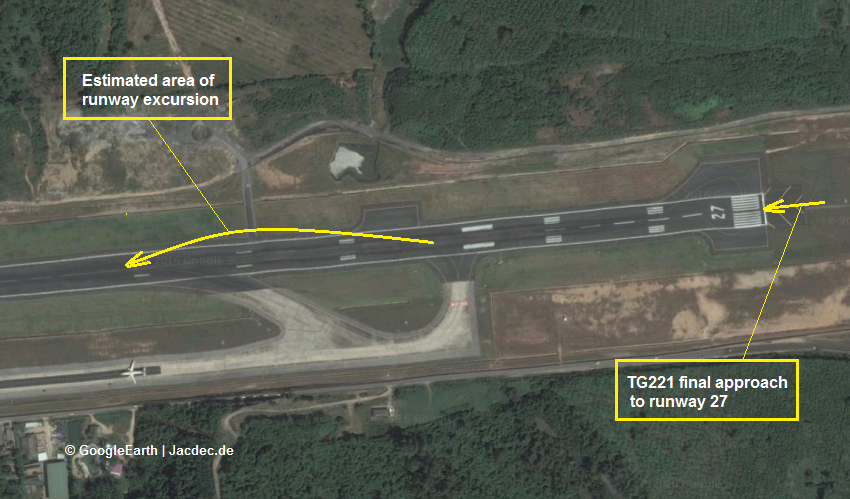 © GoogleEarth | Jacdec.de
Tweet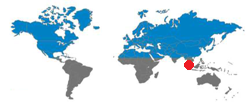 Aircraft
Type: Airbus A350-900
Registration: HS-THB
Age a/c: 0.1 years
Constr. No.: 044
| | | | | |
| --- | --- | --- | --- | --- |
| | Crew | Pax | Other | Total |
| Occupants | 14 | 138 | 0 | 152 |
| Fatalities | 0 | 0 | 0 | 0 |
| Injuries |  0 | 0 | 0 | 0 |
OCCURENCE DATASET
Date: 2016-09-21 Time: 19:42
Location: VTSP HKT Phuket
Country: Thailand
Flight phase: LDG – Flare, Landing Roll, Aborted Landing after Touchdown
Damage to a/c: minor
Flight
Flight no.: TG 221
From: VTBS/BKK: Bangkok-Suvarnabhumi International To: VTSP/HKT: Phuket
Type: Passenger
Operator: Thai Airways International
JACDEC 25-year Statistics :
42nd safety occurence for the operator
4th safety occurence of type (A350)
5th safety occurence at Phuket Airport
1st safety occurence for aircraft in question
Image & Information Sources
Copyright - Terms of Usage
All written and shown content on JACDEC.de is provided in the most accurate way. All information may be subject to changes because JACDEC.de cannot always ensure a full support of information updates to each news story.
No publication (or part of) provided by at JACDEC.de may be reproduced or transmitted in any form or by any means or by any information retrieval system without written permission from JACDEC. The below information includes unofficial information and should be treated as this. Editors cannot be held responsible for any errors or omissions caused by any information source mentioned herein. The nature of the following information should be regarded as preliminary.
Furthermore, the author cannot be held accountable for correctness, completeness or quality of the information provided herein. Liability claims regarding damage caused by the use of any information provided, including any kind of information which is incomplete or incorrect,will therefore be rejected.
For further terms and conditions, check our legal disclaimer section:
http://www.jacdec.de/imprint-legal-disclaimer/ 
AP = Airport / AL = Airlines / Avn = Aviation / AW = Airways / C/N: Construction Number / DSP = Domestic Scheduled Passenger / DNP = Domestic Non-Scheduled Passenger / DSC = Domestic Scheduled Cargo / DNC= Domestic Non-Scheduled Cargo / GND = On the ground / parked, stored / FMN= Flying Mission, Air Work / FRY = Ferry-, Positioning Flight / IMC = Intrument Meteorological (flying) Conditions / ISP = International Scheduled Passenger / ISC=International Scheduled Cargo / INP = International Non-Scheduled Passenger / INC =International Non-Scheduled Cargo/ OPS = Flight Operation(s) / NRV = Non-revenue, Private Flight / TRN =Training Flight /  TST = Test & Certification Flight / VMC = Visual Meteorological (flying) Conditions