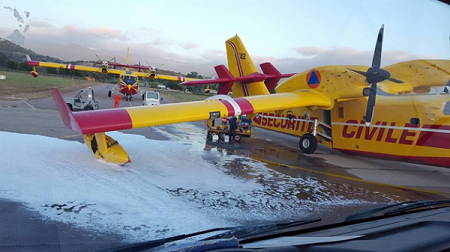 2016-08-01 Securite Civile CL-415 taxi incident at Ajaccio, Corsica
The Canadair CL-415 was damaged when its unercarriage failed during taxi disabling the entire airport for hours.
During line-up via taxiway "Foxtrott" for take-off on runway 20 at Ajaccio Airport , Corse, the right maingear of the water dropping aircraft gave way.
The right wing dropped until its right float hit the ground and was damaged. Some fuel spilled from a ruptured fuel tank but airport fire service quickly arrived on the spot.
Both crewmembers remained unhurt. Further damage did not occur.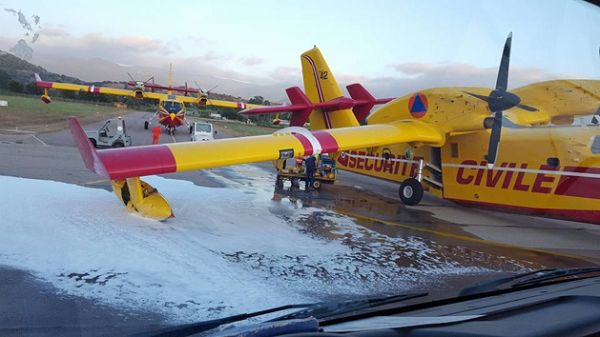 © SSLIA 2A

The aircraft was one of two that were sent out in the evening on a water dropping mission to combat forest fires in the northern part of Corsica Island.
Ajaccio Airport was forced to close for all traffic until the next morning when the CL-415 was finally removed. .
Jeju Airport re-opened for traffic one day earlier after a complete shutdown because of intense snowfall leaving about 90.000 people stranded.
OCCURENCE DATASET
Date: 2016-08-01 Time: 20:00
Location: LFKJ AJA Ajaccio Campo Dell'oro
Country: France
Flight phase: TXI – Taxi, Power Back
Damage to a/c: substantial
Flight
Flight no.:
From: LFKJ/AJA: Ajaccio Campo Dell'oro To: LFKJ/AJA: Ajaccio Campo Dell'oro
Type: Non Revenue
Operator: Securite Civiler
Tweet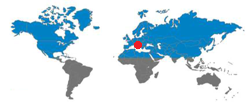 Aircraft
Type: Canadair CL-415
Registration: F-ZBEU
Age a/c: 19,1 years
Constr. No.: 2024
| | | | | |
| --- | --- | --- | --- | --- |
| | Crew | Pax | Other | Total |
| Occupants | 2 | 0 | 0 | 2 |
| Fatalities | 0 | 0 | 0 | 0 |
| Injuries |  0 | 0 | 0 | 0 |
JACDEC 25-year Statistics :
6th safety occurence for the operator
11th safety occurence of type (CL-415)
2nd safety occurence at Ajaccio Airport
1st safety occurence for aircraft in question
Image & Information Sources
Copyright - Terms of Usage
All written and shown content on JACDEC.de is provided in the most accurate way. All information may be subject to changes because JACDEC.de cannot always ensure a full support of information updates to each news story.
No publication (or part of) provided by at JACDEC.de may be reproduced or transmitted in any form or by any means or by any information retrieval system without written permission from JACDEC. The below information includes unofficial information and should be treated as this. Editors cannot be held responsible for any errors or omissions caused by any information source mentioned herein. The nature of the following information should be regarded as preliminary.
Furthermore, the author cannot be held accountable for correctness, completeness or quality of the information provided herein. Liability claims regarding damage caused by the use of any information provided, including any kind of information which is incomplete or incorrect,will therefore be rejected.
For further terms and conditions, check our legal disclaimer section:
http://www.jacdec.de/imprint-legal-disclaimer/ 
AP = Airport / AL = Airlines / Avn = Aviation / AW = Airways / C/N: Construction Number / DSP = Domestic Scheduled Passenger / DNP = Domestic Non-Scheduled Passenger / DSC = Domestic Scheduled Cargo / DNC= Domestic Non-Scheduled Cargo / GND = On the ground / parked, stored / FMN= Flying Mission, Air Work / FRY = Ferry-, Positioning Flight / IMC = Intrument Meteorological (flying) Conditions / ISP = International Scheduled Passenger / ISC=International Scheduled Cargo / INP = International Non-Scheduled Passenger / INC =International Non-Scheduled Cargo/ OPS = Flight Operation(s) / NRV = Non-revenue, Private Flight / TRN =Training Flight /  TST = Test & Certification Flight / VMC = Visual Meteorological (flying) Conditions