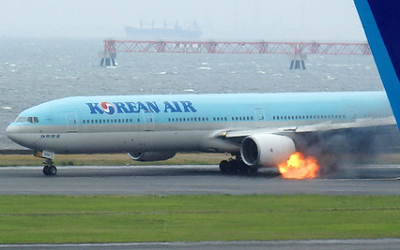 2016-05-27 Korean Air Boeing 777-300 engine fire at Tokyo-Haneda
During taxi and line-up for take-off, a fire broke out on an engine forcing the evacuation on the runway. All passengers were evacuated without serious injuries.
UPDATED
Korean Air Lines flight KE 2708 from Tokyo-Haneda Airport to Seoul-Gimpo (South Korea) was accelerating for take-off on runway 34R(ight) when the left engine #1 suffered an uncontained failure. Engine type: Pratt + Whitney PW4098.
Engine debris damaged a fuel line resulting in a fire. The pilots discontinued the take-off run at a speed of approximatelay 80 knots after the pilots received indications about a fuel leak and a fire and triggered the fire bottles. The Boeing 777 decelerated and came to a halt near taxiway "Charlie 5" about 1500 meters down the runway.
The crew initiated a full cabin evacuation via onboard chutes. All exits to the right side were used plus the left foreward door L1.
When airport fire services arrived the engine was still burning and patches of fuel fires on the runway beneath the left maingear were visible. The flames foamed and the fires werte extinguished a few minutes later.
The affected left engine. Damage to the cowling (yellow circle)

© Dailymail
It is understood that there were no serious injuries among passengers or crewmembers.
Haneda Airport was closed for all traffic for a number of hours causing many delays.
It is believed the engine failure occured in the low pressure area near the exhaust nozzle.
Schematic view of a PW4000 engine. Low Pressure Turbine (yellow circle)

© Pratt & Whitney
---
METAR Tokyo-Haneda Airport (RJTT):
27/05/2016 12:30->

METAR RJTT 270530Z 07018KT 9999 -SHRA FEW012 SCT014 BKN016
           18/17 Q1008 NOSIG RMK 1CU012 4CU014 6SC016 A2979=

27/05/2016 13:00->

METAR RJTT 270600Z 06016KT 9999 -SHRA FEW009 SCT012 BKN070
           19/17 Q1008 NOSIG RMK 1CU009 3CU012 7AC070 A2979=
OCCURENCE DATASET
Date: 2016-05-27 Time: 12:40
Location: RJTT HND Tokyo Haneda
Country: Japan
Flight phase: TXI – Taxi, Power Back
Damage to a/c: minor
Flight
Flight no.: KE 2708
From: RJTT/HND: Tokyo Haneda To: RKSS/GMP: Seoul Gimpo
Type: Passenger
Operator: Korean Air
Tweet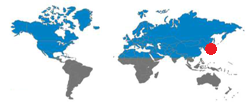 Aircraft
Type: Boeing 777-300
Registration: HL7534
Age a/c: 18.3 years
Constr. No.: 27950
| | | | | |
| --- | --- | --- | --- | --- |
| | Crew | Pax | Other | Total |
| Occupants | 17 | 302 | 0 | 319 |
| Fatalities | 0 | 0 | 0 | 0 |
| Injuries |  0 | 9 | 0 | 9 |