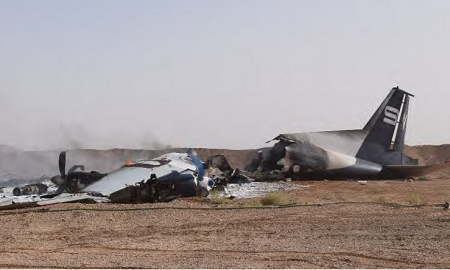 2016-05-18 Silk Way Antonov AN-12 crashed on departure from Camp Dwyer, Afghanistan
Very soon after getting airborne from Camp Dwyer Airport, the cargo flight crashed killing seven out of nine on board.
UPDATED 2016-11-16
Russian MAK released Preliminary Report [LINK].
The report stated that there was insufficient thrust for a safe take-off under the prevailing conditions at the time. Because of a high temperature indication in engine #3, the pilots throttled-up the remaining three engines very reluctantly resulting in reduced acceleration.
Lift-off was attempted only 260 meters before the end of the runway at a speed of 220 km/h (118 kts) which was not enough to fly. The aircraft overran hit an airport fence where its right wing caught fire and came to a stop about 600 meters from the end of the runway.
---
The Antonov An-12 sustained a fatal accident soon after take-off from Camp Dwyer Airport, in southern Afghanistans Helmand Province, killing seven of the nine crewmembers on board.
The aircraft was on a positioning flight without cargo.
There are unconfirmed reports an engine problem might had occured prior to the crash. Engine #3 (inner right) apparently went into reverse preventing the aircraft from lift-off. 
The An-12 overran the end of the runway (lengh 2400 m) at high speed, broke apart and caught fire.
The pilot-in-command was 63 years old and an Uzbekistan citizen.
Crewlist:
1. Saydanov Rashid Rəhmanovic (Uzbekistan citizen), the aircraft captain, born in 1953
2. Altai Ogtay Abdullayev (Azerbaijan citizen), the second pilot, born in 1971
3.   Orujali Nazim Abdullayev (Azerbaijan citizen), navigator, born in 1968
4.   Rare Adigozal Rzayev  (Azerbaijan citizen), flight engineer, born in 1964
5.   Shahverdiyev Ferdowsi (Azerbaijan citizen), radio-operator, born in 1964
6. Zulfıev Azer Aghakishi (Azerbaijan citizen), on-board operator, born in 1973
7.   Zadnipryanets Ruslan Vladimirovich (Ukrainian citizen), technician, born in 1969
8. Andrei Qanja Nikolaevic (Ukrainian citizen), technician, born in 1955
9. the symbol Mamudovic (Ukrainian citizen), technician, born in 1963
METAR Dwyer Airport (OADY):
| | | |
| --- | --- | --- |
| | 18/05/2016 18:00-> | not available |
| | 18/05/2016 18:30-> | not available |
OCCURENCE DATASET
Date: 2016-05-18 Time: 17:30
Location: OADY  Camp Dwyer
Country: Afghanistan
Flight phase: ICL – Airborne – 1.000 ft AGL
Damage to a/c: hull loss
Flight
Flight no.: AZQ 4717
From: OADY/XXX: Camp Dwyer To: UTAM/MYP: Mary Intl Airport
Type: Non-Revenue
Operator: Silk Way Airlines
Tweet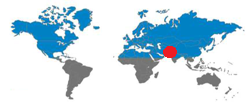 Aircraft [ID now confirmed]
Type: Antonov An-12
Registration: 4K-AZ25
Age a/c: 52,9 years
Constr. No.: 3341209
Previous operators.: Shovkovliy Shlyah Airlines, Silk Way, Avial Aviation, Aerofreight AL, Sky Cabs, Aeroflot 
| | | | | |
| --- | --- | --- | --- | --- |
| | Crew | Pax | Other | Total |
| Occupants |  9 |  0 | 0 | 9 |
| Fatalities | 7 | 0 | 0 | 7 |
| Survivors |  2 | 0 | 0 | 2 |
JACDEC 25-year Statistics :
5th safety occurence for the operator(3rd Hull loss)
156th safety occurence of type (An-12)
2nd safety occurence at Camp Dwyer Airport
1st safety occurence for aircraft in question
Image & Information Sources
Copyright - Terms of Usage
All written and shown content on JACDEC.de is provided in the most accurate way. All information may be subject to changes because JACDEC.de cannot always ensure a full support of information updates to each news story.
No publication (or part of) provided by at JACDEC.de may be reproduced or transmitted in any form or by any means or by any information retrieval system without written permission from JACDEC. The below information includes unofficial information and should be treated as this. Editors cannot be held responsible for any errors or omissions caused by any information source mentioned herein. The nature of the following information should be regarded as preliminary.
Furthermore, the author cannot be held accountable for correctness, completeness or quality of the information provided herein. Liability claims regarding damage caused by the use of any information provided, including any kind of information which is incomplete or incorrect,will therefore be rejected.
For further terms and conditions, check our legal disclaimer section:
http://www.jacdec.de/imprint-legal-disclaimer/ 
AP = Airport / AL = Airlines / Avn = Aviation / AW = Airways / C/N: Construction Number / DSP = Domestic Scheduled Passenger / DNP = Domestic Non-Scheduled Passenger / DSC = Domestic Scheduled Cargo / DNC= Domestic Non-Scheduled Cargo / GND = On the ground / parked, stored / FMN= Flying Mission, Air Work / FRY = Ferry-, Positioning Flight / IMC = Intrument Meteorological (flying) Conditions / ISP = International Scheduled Passenger / ISC=International Scheduled Cargo / INP = International Non-Scheduled Passenger / INC =International Non-Scheduled Cargo/ OPS = Flight Operation(s) / NRV = Non-revenue, Private Flight / TRN =Training Flight /  TST = Test & Certification Flight / VMC = Visual Meteorological (flying) Conditions