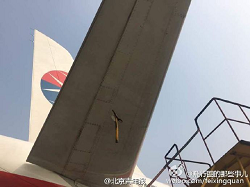 2016-05-01 China Eastern Airbus A319 hit obstacles on approach to Kangding
While the aircraft was moments away from landing, its undercarriage hit approach lights resulting in substantial shrapnel damage. The approach was continued and the A319 landed without further incident.
According to information provided by the Aviation herald (AvH), China Eastern flight MU 5443 from Chengdu was on final approach to runway 15 at Kangding Airport in slightly reduced visibility conditions (low clouds) when it descended below the minimum height until its maingear hit the structure of the approach lights probably about 300 meters from the beginning of the runway.
Two lights broke off their stanchions one impacted the underside of the right horizontal stabilizer. The upper metal part – about 1 meter in lengh – became stuck inside the stabilizer resulting in major damage. One tire also got damaged by the impact.
Additionaly, one hydraulic line was severed. The pilots abandoned their approach and flew back to Chengdu where a safe landing was made.
A total of six approach lights were found in destroyed or damaged condition.
There were no exact weather recordings from the time of the landing, but some eyewitnesses reported low ceiling and reduced visibility conditions prevailed just immediately before A319 reached the runway.
The incident is under investigation by chinese authorities.
The airport at Kangding Airport is situated at an elevation of 4280 meters (13950 feet) and was opened for commercial operations in the year 2009.
METAR Kangding Airport (ZUKD):
| | | |
| --- | --- | --- |
| | 01/05/2016 07:00-> | ZUKD 302300Z VRB01MPS 3000 BR FEW010 SCT020 OVC026 M01/M01 Q1028 NOSIG= |
| | 01/05/2016 07:31-> | ZUKD 302331Z VRB01MPS 5000 BR FEW011 BKN026 M00/M01 Q1028 NOSIG= |
A week after the occurence, the Civil Aviation Authority of China (CAAC) imposed a lifelong suspension of the licenses of both captains for vilating safely rules and  procedures, foremost for descending below the minimum descent altitude despite a lack of visual contact to the runway.
OCCURENCE DATASET
Date: 2016-05-01 Time: 06:52:00
Location: ZUKD KGT Kangding
Country: China
Flight phase: APR – Initial Approach (IFR), Final Approach, all Circuit Patterns, Missed Approach/Go-Around
Damage to a/c: substantial
Flight
Flight no.: Mu 5443
From: ZUUU/CTU: Chengdu To: ZUKD/KGT: Kangding
Type: Passenger
Operator: China Eastern Airlines
Leased from: Unknown
Computer simulation of A319 B-6450 final approach to Kangding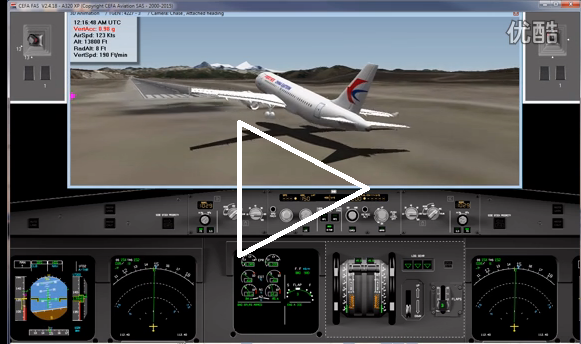 Tweet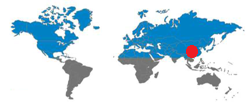 © China Aero Spotter | Feeyo
Aircraft
Type: Airbus A319
Registration: B-6430
Age a/c: 3.4273 years
Constr. No.: 5376
| | | | | |
| --- | --- | --- | --- | --- |
| | Crew | Pax | Other | Total |
| Occupants | | | 0 | |
| Fatalities | 0 | 0 | 0 | 0 |
| Injuries |  0 | 0 | 0 | 0 |
JACDEC 25-year Statistics :
31st safety occurence for the operator
138th safety occurence of type (A319)
1st safety occurence at Kangding Airport
1st safety occurence for aircraft in question
Image & Information Sources
Copyright - Terms of Usage
All written and shown content on JACDEC.de is provided in the most accurate way. All information may be subject to changes because JACDEC.de cannot always ensure a full support of information updates to each news story.
No publication (or part of) provided by at JACDEC.de may be reproduced or transmitted in any form or by any means or by any information retrieval system without written permission from JACDEC. The below information includes unofficial information and should be treated as this. Editors cannot be held responsible for any errors or omissions caused by any information source mentioned herein. The nature of the following information should be regarded as preliminary.
Furthermore, the author cannot be held accountable for correctness, completeness or quality of the information provided herein. Liability claims regarding damage caused by the use of any information provided, including any kind of information which is incomplete or incorrect,will therefore be rejected.
For further terms and conditions, check our legal disclaimer section:
http://www.jacdec.de/imprint-legal-disclaimer/ 
AP = Airport / AL = Airlines / Avn = Aviation / AW = Airways / C/N: Construction Number / DSP = Domestic Scheduled Passenger / DNP = Domestic Non-Scheduled Passenger / DSC = Domestic Scheduled Cargo / DNC= Domestic Non-Scheduled Cargo / GND = On the ground / parked, stored / FMN= Flying Mission, Air Work / FRY = Ferry-, Positioning Flight / IMC = Intrument Meteorological (flying) Conditions / ISP = International Scheduled Passenger / ISC=International Scheduled Cargo / INP = International Non-Scheduled Passenger / INC =International Non-Scheduled Cargo/ OPS = Flight Operation(s) / NRV = Non-revenue, Private Flight / TRN =Training Flight /  TST = Test & Certification Flight / VMC = Visual Meteorological (flying) Conditions