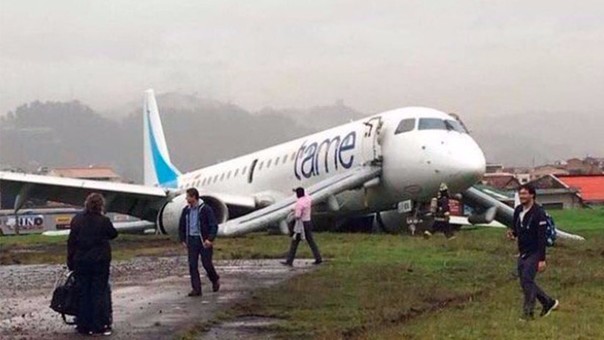 2016-04-28 TAME Embraer E-190 badly damaged on landing Cuenca
On landing in rainy conditions, the aircraft skidded off the end of the runway at Cuenca and sustained substantial damage. Passengers and crewmembers were able to evacuate safely .
TAME flight EQ 173 landed on runway 23 (lengh = 1900 meters) in rain. Despite wheel brakes and reverse thrust activated, the pilots were unable to stop the Embraer Jet within runway lengh.
At the end of the runway, the plande skidded sideways, ran across the grass whare its entire undercarriage collapsed or dug in.
The aircraft came to rest in a near reciprocal heading resting on its tail and engines in rain-softened ground very close to downsloping terrain and a brick wall demarcate the airport boundary to a public street. Evacuation was initiated via onboard slides. It is understood that nobody was injured in the occurence.
At the time it was raining badly and many patches of standing water have formed on the runway and taxiways.
Cuenca Airport was forced to close for an indefinite time. The airport is located at an elevation of 8.306 feet.
NOTE: On Sep. 16th 2011 another E-190 of the airline overran the runway at Quito (old Mariscal Sucre Airport) once before in similar conditions.
Download Accident Report –> LINK (pdf)
METAR Cuenca Airport (SECU):
28/01/2016 08:00->

METAR SECU 281300Z 33003KT 8000 -RA FEW010 OVC030 13/12 Q1028=

25/01/2016 09:00->

METAR SECU 281400Z 06002KT 6000 -RA FEW005 SCT010 OVC030
           13/12 Q1029=
OCCURENCE DATASET
Date: 2016-01-28 Time: ~07:53
Location: SECU CUE Cuenca Airport
Country: Ecuador
Flight phase: LDG – Flare, Landing Roll, Aborted Landing after Touchdown
Damage to a/c: substantial
Flight
Flight no.: EQ 173
From: SEQM/UIO: Quito To: SECU/CUE: Cuenca
Type: Passenger
Operator: TAME Ecuador
Tweet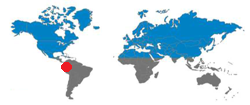 © F. Gottwald | Airteamimages
Aircraft
Type: Embraer E-190
Registration: HC-COX
Age a/c: 5,6 years
Constr. No.: 19000372
| | | | | |
| --- | --- | --- | --- | --- |
| | Crew | Pax | Other | Total |
| Occupants |  6 | 87 | 0 | 93 |
| Fatalities | 0 | 0 | 0 | 0 |
| Injuries |  0 | 0 | 0 | 0 |
 Press Statement of TAME:
[LINK]
JACDEC 25-year Statistics :
16th safety occurence for the operator
41stth safety occurence of type (E-190)
4th safety occurence at Cuenca Airport
1st safety occurence for aircraft in question

© EcuadorTransparente | YouTube

© Noti Ecuador | YouTube

© Telecuenca | YouTube

©R.O. Pazmino | RPP

© MEtroecuador
Image & Information Sources
Copyright - Terms of Usage
All written and shown content on JACDEC.de is provided in the most accurate way. All information may be subject to changes because JACDEC.de cannot always ensure a full support of information updates to each news story.
No publication (or part of) provided by at JACDEC.de may be reproduced or transmitted in any form or by any means or by any information retrieval system without written permission from JACDEC. The below information includes unofficial information and should be treated as this. Editors cannot be held responsible for any errors or omissions caused by any information source mentioned herein. The nature of the following information should be regarded as preliminary.
Furthermore, the author cannot be held accountable for correctness, completeness or quality of the information provided herein. Liability claims regarding damage caused by the use of any information provided, including any kind of information which is incomplete or incorrect,will therefore be rejected.
For further terms and conditions, check our legal disclaimer section:
http://www.jacdec.de/imprint-legal-disclaimer/ 
AP = Airport / AL = Airlines / Avn = Aviation / AW = Airways / C/N: Construction Number / DSP = Domestic Scheduled Passenger / DNP = Domestic Non-Scheduled Passenger / DSC = Domestic Scheduled Cargo / DNC= Domestic Non-Scheduled Cargo / GND = On the ground / parked, stored / FMN= Flying Mission, Air Work / FRY = Ferry-, Positioning Flight / IMC = Intrument Meteorological (flying) Conditions / ISP = International Scheduled Passenger / ISC=International Scheduled Cargo / INP = International Non-Scheduled Passenger / INC =International Non-Scheduled Cargo/ OPS = Flight Operation(s) / NRV = Non-revenue, Private Flight / TRN =Training Flight /  TST = Test & Certification Flight / VMC = Visual Meteorological (flying) Conditions