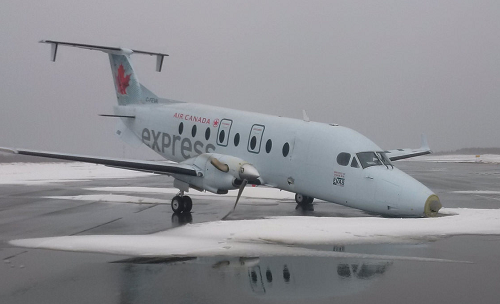 2016-04-20 EVAS Beech 1900 damaged in hard landing at Gander
On landing in high winds, the aircraft sustained substantial damage when it hit the runway hard at Gander, Canada. Two of the 16 on board were hurt.
The aircraft was operating on behalf of Air Canda Express received major damage when it hit the runway nosegear first at Gander Airport, Newfoundland, Canada.
On landing runway 03 in turbulent conditions the nosegear collapsed and the Beech 1900 slid on its nose describing a near 360°-circle until it came to a standstill on the runway.
Three of the 16 occupants were driven to hospital for minor injuries.
The nosecone seperated, and all but one propeller blades sheared off.
At the time of the landing it was dark and local weather conditions were unfavourable consisting of high winds paired with low visibility in blowing snow.
The aircraft was not removed until the following morning.
METAR Gander Airport (CYQX):
20/04/2016 21:30->

METAR CYQX 210000Z CCB 33036G52KT 1/2SM R03/2800V5000FT/N
           R13/3000V5500FT/N -SN BLSN OVC007 M03/M04 A2930
           RMK BLSN6SF2 /S33/ SLP931=

20/04/2016 21:00->

SPECI CYQX 202342Z 33029G41KT 1/2SM R03/2400V4000FT/D R13/3000FT/N
           -SN BLSN OVC006 M03/M04 A2931 RMK BLSN6SF2 SLP935=
OCCURENCE DATASET
Date: 2016-04-20 Time: 21:30
Location: CYQX YQX Gander
Country: Canada
Flight phase: LDG – Flare, Landing Roll, Aborted Landing after Touchdown
Damage to a/c: substantial
Flight
Flight no.: AC 7804
From: CYYR/YYR: Goose Bay To: CYQX/YQX: Gander
Type: Passenger
Operator: EVAS – Exploits Valley Air Svcs
On ops for: Air Canada Express
Gander Airport Diagram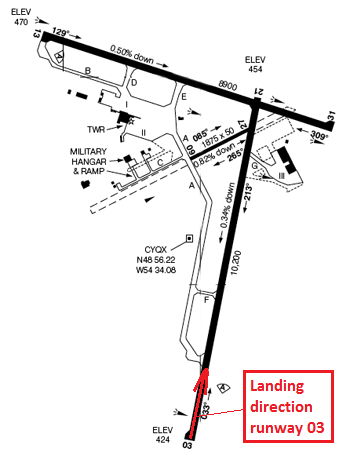 Tweet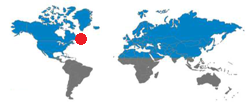 Aircraft
Type: Beech 1900
Registration: C-FEVA
Age a/c: 21.4 years
Constr. No.: 126
| | | | | |
| --- | --- | --- | --- | --- |
| | Crew | Pax | Other | Total |
| Occupants |  2 |  14 | 0 | 16 |
| Fatalities | 0 | 0 | 0 | 0 |
| Injuries |  – | – | 0 |  3 |
JACDEC 25-year Statistics :
1st safety occurence for the operator
93rd safety occurence of type (B1900)
8th safety occurence at Gander Intl Airport
XX safety occurence for aircraft in question
Image & Information Sources
Copyright - Terms of Usage
All written and shown content on JACDEC.de is provided in the most accurate way. All information may be subject to changes because JACDEC.de cannot always ensure a full support of information updates to each news story.
No publication (or part of) provided by at JACDEC.de may be reproduced or transmitted in any form or by any means or by any information retrieval system without written permission from JACDEC. The below information includes unofficial information and should be treated as this. Editors cannot be held responsible for any errors or omissions caused by any information source mentioned herein. The nature of the following information should be regarded as preliminary.
Furthermore, the author cannot be held accountable for correctness, completeness or quality of the information provided herein. Liability claims regarding damage caused by the use of any information provided, including any kind of information which is incomplete or incorrect,will therefore be rejected.
For further terms and conditions, check our legal disclaimer section:
http://www.jacdec.de/imprint-legal-disclaimer/ 
AP = Airport / AL = Airlines / Avn = Aviation / AW = Airways / C/N: Construction Number / DSP = Domestic Scheduled Passenger / DNP = Domestic Non-Scheduled Passenger / DSC = Domestic Scheduled Cargo / DNC= Domestic Non-Scheduled Cargo / GND = On the ground / parked, stored / FMN= Flying Mission, Air Work / FRY = Ferry-, Positioning Flight / IMC = Intrument Meteorological (flying) Conditions / ISP = International Scheduled Passenger / ISC=International Scheduled Cargo / INP = International Non-Scheduled Passenger / INC =International Non-Scheduled Cargo/ OPS = Flight Operation(s) / NRV = Non-revenue, Private Flight / TRN =Training Flight /  TST = Test & Certification Flight / VMC = Visual Meteorological (flying) Conditions