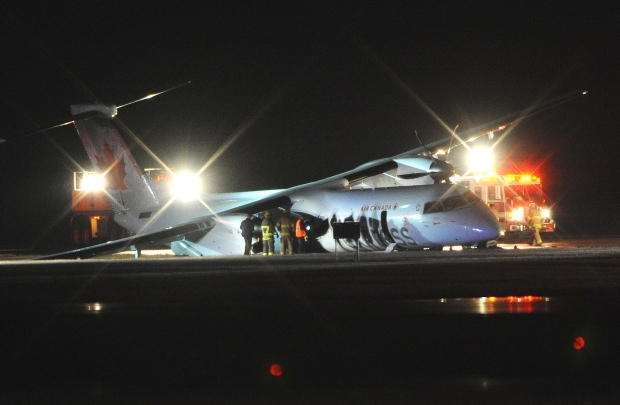 2014-11-06 Air Canada Express DHC-8 undercarriage collapse at Edmonton
In both cases, the right maingear collapsed on landing.
Download thew full investigation report.

---
The aircraft suffered damage when its right maingear gave way on diverted landing at Edmonton following a blown tire after take-off from Calgary.
The DHC-8-400 (Dash 8-400) suffered a right hand main gear collapsed during touchdown on runway 02 at Edmonton International Airport. It is reported that there were three injured persons.
According to media reports, the pilots elected to discontinue the flight from Calgary to Grand Prairie because of a blown tire during departure, NAV Canada is reporting
Because of a considerable crosswind factor at Calgary the pilots elected to divert to Edmonton Intl Airport.
On landing in darkness but favourable weather conditions, the right maingear gave way and the DHC-8 settled on is right wing. Major damage occured when all the propeller blades of the right engine seperated. At least one of them is known to have penetrated the fuselage impacting a passenger window in the strenghened portion of the fuselage fortunately without hitting any person inside. However, the cabin wall  was deformed by the forces of impact.
At the time it is still unclear wether the right undercarriage gave way on landing after the tire blewout.
The accident is under investigation by the TSB.
NOTE: In SEP 2007, there were 2 major landing accidents of DHC-8-400s in Vilius and Aalborg. In both cases, the right maingear collapsed on landing.
---
OCCURENCE DATASET
Date: 2014-11-06 Time: 20:36
Location: CYEG YEG Edmonton
Country: Canada
Flight phase: LDG – Flare, Landing Roll, Aborted Landing after Touchdown
Damage to a/c: substantial
Flight
Flight no.: AC 8481
From: CYYC/YYC: Calgary To: CYQU/YQU: Grand Prairie
Type: Passenger
Operator: Air Canada Express
Leased from: Jazz Air
Aircraft
Type: Bombardier DHC-8-400
Registration: C-GGBF
Age a/c: 1.9 years
Constr. No.: 4433
Tweet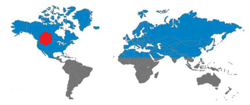 | | | | | |
| --- | --- | --- | --- | --- |
| | Crew | Pax | Other | Total |
| Occupants | 4 | 71 |  0 | 75 |
| Fatalities | 0 | 0 | 0 | 0 |
| Injuries | 0 | 3 | 0 | 3 |
JACDEC 20-year Statistics :
16th safety occurence for the operator
45th safety occurence of type (DHC8-400)
3rd safety occurence at airport
1st safety occurence for aircraft in question
Order an Airline Safety Report
Jazz Air / Air Canada Express
Image & Information Sources
AP = Airport / AL = Airlines / Avn = Aviation / AW = Airways / C/N: Construction Number / DSP = Domestic Scheduled Passenger / DNP = Domestic Non-Scheduled Passenger / DSC = Domestic Scheduled Cargo / DNC= Domestic Non-Scheduled Cargo / GND = On the ground / parked, stored / FMN= Flying Mission, Air Work / FRY = Ferry-, Positioning Flight / IMC = Intrument Meteorological (flying) Conditions / ISP = International Scheduled Passenger / ISC=International Scheduled Cargo / INP = International Non-Scheduled Passenger / INC =International Non-Scheduled Cargo/ OPS = Flight Operation(s) / NRV = Non-revenue, Private Flight / TRN =Training Flight /  TST = Test & Certification Flight / VMC = Visual Meteorological (flying) Conditions