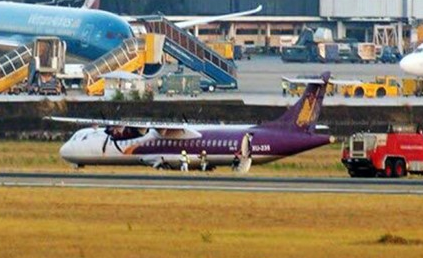 2016-04-02 Cambodia Angkor Air ATR-72 off runway at Ho Chi Minh City
On landing in windy conditions, the ATR veered off the landing runway coming to a stop on the grass. All on board remained unhurt.
Flight 818 touched down on runway 07R in strong crosswind conditions, when the aircraft drifted off the centreline to the right.
The pilots were unsucessful in steering the ATR-72 back resulting in a departure from paved ground. The aircraft completely ran off the right side of the runway where it ran over soft ground (grass) before it came to a stop.
Fortunately no large obstacle was hit, so the aircraft remained relatively intact and undamaged.
There were no injuries among passengers or crewmembers.
The airport closed the runway 0R/25L for about 2 hours.
METAR Ho Chi Minh City Airport (VVTS):
| | | |
| --- | --- | --- |
| | 02/04/2016 10:00 -> | METAR VVTS 021030Z 16012G24KT 080V200 9999 FEW020 31/18 Q1010 |
| | 02/04/2016 11:00 -> | METAR VVTS 021100Z 17011KT 140V200 9999 FEW020 30/19 Q1010 |
OCCURENCE DATASET
Date: 2016-04-02 Time: 17:41
Location: VVTS SGN Ho Chi Minh City-Tansonnhat
Country: Vietnam
Flight phase: LDG – Flare, Landing Roll, Aborted Landing after Touchdown
Damage to a/c: minor
Flight
Flight no.: K6 818
From: VDPP/PNH: Phnom Penh To: VVTS/SGN: Ho Chi Minh City-Tansonnhat
Type: Passenger
Operator: Cambodia Angkor Air
Tweet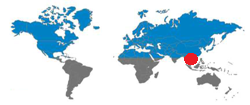 Aircraft
Type: ATR-72
Registration: XU-235
Age a/c: 6.2 years
Constr. No.: 899
| | | | | |
| --- | --- | --- | --- | --- |
| | Crew | Pax | Other | Total |
| Occupants | |  21 | 0 | |
| Fatalities | 0 | 0 | 0 | 0 |
| Injuries |  0 | 0 | 0 | 0 |
JACDEC 25-year Statistics :
1st safety occurence for the operator
148th safety occurence of type (ATR-72)
8th safety occurence at Jeju Intl Airport
1st safety occurence for aircraft in question
Image & Information Sources
Copyright - Terms of Usage
All written and shown content on JACDEC.de is provided in the most accurate way. All information may be subject to changes because JACDEC.de cannot always ensure a full support of information updates to each news story.
No publication (or part of) provided by at JACDEC.de may be reproduced or transmitted in any form or by any means or by any information retrieval system without written permission from JACDEC. The below information includes unofficial information and should be treated as this. Editors cannot be held responsible for any errors or omissions caused by any information source mentioned herein. The nature of the following information should be regarded as preliminary.
Furthermore, the author cannot be held accountable for correctness, completeness or quality of the information provided herein. Liability claims regarding damage caused by the use of any information provided, including any kind of information which is incomplete or incorrect,will therefore be rejected.
For further terms and conditions, check our legal disclaimer section:
http://www.jacdec.de/imprint-legal-disclaimer/ 
AP = Airport / AL = Airlines / Avn = Aviation / AW = Airways / C/N: Construction Number / DSP = Domestic Scheduled Passenger / DNP = Domestic Non-Scheduled Passenger / DSC = Domestic Scheduled Cargo / DNC= Domestic Non-Scheduled Cargo / GND = On the ground / parked, stored / FMN= Flying Mission, Air Work / FRY = Ferry-, Positioning Flight / IMC = Intrument Meteorological (flying) Conditions / ISP = International Scheduled Passenger / ISC=International Scheduled Cargo / INP = International Non-Scheduled Passenger / INC =International Non-Scheduled Cargo/ OPS = Flight Operation(s) / NRV = Non-revenue, Private Flight / TRN =Training Flight /  TST = Test & Certification Flight / VMC = Visual Meteorological (flying) Conditions