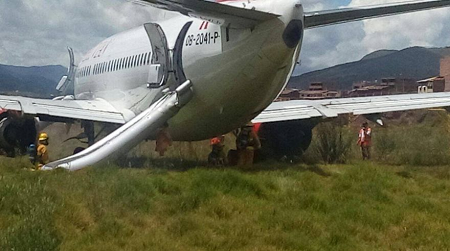 2016-03-20 Peruvian Boeing 737-500 off runway at Cuzco
The 737 overran the end of the runway during a take-off abort at Cuzco, Peru. All 120 on board remained unhurt.
Peruvian Airlines Flight 218 to Lima gained speed on take-off runway 10 at Cuzco Airport.
At a point when about half the runway was passed, a tire of the right maingear burst prompting the pilots to reject the take-off.
Despite braking, the pilots were unable to stop the aircraft before the end of the runway. To avoid hitting the approach lighting system, the pilot steered to the left of the runway until it came to rest about 80 meters further on soft ground close to a steep embankment seperating a public road from the airport perimeter.
The crew initiated an emergency evacuation via slides. All occupants remained unscathed. Damage to the aircraft is within repairable limits as the undercarriage withstand.
The only runway 10 / 28 at Cuzco is 3400 meters (11155 feet) in lengh.
NOTE: Peruvian Airlines suffered another serious incident at Cuzco on 2015-10-23 when the right maingear collapsed on landing with aircraft 737-300 OB-2040-P. 
OCCURENCE DATASET
Date: 2016-03-20 Time: –
Location: SPZO CUZ Cuzco
Country: Peru
Flight phase: TOF – Take-off, Rejected Take-off
Damage to a/c: minor
Flight
Flight no.: P9 218
From: SPZO/CUZ: Cuzco To: SPIM/LIM: Lima-Callao
Type: Passenger
Operator: Peruvian Airlines
Tweet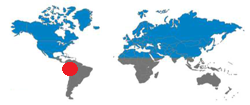 Aircraft
Type: Boeing 737-500
Registration: OB-2041-P
Age a/c: 25.7 years
Constr. No.: 24825
Previous operators: 1990 Air France, 1998 AOM, 2000 LOT, 2004 Cirrus Airlines, 2009 Sky Express, 2013 Peruvian Airlines
| | | | | |
| --- | --- | --- | --- | --- |
| | Crew | Pax | Other | Total |
| Occupants | | | 0 | 120 |
| Fatalities | 0 | 0 | 0 | 0 |
| Injuries |  0 | 0 | 0 | 0 |
JACDEC 25-year Statistics :
2nd safety occurence for the operator
66th safety occurence of type (B737-500)
6th Safety occurence at Cuzco Airport, Peru
1st safety occurence for aircraft in question
Image & Information Sources
Copyright - Terms of Usage
All written and shown content on JACDEC.de is provided in the most accurate way. All information may be subject to changes because JACDEC.de cannot always ensure a full support of information updates to each news story.
No publication (or part of) provided by at JACDEC.de may be reproduced or transmitted in any form or by any means or by any information retrieval system without written permission from JACDEC. The below information includes unofficial information and should be treated as this. Editors cannot be held responsible for any errors or omissions caused by any information source mentioned herein. The nature of the following information should be regarded as preliminary.
Furthermore, the author cannot be held accountable for correctness, completeness or quality of the information provided herein. Liability claims regarding damage caused by the use of any information provided, including any kind of information which is incomplete or incorrect,will therefore be rejected.
For further terms and conditions, check our legal disclaimer section:
http://www.jacdec.de/imprint-legal-disclaimer/ 
AP = Airport / AL = Airlines / Avn = Aviation / AW = Airways / C/N: Construction Number / DSP = Domestic Scheduled Passenger / DNP = Domestic Non-Scheduled Passenger / DSC = Domestic Scheduled Cargo / DNC= Domestic Non-Scheduled Cargo / GND = On the ground / parked, stored / FMN= Flying Mission, Air Work / FRY = Ferry-, Positioning Flight / IMC = Intrument Meteorological (flying) Conditions / ISP = International Scheduled Passenger / ISC=International Scheduled Cargo / INP = International Non-Scheduled Passenger / INC =International Non-Scheduled Cargo/ OPS = Flight Operation(s) / NRV = Non-revenue, Private Flight / TRN =Training Flight /  TST = Test & Certification Flight / VMC = Visual Meteorological (flying) Conditions