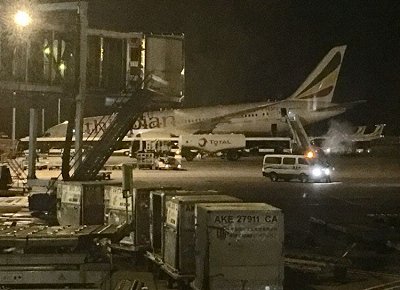 2016-03-04 Ethiopian Boeing 787 suffered nosegear collapse at Addis
Whilst stationary, the nosegear of an Ethiopian 787 collapsed at Addis Ababa Airport, injuring one cabin attendant.
Ethiopian Airlines flight ET 702 to Rome just completed bording whilst parking at its stand on the tarmac at Addis Ababa Bole Intl Airport, when (around 21:00L) the nosegear suddenly gave way.
The airliner tilted down until it came to rest on its foreward fuselage. One (poss. unsecured) cabin attendant received injuries in the incident.
It is unclear wether the pushback tug was already connected.
Damage to the aircraft is considerably 'above minor'.
The upcoming flight to Rome was cancelled until further notice.
According to an unconfirmed 'source of insight', the aircraft had already been plagued by a series of gear warnings in the past and technicians were ordered to the 787 to resolve the issue by recycling the gear lever. However on this day, no safety pins were inserted to the nosegear resulting in a lack of protection against gear-retraction. 
OCCURENCE DATASET
Date: 2016-03-04 Time: ~21:00
Location: HAAB ADD Addis Ababa
Country: Ethiopia
Flight phase: STD – Standing with Engine(s) not Operating
Damage to a/c: minor
Flight
Flight no.: ET 702
From: HAAB/ADD: Addis Ababa To: LIRF/FCO: Roma Fiumicino
Type: Passenger
Operator: Ethiopian Airlines
Tweet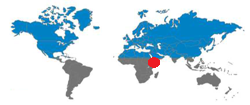 Aircraft
Type: Boeing 787-800
Registration: ET-ASH
Age a/c: 0.9 years
Constr. No.: 38754
| | | | | |
| --- | --- | --- | --- | --- |
| | Crew | Pax | Other | Total |
| Occupants | | | 0 | |
| Fatalities | 0 | 0 | 0 | 0 |
| Injuries |  1 | 0 | 0 | 0 |
JACDEC 25-year Statistics :
36th safety occurence for the operator
21st safety occurence of type (B787)
11th Safety occurence at Addis Ababa Airport
1st safety occurence for aircraft in question
Image & Information Sources
Copyright - Terms of Usage
All written and shown content on JACDEC.de is provided in the most accurate way. All information may be subject to changes because JACDEC.de cannot always ensure a full support of information updates to each news story.
No publication (or part of) provided by at JACDEC.de may be reproduced or transmitted in any form or by any means or by any information retrieval system without written permission from JACDEC. The below information includes unofficial information and should be treated as this. Editors cannot be held responsible for any errors or omissions caused by any information source mentioned herein. The nature of the following information should be regarded as preliminary.
Furthermore, the author cannot be held accountable for correctness, completeness or quality of the information provided herein. Liability claims regarding damage caused by the use of any information provided, including any kind of information which is incomplete or incorrect,will therefore be rejected.
For further terms and conditions, check our legal disclaimer section:
http://www.jacdec.de/imprint-legal-disclaimer/ 
AP = Airport / AL = Airlines / Avn = Aviation / AW = Airways / C/N: Construction Number / DSP = Domestic Scheduled Passenger / DNP = Domestic Non-Scheduled Passenger / DSC = Domestic Scheduled Cargo / DNC= Domestic Non-Scheduled Cargo / GND = On the ground / parked, stored / FMN= Flying Mission, Air Work / FRY = Ferry-, Positioning Flight / IMC = Intrument Meteorological (flying) Conditions / ISP = International Scheduled Passenger / ISC=International Scheduled Cargo / INP = International Non-Scheduled Passenger / INC =International Non-Scheduled Cargo/ OPS = Flight Operation(s) / NRV = Non-revenue, Private Flight / TRN =Training Flight /  TST = Test & Certification Flight / VMC = Visual Meteorological (flying) Conditions