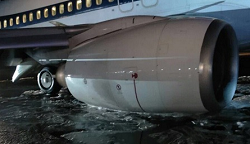 2016-03-03 Jet Airways Boeing 737-900 gear collapse at Mumbai
The 737 aircraft received substantial damage when it suffered a partial collapse of its undercarriage after landing at Mumbai Airport. All on board remained unhurt.
On landing runway 27 in darkness, when the 737 was about to vaacate into taxiway "November 9" at the far end, its right maingear suddenly gave way.
The right engine nacelle as well as the right wingtip contacted the ground resulting in unknown damage before the 737 came to a stop.
It appears the strut  of the right right landing penetrated the wing causing further damage.
There were no reports about any injuries among the 128 occupants.
The disabled aircraft was towed to a hangar the following morning. All traffic was diverted to runway 14/32.
According to the airline, the pilots reported a technical fault within the landing gear on the approach. They also reported an oil leak within the right maingear calling for emergency equipment on stand-by.
METAR Mumbai Airport (VABB):
| | | |
| --- | --- | --- |
| | 03/03/2016 21:30-> | METAR VABB 031630Z 02003KT 3000 FU FEW100 32/15 Q1013 NOSIG= |
| | 03/03/2016 21:00-> | METAR VABB 031600Z 23007KT 3000 FU FEW100 32/15 Q1013 NOSIG= |
OCCURENCE DATASET
Date: 2016-03-03 Time: 21:51
Location: VABB BOM Mumbai-Intl Airport
Country: India
Flight phase: LDG – Flare, Landing Roll, Aborted Landing after Touchdown
Damage to a/c: substantial
Flight
Flight no.: 9W 354
From: VIDP/DEL: Delhi Indira Gandhi To: VABB/BOM: Mumbai-Intl Airport
Type: Passenger
Operator: Jet Airways
Tweet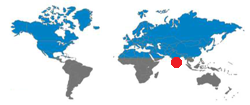 Aircraft
Type: Boeing 737-900
Registration: VT-JGD
Age a/c: 12.6 years
Constr. No.: 33740
| | | | | |
| --- | --- | --- | --- | --- |
| | Crew | Pax | Other | Total |
| Occupants | 8 | 120 | 0 | 128 |
| Fatalities | 0 | 0 | 0 | 0 |
| Injuries |  0 | 0 | 0 | 0 |
JACDEC 25-year Statistics :
21st safety occurence for the operator
30th safety occurence of type (B739)
37th safety occurence at Mumbai Intl Airport
2nd safety occurence for aircraft in question
 -2007-07-01 the same acft skidded off runway on landing at Indore, India
Image & Information Sources
Copyright - Terms of Usage
All written and shown content on JACDEC.de is provided in the most accurate way. All information may be subject to changes because JACDEC.de cannot always ensure a full support of information updates to each news story.
No publication (or part of) provided by at JACDEC.de may be reproduced or transmitted in any form or by any means or by any information retrieval system without written permission from JACDEC. The below information includes unofficial information and should be treated as this. Editors cannot be held responsible for any errors or omissions caused by any information source mentioned herein. The nature of the following information should be regarded as preliminary.
Furthermore, the author cannot be held accountable for correctness, completeness or quality of the information provided herein. Liability claims regarding damage caused by the use of any information provided, including any kind of information which is incomplete or incorrect,will therefore be rejected.
For further terms and conditions, check our legal disclaimer section:
http://www.jacdec.de/imprint-legal-disclaimer/ 
AP = Airport / AL = Airlines / Avn = Aviation / AW = Airways / C/N: Construction Number / DSP = Domestic Scheduled Passenger / DNP = Domestic Non-Scheduled Passenger / DSC = Domestic Scheduled Cargo / DNC= Domestic Non-Scheduled Cargo / GND = On the ground / parked, stored / FMN= Flying Mission, Air Work / FRY = Ferry-, Positioning Flight / IMC = Intrument Meteorological (flying) Conditions / ISP = International Scheduled Passenger / ISC=International Scheduled Cargo / INP = International Non-Scheduled Passenger / INC =International Non-Scheduled Cargo/ OPS = Flight Operation(s) / NRV = Non-revenue, Private Flight / TRN =Training Flight /  TST = Test & Certification Flight / VMC = Visual Meteorological (flying) Conditions