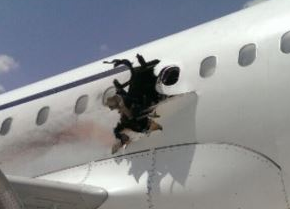 2016-02-02 Daallo Airlines A321 damaged by explosion at Mogadishu
Soon after take-off the A321 was damaged by an explosion resulting in a large hole in the fuselage. One passenger was sucked out and killed. Another three were injured.
Daallo flight 159 to Djibouti was climbing out of Mogadishu-Adden Adde Airport crossing an altitude above 14000 ft. (according to pilot report, the altitude was 11.000 ft) when a massive explosion occured inside the passenger cabin.
A gaping hole on the right side of the A321 was the result.
One person sitting next to the explosion center was sucked out by the following decompression and fallen to the ground. At least three other passengers received various injuries.
According to media images, the metal around the hole is blackened with soot on parts of the skin panels. The skin panels were forced to outboard bending as a result from an inside explosion blast.
The explosion most likely occured very close to seats 15F or 16F abeam the foreward wing root.
Despite the damage, the pilots maintained control and managed to return to land at Mogadishu Airport without further damage. Damage to the aircraft hull, cabin and possible tailplane impact marks are under assessment.
There were reports of a badly burnt body fallen from the aircraft was found by residents of Dhiiqaaley in Bal'ad (Balcad), about 25 km north of the city.
Consistent to this report were the assertions by a number of other passengers stating that at least one person was sucked out of the aircraft. This theory is further supported by impact marks immediately aft of the damaged fuselage area.
Either a technical fault of a oxygen bottle or a suicidal terrorist attack were named as possible scenarios that could have caused the explosion.
Somali based jihadist terror group Al Shabaab are thought to be behind this supposedly suicidal terrorist act.
The person sitting closest to the explosion was identified as a 50 year old man in a wheelchair that bypasses normal bodyscreening during boarding at Mogadishu. 
The explosive device may have contained a TNT package hidden inside a laptop computer.
Date: 2016-02-02 Time: 11:00
Location: HCMM MGQ Mogadishu
Country: Somalia
Flight phase: TOF – Take-off, Rejected Take-off
Damage to a/c: substantial
Flight
Flight no.: D3 159
From: HCMM/MGQ: Mogadishu To: HDAM/JIB: Djibouti
Type: Passenger
Operator: Daallo Airlines
Leased from: Hermes Airlines
SECURTITY ALERT – SOMALIA (as of Dec 2015):
| | |
| --- | --- |
| Information Title: | Security – Somalia – Potentially Hazardous Situation – FIR Mogadishu (HCSM) |
| Content: | FEDERAL REPUBLIC OF GERMANY ADVISES GERMAN OPERATORS NOT TO PLAN AND CONDUCT FLIGHTS BELOW FL 260 DUE TO HAZARDOUS SITUATION WITHIN FIR MOGADISHU (HCSM) WITH THE EXCEPTION OF AIRWAY UR 401 BETWEEN WAYPOINTS SUHIL AND AXINA. POTENTIAL RISK TO AVIATION OVERFLYING THIS AREA BELOW FL260 AND TAKE OFF / LANDING AT ALL AIRPORTS WITHIN FIR MOGADISHU FROM DEDICATED ANTI-AVIATION AND GROUND TO GROUND WEAPONRY. OPERATORS ARE ALSO ADVISED TO TAKE POTENTIAL RISK INTO ACCOUNT IN THEIR RISK ASSESSMENTS AND ROUTEING DECISIONS. |
| Area Affected: | FIR Mogadishu (HCSM) |
Source: ICAO (pdf)
US dept. of State – Travel Warning [LINK]
Tweet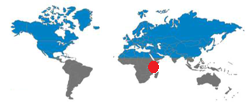 Aircraft
Type: Airbus A321
Registration: SX-BHS
Age a/c: 19,1 years
Constr. No.: 642
| | | | | |
| --- | --- | --- | --- | --- |
| | Crew | Pax | Other | Total |
| Occupants | | | 0 |  74 |
| Fatalities | | | 0 | 1 |
| Injuries |  0 | 3 | 0 | 3 |
JACDEC 25-year Statistics :
2nd safety occurence for the operator
132th safety occurence of type (A321)
14th Safety occurence at Mogadishu Airport
2nd safety occurence for aircraft in question
– 2013-03-29 runway excursion on landing at Lyon, France
Image & Information Sources
Copyright - Terms of Usage
All written and shown content on JACDEC.de is provided in the most accurate way. All information may be subject to changes because JACDEC.de cannot always ensure a full support of information updates to each news story.
No publication (or part of) provided by at JACDEC.de may be reproduced or transmitted in any form or by any means or by any information retrieval system without written permission from JACDEC. The below information includes unofficial information and should be treated as this. Editors cannot be held responsible for any errors or omissions caused by any information source mentioned herein. The nature of the following information should be regarded as preliminary.
Furthermore, the author cannot be held accountable for correctness, completeness or quality of the information provided herein. Liability claims regarding damage caused by the use of any information provided, including any kind of information which is incomplete or incorrect,will therefore be rejected.
For further terms and conditions, check our legal disclaimer section:
http://www.jacdec.de/imprint-legal-disclaimer/ 
AP = Airport / AL = Airlines / Avn = Aviation / AW = Airways / C/N: Construction Number / DSP = Domestic Scheduled Passenger / DNP = Domestic Non-Scheduled Passenger / DSC = Domestic Scheduled Cargo / DNC= Domestic Non-Scheduled Cargo / GND = On the ground / parked, stored / FMN= Flying Mission, Air Work / FRY = Ferry-, Positioning Flight / IMC = Intrument Meteorological (flying) Conditions / ISP = International Scheduled Passenger / ISC=International Scheduled Cargo / INP = International Non-Scheduled Passenger / INC =International Non-Scheduled Cargo/ OPS = Flight Operation(s) / NRV = Non-revenue, Private Flight / TRN =Training Flight /  TST = Test & Certification Flight / VMC = Visual Meteorological (flying) Conditions