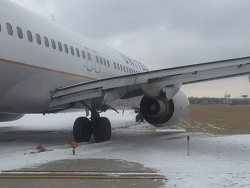 2016-01-22 United Airlines Boeing 737-900 off runway at Chicago O'Hare
On landing runway 09L in snowfall, the aircraft veered off a taxiway until it came to rest in soft nsow. All on board remained uninjured.
After completion of the landing run on runway 09L (left) at Chicago O'Hare Intl Airport, the pilots apparently lost steering control when vacating the runway at the end to the right via taxiway "Mike".
The aircraft began to slid off the eastern end of the taxiway/runway intersection coming to rest on snow and soft ground.
The passengers deplaned via stairways and rode buses to the terminal.
At the time of the landing local weasther consisted of moderate snowfall.
Weather at KORD (METAR):
KORD 221751Z 34009KT 2SM R10L/2800VP6000FT -SN BR FEW016 BKN028 OVC037 M03/M05 A3022 RMK AO2 SLP243 P0002 60002 T10281050 11028 21050 58009
Trnsl:
METAR KORD 22nd @ 1751Z, wind from 340 at 9 KT, visibility 2 statute miles, runway visual range 10L 2800 VP, temperature missing, altimeter missing, 6-hour precip water equivalent 0 inches, terminal forecast – snow mist few016 bkn028 ovc037 m03 / m05 a3022 remarks: automated report w/precipitation discriminator, sea level pressure 1024.3 Mb, 1-hour precip water equivalent 0.02 inches, 6-hour precip water equivalent 0.02 inches, temp -2.8 dewpoint -5, max 6-hour temp -2.8, min 6-hour temp -5, 3-hour pressure tendancy: steady or increasing then decreasing OR decreasing then decreasing more rapidly 0.9 Mb
OCCURENCE DATASET
Location: KORD ORD Chicago O' Hare
Country: USA
Flight phase: LDG – Flare, Landing Roll, Aborted Landing after Touchdown
Damage to a/c: none
Flight
Flight no.: UA 734
From: KSFO/SFO: San Francisco Intl To: KORD/ORD: Chicago O' Hare
Type: Passenger
Operator: United Airlines
Aircraft
Type: Boeing 737-900
Registration: N36444
Age a/c: 5,2 years
Constr. No.: 31643
Map (provided by Skyvector.com)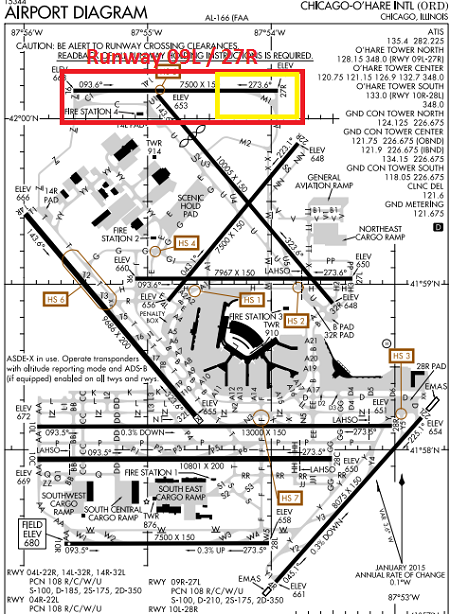 Full flight information and flight history for aircraft SE-DUX
Tweet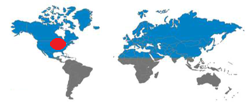 | | | | | |
| --- | --- | --- | --- | --- |
| | Crew | Pax | Other | Total |
| Occupants | 6 | 179 | 0 | 185 |
| Fatalities | 0 | 0 | 0 |  0 |
| Injuries |  0 | 0 | 0 | 0 |
JACDEC 25-year Statistics :
130th safety occurence for the operator
28h safety occurence of type (B739)
7th hull loss accident at Chicago-O'Hare AP, USA
1st safety occurence for aircraft in question
Runway Excursions at O'Hare Airport (KORD) 1990-2015:
2013-11-06 Republic AL E-170, rwy 27L
2008-09-22 American AL B752, rwy 22R
2006-12-01 FedEx A300F, snow cond
2006-05-02 AA Eagle E-135
2000-12-11 Sun Country AL B722, snow cond
Source: Jacdec Database Service
Image & Information Sources
Copyright - Terms of Usage
All written and shown content on JACDEC.de is provided in the most accurate way. All information may be subject to changes because JACDEC.de cannot always ensure a full support of information updates to each news story.
No publication (or part of) provided by at JACDEC.de may be reproduced or transmitted in any form or by any means or by any information retrieval system without written permission from JACDEC. The below information includes unofficial information and should be treated as this. Editors cannot be held responsible for any errors or omissions caused by any information source mentioned herein. The nature of the following information should be regarded as preliminary.
Furthermore, the author cannot be held accountable for correctness, completeness or quality of the information provided herein. Liability claims regarding damage caused by the use of any information provided, including any kind of information which is incomplete or incorrect,will therefore be rejected.
For further terms and conditions, check our legal disclaimer section:
http://www.jacdec.de/imprint-legal-disclaimer/ 
AP = Airport / AL = Airlines / Avn = Aviation / AW = Airways / C/N: Construction Number / DSP = Domestic Scheduled Passenger / DNP = Domestic Non-Scheduled Passenger / DSC = Domestic Scheduled Cargo / DNC= Domestic Non-Scheduled Cargo / GND = On the ground / parked, stored / FMN= Flying Mission, Air Work / FRY = Ferry-, Positioning Flight / IMC = Intrument Meteorological (flying) Conditions / ISP = International Scheduled Passenger / ISC=International Scheduled Cargo / INP = International Non-Scheduled Passenger / INC =International Non-Scheduled Cargo/ OPS = Flight Operation(s) / NRV = Non-revenue, Private Flight / TRN =Training Flight /  TST = Test & Certification Flight / VMC = Visual Meteorological (flying) Conditions