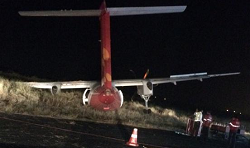 2015-12-04 Spicejet DHC-8 hits boar on landing Jabalpur, India
On landing the aircraft collided with boars resulting in major damage and a runway excursion. All on board remined unhurt.
Only seconds after touchdown in darkness, a sounder of wild boars (about 30 or 40) were crossing the runway ahead of the flight.  the pilots were unable to prevent a collision.
At least one of them (weight up to 135 kg) struck the aircraft which drifted strongly to the left side of the runway until it came to rest with its left maingear collapsed.
The aircraft came to a standstill on soft ground and was substantially damaged.
It is understood that no one inside the Dash 8 aircraft received any injuries.
The Directorate General of Civil Aviation (DGCA) recently ordered a surveillance of 20 airports across the country after repeated incidents of wild animals intruding runways.
NOTE:
On 2014-11-06 another SpiceJet flight (B738, VT-SGK) was involved in a wildlife collision (buffalo) during take-off at Surat Airport. 
OCCURENCE DATASET
Date: 2015-12-04 Time: 19:30
Location: VAJB JLR Jabalpur
Country: India
Flight phase: LDG – Flare, Landing Roll, Aborted Landing after Touchdown
Damage to a/c: substantial
Flight
Flight no.: SG 2458
From: VABB/BOM: Mumbai-Intl Airport To: VAJB/JLR: Jabalpur
Type: Passenger
Operator: SpiceJet
Aircraft
Type: Bombardier DHC-8-400
Registration: VT-SUC
Age a/c: 4,2 years
Constr. No.: 4377
Tweet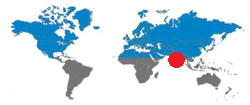 | | | | | |
| --- | --- | --- | --- | --- |
| | Crew | Pax | Other | Total |
| Occupants | 4 | 49 | 0 | 53 |
| Fatalities | 0 | 0 | 0 | 0 |
| Injuries | 0 | 0 | 0 | 0 |
JACDEC 25-year Statistics :
11th safety occurence for the operator
76th safety occurence of type (DHC-8-400)
1st safety occurence a Jabalpur Airport
1st safety occurence for aircraft in question
Image & Information Sources
AP = Airport / AL = Airlines / Avn = Aviation / AW = Airways / C/N: Construction Number / DSP = Domestic Scheduled Passenger / DNP = Domestic Non-Scheduled Passenger / DSC = Domestic Scheduled Cargo / DNC= Domestic Non-Scheduled Cargo / GND = On the ground / parked, stored / FMN= Flying Mission, Air Work / FRY = Ferry-, Positioning Flight / IMC = Intrument Meteorological (flying) Conditions / ISP = International Scheduled Passenger / ISC=International Scheduled Cargo / INP = International Non-Scheduled Passenger / INC =International Non-Scheduled Cargo/ OPS = Flight Operation(s) / NRV = Non-revenue, Private Flight / TRN =Training Flight /  TST = Test & Certification Flight / VMC = Visual Meteorological (flying) Conditions