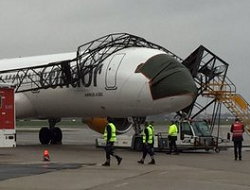 2015-12-01 Condor A321 hit light tower during taxi at Berlin-SXF
The aircraft received major damage when it hits a light tower whilst under tow at night.
The empty Airbus A321 was being repositioned to the maintenance ramp by a towing truck.
In darkness and light rain, but adequate visibility, the right wing collided with light tower.
The eight-ton metal tower lost its stability and tumbled over the foreward fuselage.
A ground technician received minor injuries.
According to undisclosed sources, the extent of structural damage to the foreward fuselage, may have exceeded the residual value of the aircraft.
METARS EDDB:
METAR EDDB 012350Z 21004KT 9000 -RADZ SCT012 OVC023 05/04 Q1023 TEMPO BKN012=
METAR EDDB 012320Z 22004KT 9999 -RA OVC038 05/04 Q1023 NOSIG=
NEW: The affected foreward fuselage section was replaced and the aircraft flew again on a testflight up to 39000 ft (FL 390), on 2016-08-31 after lenghy repairs. [Flightradar24 flightpath]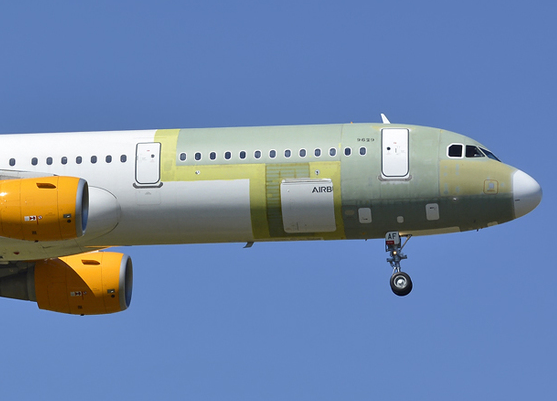 © Basti1995 | Flightforum.ch
OCCURENCE DATASET
Date: 2015-12-01 Time: ~23:00
Location: EDDB SXF Berlin Schoenefeld
Country: Germany
Flight phase: PBT – Pushback / Towing with engines not in operation
Damage to a/c: substantial
Flight
Flight no.:
From: 0000/: NONE To: 0000/: NONE
Type: Ground
Operator: Condor Flugdienst
Aircraft
Type: Airbus A321
Registration: D-AIAF
Age a/c: 0.8 years
Constr. No.: 6459
Tweet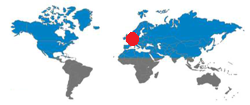 | | | | | |
| --- | --- | --- | --- | --- |
| | Crew | Pax | Other | Total |
| Occupants | 0 | 0 | 0 | 0 |
| Fatalities | 0 | 0 | 0 | 0 |
| Injuries | 0 | 0 | 0 | 0 |
JACDEC 25-year Statistics :
14th safety occurence for the operator
128th safety occurence of type (A321)
5th safety occurence a Berlin-SXF Airport
1st safety occurence for aircraft in question
Image & Information Sources

© JACDEC
AP = Airport / AL = Airlines / Avn = Aviation / AW = Airways / C/N: Construction Number / DSP = Domestic Scheduled Passenger / DNP = Domestic Non-Scheduled Passenger / DSC = Domestic Scheduled Cargo / DNC= Domestic Non-Scheduled Cargo / GND = On the ground / parked, stored / FMN= Flying Mission, Air Work / FRY = Ferry-, Positioning Flight / IMC = Intrument Meteorological (flying) Conditions / ISP = International Scheduled Passenger / ISC=International Scheduled Cargo / INP = International Non-Scheduled Passenger / INC =International Non-Scheduled Cargo/ OPS = Flight Operation(s) / NRV = Non-revenue, Private Flight / TRN =Training Flight /  TST = Test & Certification Flight / VMC = Visual Meteorological (flying) Conditions