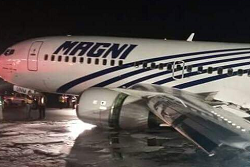 2015-11-26 Magnicharters Boeing 737-300 gear collapse on landing
The 737 was substantially damaged on landing when its undercarriage collapsed. There were no injuries among passengers or crew.
Flight 779 from Cancun made a normal approach to runway 05L(eft) at Mexico City International Airport (MMMX).
Immediately after touchdown it appears the left main gear gave way and collapsed rearwards becoming wedged below the left wing/engine and the ground.
The strut seperated entirely from its attachements and the left engine struck the ground resulting major damage before the pilots managed to stop the aircraft on the runway.
The runway was closed for all traffic immediately. Airport fire service foamed the underside of the 737.
An emergency evacuation took place by using emergency chutes and overwing exits. Apparently, there was no fire.  There were no injries reported.
The accident occured in darkness but in favourable weather.
NOTE: The aircraft in question (msn 24248) was previously involved in a fatal non-operational occurence when its nosegear collapsed during routine maintenance at Mexico City Airport in April 2010.
OCCURENCE DATASET
Date: 2015-11-26 Time: 18:26
Location: MMMX MEX Mexico City-Benito Juárez
Country: Mexico
Flight phase: LDG – Flare, Landing Roll, Aborted Landing after Touchdown
Damage to a/c: substantial
Flight
Flight no.: UJ 779
From: MMUN/CUN: Cancun To: MMMX/MEX: Mexico City-Benito Juárez
Type: Passenger
Operator: Magnicharters
Aircraft
Type: Boeing 737-300
Registration: XA-UNM
Age a/c: 27.1 years
Constr. No.: 24248
Tweet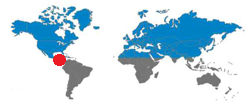 | | | | | |
| --- | --- | --- | --- | --- |
| | Crew | Pax | Other | Total |
| Occupants | 5 | 139 | 0 | 144 |
| Fatalities | 0 | 0 | 0 | 0 |
| Injuries | 0 | 0 | 0 | 0 |
JACDEC 25-year Statistics :
4th safety occurence for the operator
202nd safety occurence of type (B737-300)
26th safety occurence at Mexico City Airport
2nd safety occurence for aircraft in question (Msn 24248)
– 2010-04-07 nosegear collapse during
maintenance, 2 workers killed
Image & Information Sources
VIDEO

AP = Airport / AL = Airlines / Avn = Aviation / AW = Airways / C/N: Construction Number / DSP = Domestic Scheduled Passenger / DNP = Domestic Non-Scheduled Passenger / DSC = Domestic Scheduled Cargo / DNC= Domestic Non-Scheduled Cargo / GND = On the ground / parked, stored / FMN= Flying Mission, Air Work / FRY = Ferry-, Positioning Flight / IMC = Intrument Meteorological (flying) Conditions / ISP = International Scheduled Passenger / ISC=International Scheduled Cargo / INP = International Non-Scheduled Passenger / INC =International Non-Scheduled Cargo/ OPS = Flight Operation(s) / NRV = Non-revenue, Private Flight / TRN =Training Flight /  TST = Test & Certification Flight / VMC = Visual Meteorological (flying) Conditions