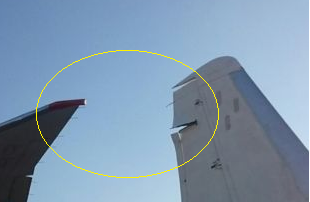 2015-11-08 Aeroflot Boeing 777 hit Antonov during taxi at Khabarovsk
During taxi for take-off the left wingtip of the Boeing 777 struck the tail of an Antonov An-26 that was parked nearby.
Aeroflot flight 1713 to Moscow taxied out of its parking stand on the main ramp and was about to trun right into taxiway "Charlie" (C) when its left wingtip hit the rudder of the Antonov AN-26 of Khabarowsk Airlines (RA-26174) that was due to carry out a cargo flight to .
While the 777 sustained only little damage, the vertical fin of the smaller Antonov was bent and the aircraft was unable to operate the planned flight (R3 521) to Okha (UHSH).
There were no reports about any injuries. The Aeroflot flight was delayed for more than hours.
OCCURENCE DATASET
Date: 2015-11-08 Time: 13:00
Location: UHHH KHV Khabarovsk
Country: Russia
Flight phase: TXI – Taxi, Power Back
Damage to a/c: minor
Flight
Flight no.: SU 1713
From: UHHH/KHV: Khabarovsk To: UUEE/SVO: Moscow Sheremetyevo
Type: Passenger
Operator: Aeroflot – Russian Airlines
Aircraft
Type: Boeing 777-300
Registration: VQ-BQG
Age a/c: 1.5 years
Constr. No.: 41689
Tweet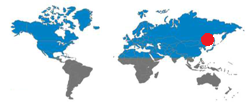 | | | | | |
| --- | --- | --- | --- | --- |
| | Crew | Pax | Other | Total |
| Occupants | 6 | 0 | 0 | 6 |
| Fatalities | 0 | 0 | 0 | 0 |
| Injuries | 2 | 0 | 0 | 2 |
JACDEC 25-year Statistics :
95th safety occurence for the operator
51st safety occurence of type (B777-300)
6th safety occurence at Khabarovsk Airport
1st safety occurence for aircraft in question
Image & Information Sources
AP = Airport / AL = Airlines / Avn = Aviation / AW = Airways / C/N: Construction Number / DSP = Domestic Scheduled Passenger / DNP = Domestic Non-Scheduled Passenger / DSC = Domestic Scheduled Cargo / DNC= Domestic Non-Scheduled Cargo / GND = On the ground / parked, stored / FMN= Flying Mission, Air Work / FRY = Ferry-, Positioning Flight / IMC = Intrument Meteorological (flying) Conditions / ISP = International Scheduled Passenger / ISC=International Scheduled Cargo / INP = International Non-Scheduled Passenger / INC =International Non-Scheduled Cargo/ OPS = Flight Operation(s) / NRV = Non-revenue, Private Flight / TRN =Training Flight /  TST = Test & Certification Flight / VMC = Visual Meteorological (flying) Conditions