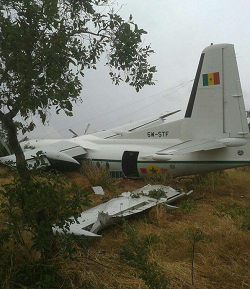 2015-11-02 Senegal Air Force Fokker F-27 destroyed in off airport landing in Mali
The aircraft was destroyed in a forced-landing outside any airport on a flight to Dakar. There were no fatalities but a number of injurted persons.
Due to yet unknown circumstances the turborprop aircraft was damaged beyond repair in an off-airport landing on its way damage in a forced landing accident near Koussané, Mali.
The pilots landed in on uneven terrain in a field , before coming to rest the left outer wing hit an obstacle and broke off .
The Fokker was rented by two malian businessmen for this flight.
OCCURENCE DATASET
Date: 2015-11-02 Time:
Location: Koussane area
Country: Mali
Flight phase: ENR – Cruise, Descent, Holding
Damage to a/c: hull loss
Flight
Flight no.:
From: GANR/NIX: Nioro To: GOOY/DKR: Dakar Yoff
Type: Military
Operator: Senegal Air Force
Aircraft
Type: Fokker F-27M
Registration: 6W-STF
Age a/c: 36.3589 years
Constr. No.: 10591
Tweet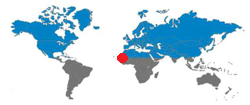 | | | | | |
| --- | --- | --- | --- | --- |
| | Crew | Pax | Other | Total |
| Occupants | 6 | 0 | 0 | 6 |
| Fatalities | 0 | 0 | 0 | 0 |
| Injuries | 2 | 0 | 0 | 2 |
JACDEC 25-year Statistics :
1st safety occurence for the operator
XX safety occurence of type (F-27)
XX safety occurence in Mali
XX safety occurence for aircraft in question
Image & Information Sources
AP = Airport / AL = Airlines / Avn = Aviation / AW = Airways / C/N: Construction Number / DSP = Domestic Scheduled Passenger / DNP = Domestic Non-Scheduled Passenger / DSC = Domestic Scheduled Cargo / DNC= Domestic Non-Scheduled Cargo / GND = On the ground / parked, stored / FMN= Flying Mission, Air Work / FRY = Ferry-, Positioning Flight / IMC = Intrument Meteorological (flying) Conditions / ISP = International Scheduled Passenger / ISC=International Scheduled Cargo / INP = International Non-Scheduled Passenger / INC =International Non-Scheduled Cargo/ OPS = Flight Operation(s) / NRV = Non-revenue, Private Flight / TRN =Training Flight /  TST = Test & Certification Flight / VMC = Visual Meteorological (flying) Conditions