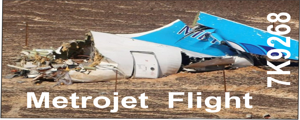 2015-10-31 Metrojet Airbus A321 crashed after take-off from Sharm El Sheikh
2015-11-07 PRESS CONFERENCE of the Egyptian Ministry of Transport and the Egyptian Air Accident Investigation Commission (EAAIC).
Presented facts of the preliminary investigation after readout of both CVR and DFDR 'black box' devices.
Take-off time: 3 h 50 min 6 sec
Final recorded time: 4 h 13 min 20 sec
Airborne time: 23 minutes and 14 seconds
Autopilot: engaged (AP 1)
Last recorded altitude: 30.888 feet
Last recorded airspeed: 281 knots
Wrackage distribution: over 13 km in lengh consistent with an inflight breakup
It is too early to draw conclusions that an explosive deive was the cause of the crash.
An Airbus A321 of Metrojet (Kolavia) from Sharm-el-Sheikh to St.Petersburg with 224 on board crashed after an inflight emergency over Sinai Peninsular. There were no survivors.
Metrojet flight 7k/KGL 9268 from Sharm El Sheikh to St. Petersburg disappeared from radar screens about 23 minutes after take-off. 
Flight 9268 took off from Sharm-el-Sheikh at 05:50:06L (03:50:06Z). It climbed normally to join upper air-route R650 to fix DELNA, then via NUWEIBA, TABE where it was supposed to turn left joining air-route UL550 to fix EL ARISH and NADOL to PASOS in the mediterranean sea.
The filed final cruising level was 36.000 ft (FL 360).
About 23 minutes after take-off – when the A321 has reached an altitude of 30700 ft. – it suddenly disapppeared from radar screen. Last known position was N30.16min / E34 .17min.
The wreckage was first spotted by alerted egyptian military jet pilots. Most of the wreckage was found completely burnt by post-impact fire. There were no survivors. 
The Egyptian Aviation Ministry reported the pilots radioed a distress message indicating engine trouble and requested an immediate landing at the nearest airport. This was later denied, by saying that no mayday call or any emergency transmission was received by the crew.
The wreckage was located close to the point of its last transponder transmission (when in a rapid descend at 28.000 feet), at coordinates 30.17 North + 34.17 East in a place called "The Valley of Darkness"(see map below). The wreckage is spread over an area of over 15 square kilometers (6 square miles) fueling speculation about an inflight breakup. 
Both CVR and DFDR 'black-box' devices have been recovered and were taken to a laboratory for further examination.
The investigation with multinational participants from Egypt (leading state of investigation), France (state of manufature), Russia (state of operator), Germany (state of production), Irland (state of registry) is ongoing.
Unconfirmed video footage claimed to show the aircraft being shot down by ISIS forces has doubtful origin and there is no confirmation about its authenticity.
NOTE: EASA issued alerts for all operators overflying the Sinai peninsular because of safety risks. (see maps  + data below)
Follow-up measures:
On 2015-11-04 the UK announced that all british operators flying to Sharm-el-Sheikh must suspend their flights with immediate effect. The UK government declared this a "precautionary measure" for safety reasons. Qutoe of Transport secretary Patrick McLaughlin: "We can not categorically say why the Russia jet crashed but we have become concerned that the plan may well have been brought down as a result of an explosive device." [LINK]
---
EUROCONTROL issued an update concerning the airspace of Egypt and Cyprus as of 2015-11-01
"Attention to Aircraft Operators:
Egyptians authorities have asked to stop traffic from flying over point PASOS.
Therefore point PASOS in LCCC (Cyprus) FIR  is not available for flight planning.
FPLs filed via this point will be rejected by IFPS.
Please re-file via points: LAKTO or RASDA. Still waiting for a HECC (Cairo ) NOTAM.
NMOC is monitoring the situation and will advice of any development."
---
With immediate effect, russian federal transport authority Rostransnadzor issued an order that Metrojet (Kolavia) has to suspend all operations with the model Airbus A321 until a safety risk assessment cleared the airline of any safety deficits in their flight operations.
Currently, the airline currently has four A321s in operation.
---
On Friday 2015-11-06  Russia ordered the suspension of all flights to Egypt with immediate effect. According to Russian a presidential report, undisclosed intelligence information indicates there is sufficient "evidence" that an explosive device has been planted on board the Metrojet flight while being serviced at Sharm-el-Sheikh Airport. This was the cause for serious safety concerns to all flight from Egypt. 
OCCURENCE DATASET
Date: 2015-10-31 Time: 06:12
Location: over sinai desert
Country: Egypt
Google Maps:
Flight phase: ENR – Cruise, Descent, Holding
Damage to a/c: hull loss (?)
Flight
Flight no.: KGL  9268
From: HESH/SSH: Sharm El Sheikh To: ULLI/LED: St Petersburg Pulkovo Intl Airport
Type: Passenger
Operator: MetroJet (Kogalavia)
Map (provided by FLighradar24)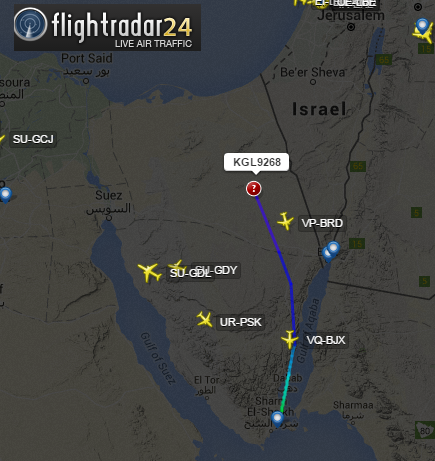 Preceeding the accident, air-route UL550 was used by the following aircraft/flights:
Cargolux CLX856 B744F LX-SCV from Beirut to Dubai
Royal Flight ABG 8209, B738, VQ-BRF from Chelybinsk to Sharm-el-Sheikh
Orenair ORB 3795, B739, VQ-BJX, from Moscow-Vnukovo to Sharm-el-Sheikh
Nordwind Airlines NWS 1969, A321, VP-BRD, from Samara to Sharm-el-Sheikh
Planned Flight Route of KGL 9268 over Sinai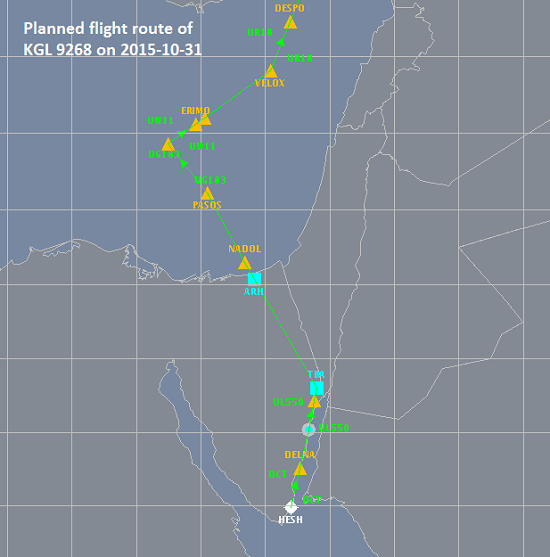 Nordwind flight N4/NWS 1969 was in proximity of the aircraft in the minutes after the emergency of Metrojet flight 7K9268.
Map (provided by FLighradar24)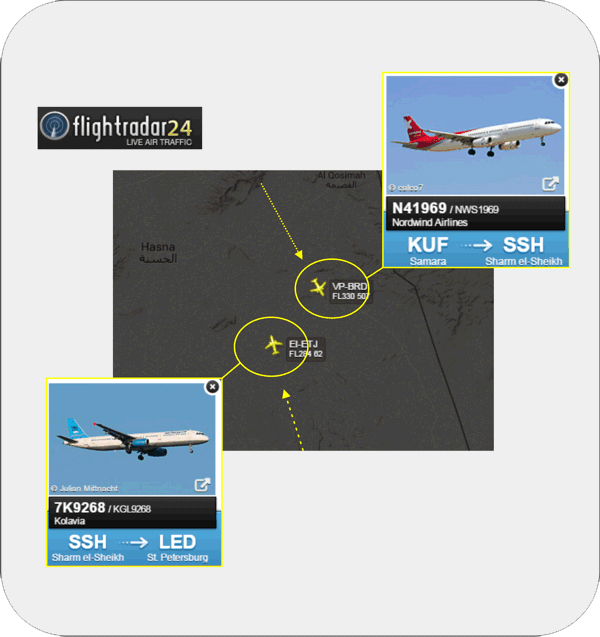 EASA Safety Bulletin as of 2014-11-17
"Due to ongoing insurgent activity, operators of civil aircraft should be aware of the risk to flight operations safety in the North Sinai Governorate of Egypt deriving from possible use of small arms fire, rocket-propelled grenades, mortars and anti-aircraft fire, including shoulder-fired man-portable air defence systems (MANPADS).
Map (EASA Safety Bulletin 2014-30R1)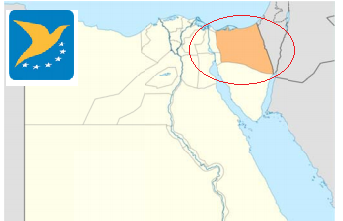 Tweet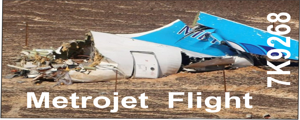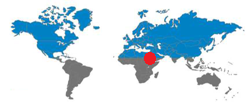 Aircraft
Type: Airbus A321
Registration: EI-ETJ
Age a/c: 18.5 years
First flight:  1997-05-09
At Metrojet since: :  2012-03
Constr. No.: 663
Engines: 2x IAE V2533 -A5
(highest thrust variant of V2500 of 146.8 kN)
Previous operators: 
Cham Wings (leased), Onur Air, Saudi Arabian Airlines (leased), Onur Air, MEA – Middle East Airlines (delivery 1997-05-27)
| | | | | |
| --- | --- | --- | --- | --- |
| | Crew | Pax | Other | Total |
| Occupants | 7 | 217 | 0 | 224 |
| Fatalities | 7 | 217 | 0 | 224 |
| Injuries | 0 | 0 | 0 | 0 |
JACDEC 25-year Statistics :
3rd safety occurence for the operator

125h safety occurence of type (Airbus A321)
– 3rd (and worst) hull loss of an Airbus A321

55th safety occurence in Egypt

2nd safety occurence for aircraft in question




– 2001-11-16 tailstrike landing at Cairo
Image & Information Sources
Alledged shot-down video
AUTHENTICITY NOT CLARIFIED

AP = Airport / AL = Airlines / Avn = Aviation / AW = Airways / C/N: Construction Number / DSP = Domestic Scheduled Passenger / DNP = Domestic Non-Scheduled Passenger / DSC = Domestic Scheduled Cargo / DNC= Domestic Non-Scheduled Cargo / GND = On the ground / parked, stored / FMN= Flying Mission, Air Work / FRY = Ferry-, Positioning Flight / IMC = Intrument Meteorological (flying) Conditions / ISP = International Scheduled Passenger / ISC=International Scheduled Cargo / INP = International Non-Scheduled Passenger / INC =International Non-Scheduled Cargo/ OPS = Flight Operation(s) / NRV = Non-revenue, Private Flight / TRN =Training Flight /  TST = Test & Certification Flight / VMC = Visual Meteorological (flying) Conditions