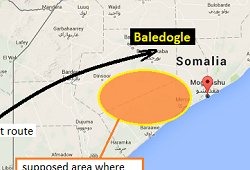 2015-10-29 AMISOM Dornier 328 crashed landed south of Mogadishu
According to various media reports the aircraft was destroyed in an off-airport landing south of Mogadishu. There are no more secured facts available at this time…
The aircraft was on a charter flight for UN Somalia branch AMISOM (African Union Mission in Somalia) with a least 10 people on board, destined for Baledogle Airfield, in the Afgooye district.
The identity of the aircraft is still unknown, though it is understood that it was kenyan registered.
Exact numbers about occupants onb board and their current condition are sketchy at present.
There were reports that al-Shabaab militia may have captured the crew as it came down on their territory.
More to come..
OCCURENCE DATASET
Date: 2015-10-29 Time: –
Location: south of Mogadishu
Country: Somalia
Flight phase: ENR – Cruise, Descent, Holding
Damage to a/c: hull loss (?)
Flight
Flight no.:
From: HKJK/NBO: Nairobi Intl To: -/-: Baledogle Airfield
Type: Non Revenue
Operator: Unknown
Aircraft
Type: Dornier Do 328
Registration:
Age a/c:
Constr. No.:
Tweet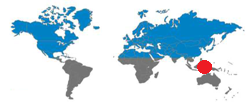 ©
| | | | | |
| --- | --- | --- | --- | --- |
| | Crew | Pax | Other | Total |
| Occupants | – | – | – | (12) |
| Fatalities | | | | |
| Injuries | | | | |
JACDEC 25-year Statistics :
xnd safety occurence for the operator
xth safety occurence of type (Do328)
xst safety occurence in Somalia
xnd safety occurence for aircraft in question
Image & Information Sources
AP = Airport / AL = Airlines / Avn = Aviation / AW = Airways / C/N: Construction Number / DSP = Domestic Scheduled Passenger / DNP = Domestic Non-Scheduled Passenger / DSC = Domestic Scheduled Cargo / DNC= Domestic Non-Scheduled Cargo / GND = On the ground / parked, stored / FMN= Flying Mission, Air Work / FRY = Ferry-, Positioning Flight / IMC = Intrument Meteorological (flying) Conditions / ISP = International Scheduled Passenger / ISC=International Scheduled Cargo / INP = International Non-Scheduled Passenger / INC =International Non-Scheduled Cargo/ OPS = Flight Operation(s) / NRV = Non-revenue, Private Flight / TRN =Training Flight /  TST = Test & Certification Flight / VMC = Visual Meteorological (flying) Conditions