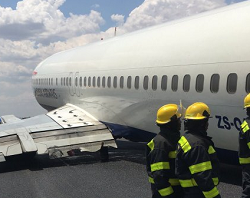 2015-10-26 Comair Boeing 737-400 suffered gear collapse on landing
The aircraft was damaged when its left maingear collapsed on landing.
Comair flight BA6234 touched down normally on runway 03R(ight) at OR tambo International Airport, Johannesburg, SA and had already slowed down to moderate speed, when its left maingear suddenly gave way.
Comair is operating flights on behalf of British Airways.
The left wing sank down until the left engine nacelle and wingtip scraped along the surface until the pilots braked to a stop. Briefly the left engine emitted some flames but airport fire services quickly arrived at the scene.
All passengers and crewmembers remained unhurt. There was no emergency evacuation.
Damage occured to the left wing, left engine and lower tail skin. It is doubtful the 737 will be repaired again.
According to inofficial reports, both left maingear tires burst on touchdown resulting in damage to the bogeys and causing the gear strut to subsequently fail.
NOTE: this incident comes only 3 days after another 'classic' Boeing 737 experienced similar gear collapse on landing in Peru. [-> LINK]
OCCURENCE DATASET
Date: 2015-10-26 Time: 12:00
Location: FAOR JNB Johannesburg O.R. Tambo International Airport
Country: South Africa
Flight phase: LDG – Flare, Landing Roll, Aborted Landing after Touchdown
Damage to a/c: substantial
Flight
Flight no.: BA 6234
From: FAPE/PLZ: Port Elizabeth To: FAOR/JNB: Johannesburg O.R. Tambo International Airport
Type: Passenger
Operator: Comair (Kulula)
Aircraft
Type: Boeing 737-400
Registration: ZS-OAA
Age a/c: 22.4385 years
Constr. No.: 26960
Tweet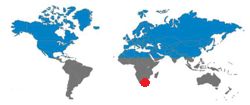 | | | | | |
| --- | --- | --- | --- | --- |
| | Crew | Pax | Other | Total |
| Occupants | 6 | 94 | 0 | 100 |
| Fatalities | 0 | 0 | 0 | 0 |
| Injuries | 2 | 0 | 0 | 2 |
JACDEC 25-year Statistics :
5th safety occurence for the operator
148th safety occurence of type (B737-400)
25th safety occurence at OR Tambo Airport, J´burg
1st safety occurence for aircraft in question
Image & Information Sources
AP = Airport / AL = Airlines / Avn = Aviation / AW = Airways / C/N: Construction Number / DSP = Domestic Scheduled Passenger / DNP = Domestic Non-Scheduled Passenger / DSC = Domestic Scheduled Cargo / DNC= Domestic Non-Scheduled Cargo / GND = On the ground / parked, stored / FMN= Flying Mission, Air Work / FRY = Ferry-, Positioning Flight / IMC = Intrument Meteorological (flying) Conditions / ISP = International Scheduled Passenger / ISC=International Scheduled Cargo / INP = International Non-Scheduled Passenger / INC =International Non-Scheduled Cargo/ OPS = Flight Operation(s) / NRV = Non-revenue, Private Flight / TRN =Training Flight /  TST = Test & Certification Flight / VMC = Visual Meteorological (flying) Conditions