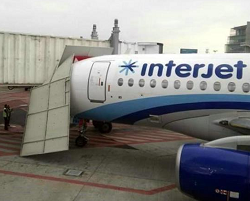 2015-10-25 Interjet Sukhoi Superjet collided with walkway at Mexico City
Wilst under tow to the terminal the Superjet hit a passenger walkway resulting in major damage to the nose of the aircraft.
The Superjet was under tow from a hangar to gate #2 alongside Terminal 1 without passengers on board when it failed to stop in time and continued to roll foreward until its nose hit the adjacent walkway of gate #3.
The impact caused serious damage to the cockpit section and the aircraft´s skin.
There were no reported injuries in this occurence and operations at the airport remained unaffected.
The incident is under investigation.
OCCURENCE DATASET
Date: 2015-10-25 Time: 15:00
Location: MMMX MEX Mexico City-Benito Juárez
Country: Mexico
Flight phase: PBT – Pushback / Towing with engines not in operation
Damage to a/c: substantial
Flight
Flight no.:
From: 0000/: NONE To: 0000/: NONE
Type: Ground
Operator: Interjet
Aircraft
Type: Sukhoi Superjet 100
Registration: XA-PBA
Age a/c: 1.9 years
Constr. No.: 95040
Tweet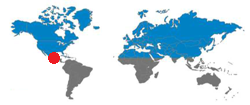 | | | | | |
| --- | --- | --- | --- | --- |
| | Crew | Pax | Other | Total |
| Occupants | 0 | 0 | 0 | 0 |
| Fatalities | 0 | 0 | 0 | 0 |
| Injuries | 0 | 0 | 0 | 0 |
JACDEC 25-year Statistics :
1st safety occurence for the operator
7th safety occurence of type (Sukhoi SJ)
25th safety occurence at Mexico City Airport
1st safety occurence for aircraft in question
Image & Information Sources
AP = Airport / AL = Airlines / Avn = Aviation / AW = Airways / C/N: Construction Number / DSP = Domestic Scheduled Passenger / DNP = Domestic Non-Scheduled Passenger / DSC = Domestic Scheduled Cargo / DNC= Domestic Non-Scheduled Cargo / GND = On the ground / parked, stored / FMN= Flying Mission, Air Work / FRY = Ferry-, Positioning Flight / IMC = Intrument Meteorological (flying) Conditions / ISP = International Scheduled Passenger / ISC=International Scheduled Cargo / INP = International Non-Scheduled Passenger / INC =International Non-Scheduled Cargo/ OPS = Flight Operation(s) / NRV = Non-revenue, Private Flight / TRN =Training Flight /  TST = Test & Certification Flight / VMC = Visual Meteorological (flying) Conditions