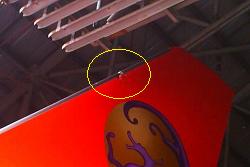 2015-10-08 Transasia Airways Airbus A321 collided with hangar at Taipei
The aircraft received damage when it hit hangar roof whilst under tow.
The A321 was about to be pulled out of a maintenance hangar at Songshan Airport when the tail accidentaly collided with the roof structure resulting in a dent in the vertical fin.
It appears the driver initiated a turn to the right too early allowing the tail to swing out of the centre axis before it could clear the hangar doors.
Nobody was injured in the event.
Damage to the quite new aircraft is repairable.
---
OCCURENCE DATASET
Date: 2015-10-08 Time: 09:10
Location: RCSS TSA Taipei Songshan
Country: Taiwan
Flight phase: PBT – Pushback / Towing with engines not in operation
Damage to a/c: minor
Flight
Flight no.:
From: 0000/: NONE To: 0000/: NONE
Type: Ground
Operator: Transasia Airways
Aircraft
Type: Airbus A321
Registration: B-22611
Age a/c: 0.7 years
Constr. No.: 6693
Tweet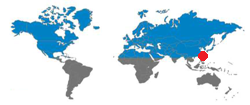 | | | | | |
| --- | --- | --- | --- | --- |
| | Crew | Pax | Other | Total |
| Occupants |  0 | 0 | 0 | 0 |
| Fatalities |  0 | 0 |  0 |  0 |
| Injuries |  0 | 0 |  0 |  0 |
JACDEC 25-year Statistics :
10th safety occurence for the operator
120th safety occurence of type (A321)
13th safety occurence at Taipei-Songshan AP
1st safety occurence for aircraft in question
Image & Information Sources
AP = Airport / AL = Airlines / Avn = Aviation / AW = Airways / C/N: Construction Number / DSP = Domestic Scheduled Passenger / DNP = Domestic Non-Scheduled Passenger / DSC = Domestic Scheduled Cargo / DNC= Domestic Non-Scheduled Cargo / GND = On the ground / parked, stored / FMN= Flying Mission, Air Work / FRY = Ferry-, Positioning Flight / IMC = Intrument Meteorological (flying) Conditions / ISP = International Scheduled Passenger / ISC=International Scheduled Cargo / INP = International Non-Scheduled Passenger / INC =International Non-Scheduled Cargo/ OPS = Flight Operation(s) / NRV = Non-revenue, Private Flight / TRN =Training Flight /  TST = Test & Certification Flight / VMC = Visual Meteorological (flying) Conditions