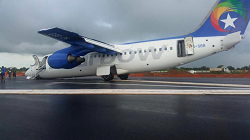 2015-10-06 Starbow BAe 146 nosegear collapse on landing at Tamale
On landing at Tamale the aircraft´s nosegear received substantial damage due to circumstances unknown yet. The aircraft came to rest in the overrun safety area.
Flight S9 110 from Accra to Tamale suffered a broken nosegear leg whilst landing (prob. on runway23).
The nosegear collased sideways and became wedged below foreward fuselage.
The aircraft skidded to a stop beyond the end of the runway, coming to rest on a portion of the runway which was closed because of runway upgrading works in progress.
It is still unclear wether the damage occured during nosegear touchdown or during deceleration.
Local media reports the aircraft may have hit "a barrier" on the runway.
There is no airport weathger avialable for Tamale, but according to other sources, the weather consisted of occasional rain, with sudden winds and local thunderstorm activitiy.
Starbow press statement: [LINK]
---
OCCURENCE DATASET
Date: 2015-10-06 Time: 08:31
Location: DGLE TML Tamale
Country: Ghana
Flight phase: LDG – Flare, Landing Roll, Aborted Landing after Touchdown
Damage to a/c: substantial
Flight
Flight no.: S0 110
From: DGAA/ACC: Accra Kotoka Intl To: DGLE/TML: Tamale
Type: Passenger
Operator: Starbow Ghana
Tweet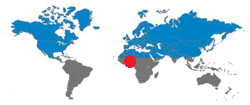 Aircraft
Type: BAe 146-300
Registration: 9G-SBB
Age a/c: 26,6 years
Constr. No.: 3123
Former operators: Air UK, KLM UK,
Buzz, FlyBe, Cityjet, Eurowings
| | | | | |
| --- | --- | --- | --- | --- |
| | Crew | Pax | Other | Total |
| Occupants |  – | 76 | 0 | – |
| Fatalities | 0 |  0 | 0 |  0 |
| Injuries | 0 | 0 |  0 | 0 |
JACDEC 25-year Statistics :
2nd safety occurence for the operator
54th safety occurence of type (BAE-146)
3rd safety occurence at Tamale Airport
1st safety occurence for aircraft in question
Image & Information Sources
9G-SBB after landing

9G-SBB after landing

9G-SBB after landing

AP = Airport / AL = Airlines / Avn = Aviation / AW = Airways / C/N: Construction Number / DSP = Domestic Scheduled Passenger / DNP = Domestic Non-Scheduled Passenger / DSC = Domestic Scheduled Cargo / DNC= Domestic Non-Scheduled Cargo / GND = On the ground / parked, stored / FMN= Flying Mission, Air Work / FRY = Ferry-, Positioning Flight / IMC = Intrument Meteorological (flying) Conditions / ISP = International Scheduled Passenger / ISC=International Scheduled Cargo / INP = International Non-Scheduled Passenger / INC =International Non-Scheduled Cargo/ OPS = Flight Operation(s) / NRV = Non-revenue, Private Flight / TRN =Training Flight /  TST = Test & Certification Flight / VMC = Visual Meteorological (flying) Conditions