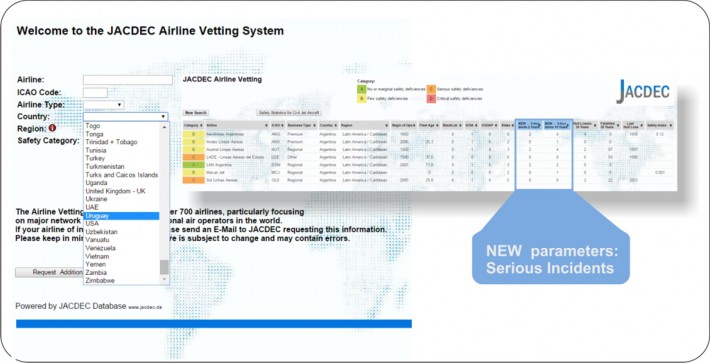 The JACDEC Airline Safety Vetting now has over 900 operators in the system
JACDEC has launched the Vetting Service in 2013.
A growing number of customers benefits from an up-to-date analysis of virtually every commercial passenger airline on the planet.
All search results are displayed at a glance without shifting bewteen windows. The vetting is very easy to handle and the data complexity is quite clear.
All key safety parameters of an airline are displayed in the Vetting System pus an overall assessment from "A" (best) to "D" (worst).
The Vetting is constantly held up-to-date whenever new information became available.
For travel agents, risk managers but also for anyone interested in safe air-travel, this tool is vital to make reliable decisions for flight bookings.
Each single airline, country or region can be displayed seperately.
Combined your search with multi-filters or sort each parameter seperately.
Test it out for free.
---
What´s inside?
Safety Category ("A" – "D")
Airline fleet age
EU Blacklist, IOSA, and USOAP entries
Operational Risk Paramaters

Serious Incidents over 2 years – NEW

Serious Incidents over 10 years – NEW
Hull Loss Analysis over 10 and 30 years
Fatality Analysis over 10 and 30 years
Jacdec Safety Index
and more..