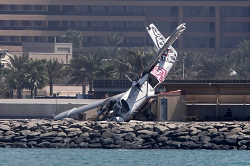 2015-10-02 Skydive Dubai DHC-6 badly damaged in runway excusion Dubai
The aircraft suffered substantial damage in a runway excurison at Dubai Skydive Airfield.
Whilst trying to land on runway 06, the DHC-6 Twin Otter departed the left side of the runway where it fall down the seawall surrounding the runway.
The pilot was the only person on board at the time and remained unhurt in the occurence.
The runway at Dubai Palm Sykdiving Airfield is about 685 m in lengh (2250 ft.) and is built into the sea.
External images showed the right wing fractured immediately outboard the wing root making it likely the aircraft would not be repaired again.
---
OCCURENCE DATASET
Date: 2015-10-02 Time:-
Location: AE-3 – Skydive Dubai Palm Airfield
Country: United Arab Emirates
Flight phase: LDG – Flare, Landing Roll, Aborted Landing after Touchdown
Damage to a/c: substantial
Flight
Flight no.:
From: AE-3/-: Skydive Dubai Palm Airfield To: AE-3/-: Skydive Dubai Palm Airfield
Type: Passenger
Operator: Skydive Dubai
Aircraft
Type: DHC-6 Twin Otter
Registration: DU-SD4
Age a/c: 47,4 years
Constr. No.: 132
Tweet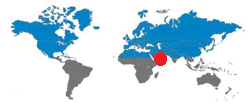 | | | | | |
| --- | --- | --- | --- | --- |
| | Crew | Pax | Other | Total |
| Occupants |  1 | 0 | 0 | 1 |
| Fatalities |  0 | 0 | 0 | 0 |
| Injuries |  0 | 0 |  0 | 0 |
JACDEC 25-year Statistics :
2nd safety occurence for the operator


(2015-07-07 Cessna 208 Caravan crash




landed in desert after engine problems)

250th safety occurence of type (DHC-6)
1st safety occurence at Dubai Palm Airfield
1st safety occurence for aircraft in question
Image & Information Sources
DHC-6 after the accident

DHC-6 after the accident

DHC-6 after the accident

AP = Airport / AL = Airlines / Avn = Aviation / AW = Airways / C/N: Construction Number / DSP = Domestic Scheduled Passenger / DNP = Domestic Non-Scheduled Passenger / DSC = Domestic Scheduled Cargo / DNC= Domestic Non-Scheduled Cargo / GND = On the ground / parked, stored / FMN= Flying Mission, Air Work / FRY = Ferry-, Positioning Flight / IMC = Intrument Meteorological (flying) Conditions / ISP = International Scheduled Passenger / ISC=International Scheduled Cargo / INP = International Non-Scheduled Passenger / INC =International Non-Scheduled Cargo/ OPS = Flight Operation(s) / NRV = Non-revenue, Private Flight / TRN =Training Flight /  TST = Test & Certification Flight / VMC = Visual Meteorological (flying) Conditions